By Joey Redmond

10. Track Layout Change for the Best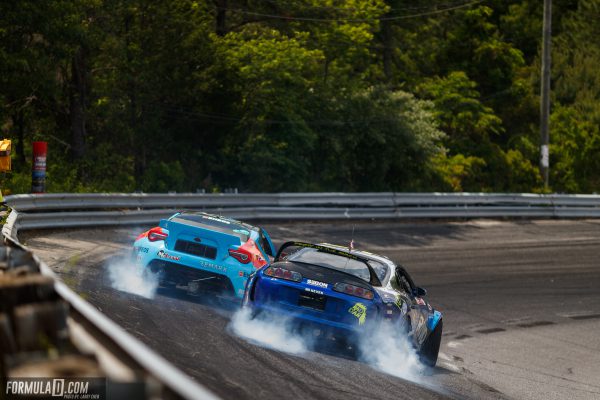 The track layout at Wall Speedway had some serious issues when the Formula Drift staff arrived this past weekend. Some of the patchwork on the track wasn't holding up so the Formula Drift staff was forced to rework the track to avoid this section. The change to the track put a lot of pressure and load on one tire as they circled the track. I spoke with a few teams that were greatly concerned about tire wear but I think the last minute changes to the track were for the best. The Top 16 was wild with tons of great battles, a few unfortunate accidents, and a wild shakeup to the championship!
9. Travis Reeder Holding onto Rookie of the Year Top Spot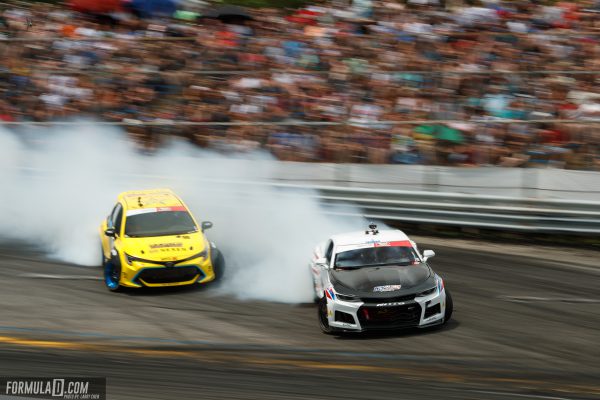 The Rookie of the Year race this season is quite interesting. Right now, Travis Reeder is holding off all comers in his all Electric Camaro with 84 points in 21st place. Dylan Hughes still seems to be his biggest threat back in 28th place on 53 points. It's a more impactful Rookie Race this year with Reeder piloting the all Electric Camaro. While the team works out this ground breaking historical car it will be a nice boost if the team can win ROTY in the technologies competitive world-drifting debut.
8. Chelsea DeNofa – The Chase of 2019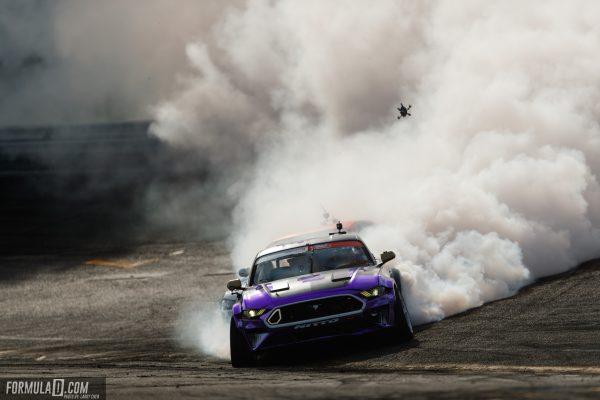 The Chelsea DeNofa battle versus Pitor Wiecek in the Top 16 was the tandem chase of the season. Wow wow wow! If only Formula Drift could fill the field with 25 guys who could put down a chase run with the commitment of Chelsea DeNofa. His lead run sadly blew it with an over rotation and crash taking him out of the event for the weekend. I would have loved to see him throw it down like that a few more times before packing it up.
7. Ken Gushi is in Winning Form
Right now for my money Ken Gushi is the best driver who is driving at a championship level but isn't in the running for the championship. He cannot seem to win those close call battles this season for one reason or the other. I'd keep my eyes peeled on him and where he falls on the bracket because I can see him providing a big championship shake up with an early upset over the next four rounds.
6. Vaughn Gittin Jr. Continues to Spin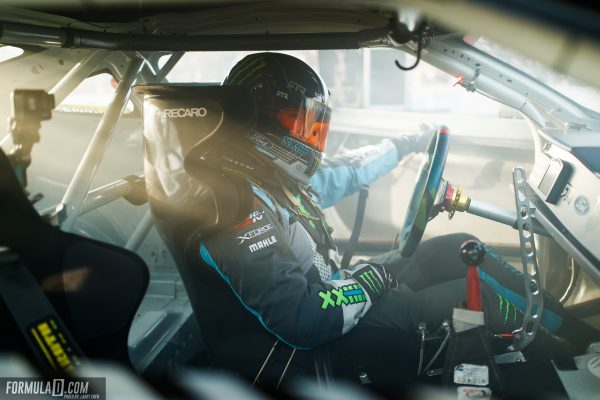 The spin controversies continue into New Jersey after a Road Atlanta that left people with more questions than answers. In Road Atlanta, Vaughn was seen to spin just after the finish line but the view was greatly impeded by smoke so it was hard to know if he was already spinning or it happened well after the finish line. This led to the judges sitting down with the drivers and making them vote on a spinning rule that states any lead driver who spins on track (even after the finish line) results in an incomplete. There was not an automatic incomplete for chase drivers but Vaughn Gittin Jr. was issued an incomplete for spinning against Fredric Aasbo in the Final Four after judge's deliberation over the incident anyway.
While being towed back to his pit after the accident, Vaughn hopped on Instagram Live and quickly started off "I gave Aasbo a little kiss exiting…and personal feeling is that he lifted super hard and knew I was going to get into him a little bit." This was quite a shots fired accusation to Aasbo that might force the judges' and drivers' hands to look over these new rules even more.
5. Odi Bakchis Loses His Winning Ways at the Wrong Time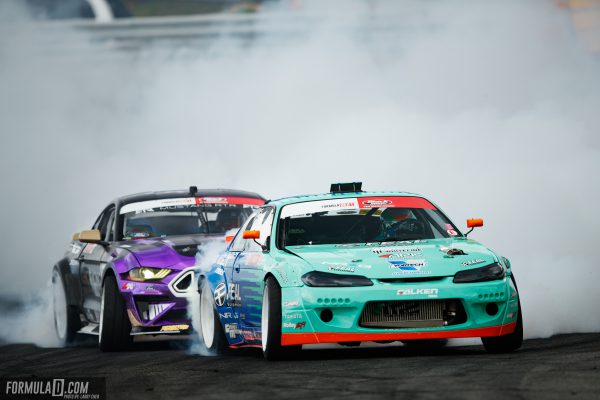 A tough weekend for the former championship leader Odi Bakchis saw him lose his championship lead for the first time in 2019. He only trails Aasbo by a small three-point margin but it's a big indication the other top teams smell blood in the water so to speak. Odi Bakchis met Vaughn Gittin Jr. in the Top 16 and never looked like wining that battle. In fact, Laurette Nicoll interviewed Odi after his loss and he seems to have felt the same way by saying. "We actually got our car on par with what I felt was his during this last bit of practice so I was very much looking forward to it. And you know, honestly I lost in my chase battle. Unfortunately, I feel like we lost even before we even initiated into the first turn."
4. Chris Forsberg's Serious Weekend to Forget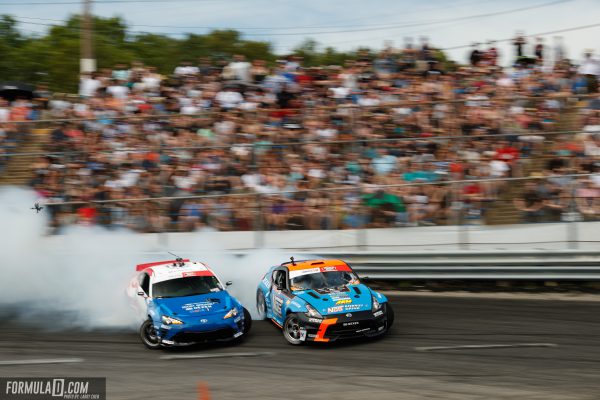 Chris Forsberg couldn't have driven out of New Jersey fast enough this past weekend I imagine. Jhonnattan Castro dead to rights in Top 32 but magically Castro's car shut down with an electrical issue about 40 feet from the finish line forcing an OMT from the judges. Forsberg pushed his way through the OMT and advanced into the Top 16. After being given the free pass into the Top 16 he couldn't do anything with it and got destroyed by Ryan Tuerck who would go on to win the whole event. With this poor result Chris Forsberg falls back to fourth in the championship and is a good 59 points behind Aasbo with 4 events remaining.
3. Justin Pawlak Brings it to a 100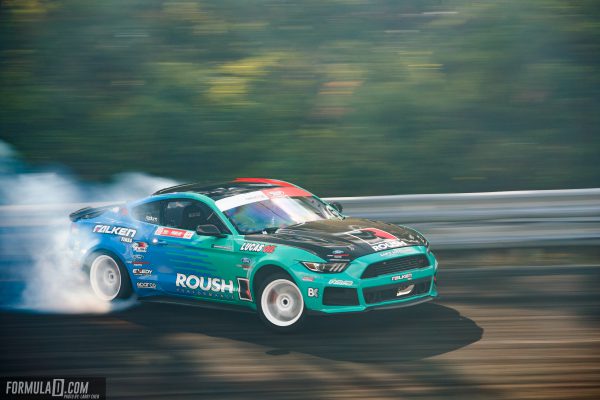 Just wow. Watching this qualifying pass in person might have just changed my life or redefined the possibilities of drifting for a new era. Justin Palwak went 100% commitment with some insane flicks and provided zero steering corrections. After complaining about the judges being stingy on the 100 score I feel the need to retract those complaints after watching this run. In fact, this run was so perfect, I think the judges should go reduce the 99 scores of this season by 5 points just to make it clear how incredible that run from Justin Pawlak really was. The last person to accomplish this amazing task was Tanner Foust in 2007 at Sonoma Raceway so that should show you the historical significance of this amazing lap.
2. Fredric Aasbo Back in the Championship Lead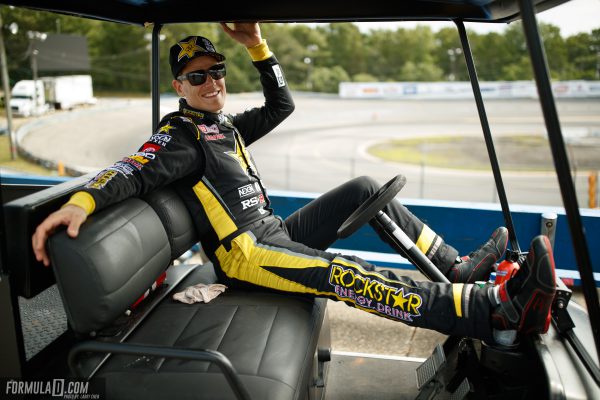 Fredric Aasbo is a driver who never knows when to quit. I think that is one of my favorite traits about him as driver. He is always focused, present, and committed. He really showed that last year by pushing James Deane to a four-point championship spread. Looking now at the championship standings he has slid into first place by three points over Odi Bakchis. Odi Bakchis has been getting all the press after his back-to-back wins but is now not in the driver seat as we head to Evergreen Speedway next month on July 19-20th.
1.Ryan Tuerck Wins his Fourth Ever Formula Drift Event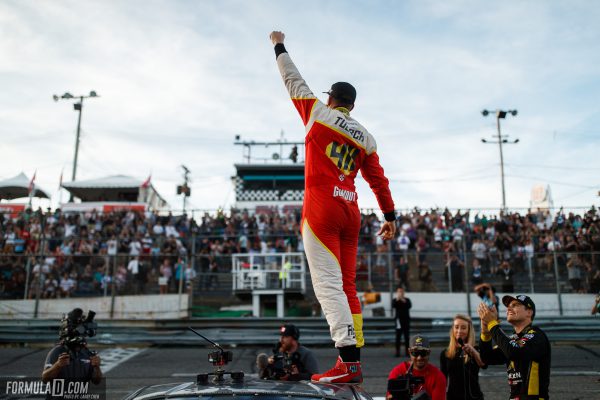 Ryan Tuerck has clearly put the crash of his Long Beach past deep back in his mind. I called his second place finish in Atlanta basically a victory after the team wrote off his Toyota 86 in Long Beach due to a power steering failure. Ryan Tuerck more focused than ever backed up his second place Road Atlanta finish with a victory at Wall Speedway in New Jersey. Ryan hadn't won an event since Orlando 2015 so it was nice to see him back on the podium. He took out some serious opponents on his way including good friend Chris Forsberg in Top 16 along with James Deane and Fredric Aasbo on his path to a win! It's basically a hometown victory for Ryan Tuerck who grew up in the northeast and really cut his teeth driving in New Jersey with local organizations before going pro.