Written by Joey Redmond
10. Mike Power Wins Pro 2!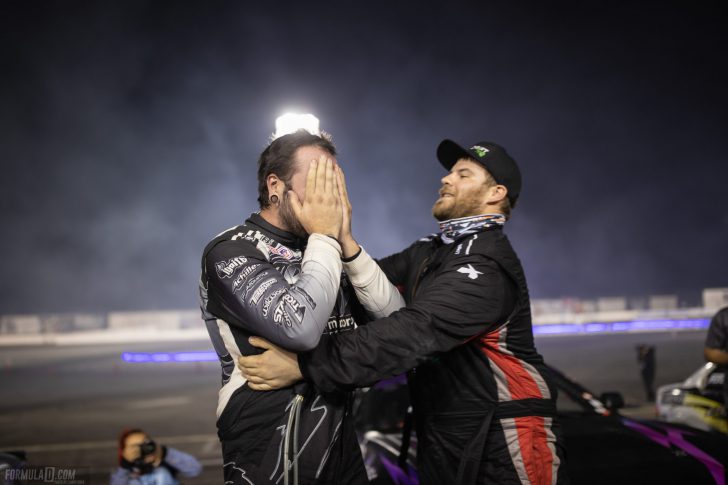 Wow, Mike Power dominated Irwindale Speedway and took home his first career Pro 2 victory to close out his Rookie season. He had an amazing emotional moment breaking down and crying once he was announced as the winner. It is a truly inspirational and aspiration for any rookie driver to bring home a victory at Irwindale Speedway. Mike managed to build on a great performance he put down in Texas with a Final Four finish and I think he has some serious potential to compete for the 2021 Pro 2 Championship. Matt has a great under watched recap series going on his YouTube at Power Racing and I suggest tuning in his for Irwindale recap soon.
9. Double Rounds Catch Up to Everyone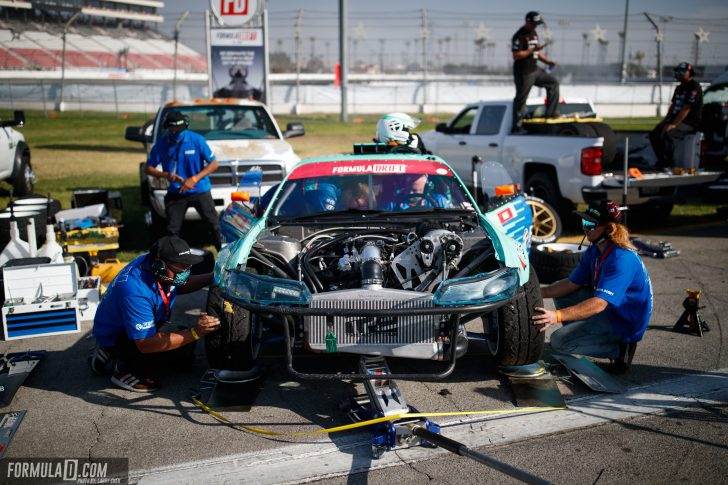 The back to back round events finally took a big toll on the vehicles of Formula Drift. Chris Forsberg wound up sending his crew to San Francisco to borrow Matt Field's S14, Adam LZ for Round 7 had to used Odi Bakchis S14 chassis. Many other drivers were quickly rebuilding engines and swapping blown motors from Friday to Sunday like Ken Gushi. Perhaps a future Formula Drift series could mix in one or two double rounds with the standard race weekends to offer a new challenge but not run the cars into the ground so quickly.
8. Dmitriy Brutskiy is Pro 2 Champion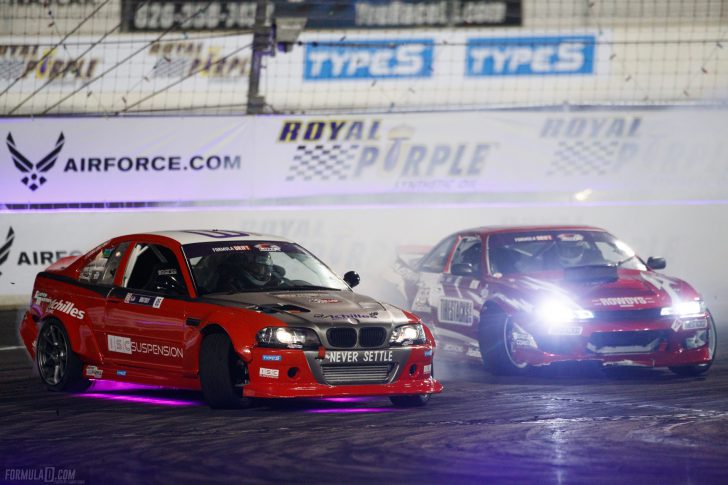 Dmitriy Brutskiy brings home the Pro 2 crown! He started the event off 26 points behind Jonathan Hurst who went out in the Top 32 against Nick Noback. Due to luck of the draw, Dmitiry drew a bye run for his Top 32 and then a bye run for his Top 16 battle throwing him into the Great 8. He then went on to lose his only battle to Steve Misko and was eliminated for the night. That "bye run" cruise to Great 8 managed to squeeze him just 8 points ahead of Jonathan Hurst for his first ever Championship!
7. Jeff Jones Solidifies he is the Future of Formula Drift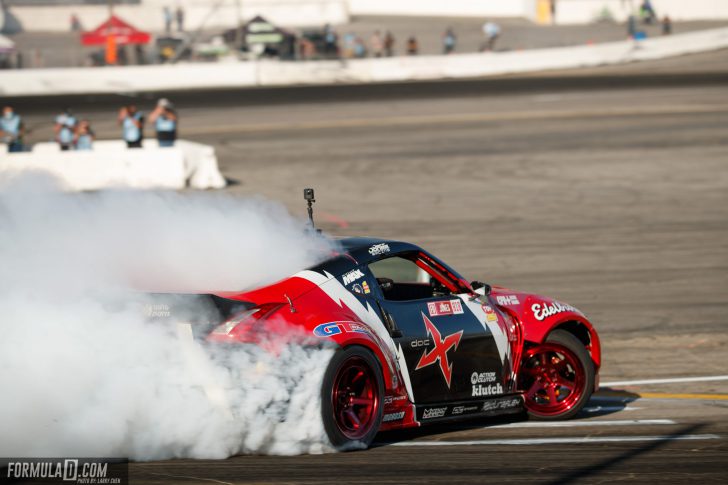 I know this has been the Jeff Jones promotional posting hour this season, but I have been so impressed with his ability to outperform drivers with bigger crews and way bigger budgets. Some big-time sponsors need to cough up some cash to Jeff Jones in 2021 so he can just dominate the field!
6. Aasbo's Toyota Supra Progress Looks Great for 2021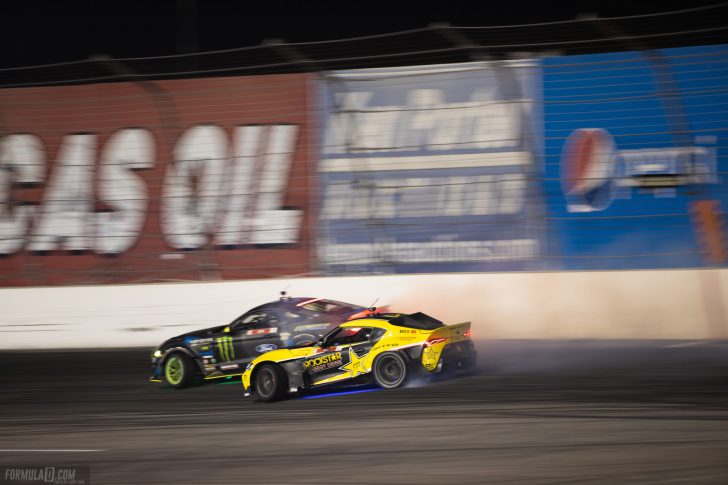 Fredric Aasbo and the Papdakis team have proven they have the Toyota Supra chassis close to fully dialed in. They redid a motor setup that gave them 150 extra horsepower per Fredric Aasbo and it showed on Friday at Round 7. Fredric never really looked in doubt of losing on Friday night in his Toyota Supra. Fredric really suffered the most during the James Deane era because he was always knocking on the door behind him. Without Deane, you can assume Fredric would have one or two more Championships under his belt. Will 2021 be his year to pull in a second Championship or could Deane be returning to reclaim his Triple Title record?
5. Adam LZ Dominates Rookie of the Year by 80 Points!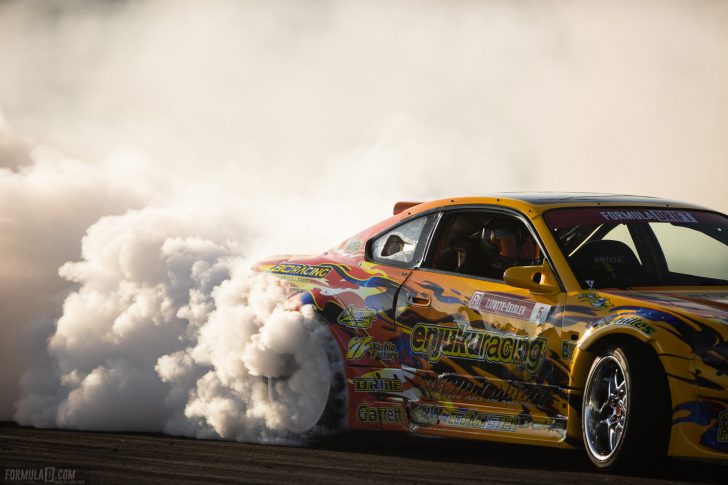 YouTube sensation Adam LZ dominates the Rookie field by an 80-point margin to close out the 2020 Formula Drift season. Adam performed really well even with all the car issues that came upon him over the Irwindale double round weekend. His YouTube stories give some great insight into all the struggles he ran into and including him scrambling to rent Odi Bakchis S14 chassis and compete on Friday.
4. Odi Bakchis Makes A Big Comeback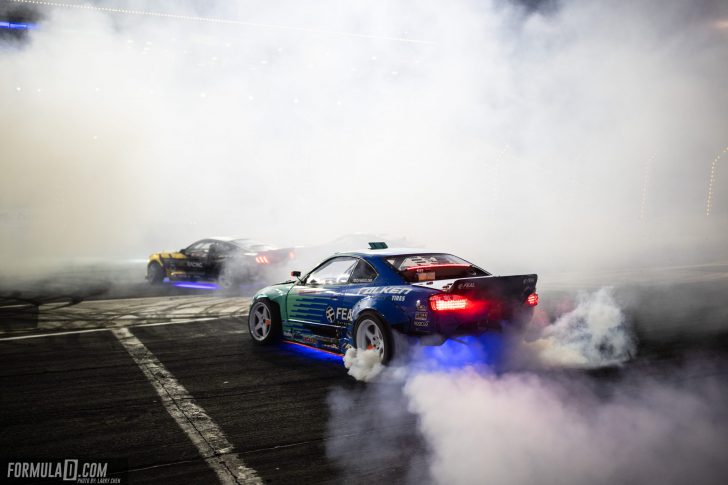 Odi Bakchis downfall this season has been easily documented by looking at the Championship Standings round after round. Odi Bakchis turned it on big time for the Round 8 to finish off the 2020 Formula Drift season. His tandem chase runs were the highlight of the weekend as he dismissed the Champion Vaughn Gittin Jr. and second place Chelsea DeNofa on the way to a huge victory Sunday night. He was looking like Odi Bakchis of old and his last round performance pushed his season finish to a respectable sixth place and should set a marker of where he needs to start in 2021.
3. So Close DeNofa!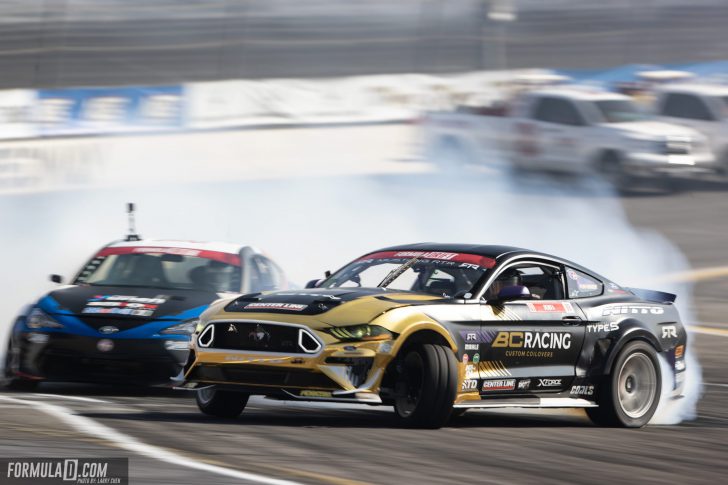 Chelsea DeNofa has largely been looked at as a Championship level driver who tends to just overdrive a few times a season and that results in an early exit that pushes him down the points ladder. Closing out the 2020 Formula Drift season he showed that he has matured to another level in his driving game. He finished the season in second place behind his RTR teammate Vaughn Gittin Jr. A great season we assume he can build on into next year for sure.
2. What Happened to Ryan Tuerck!?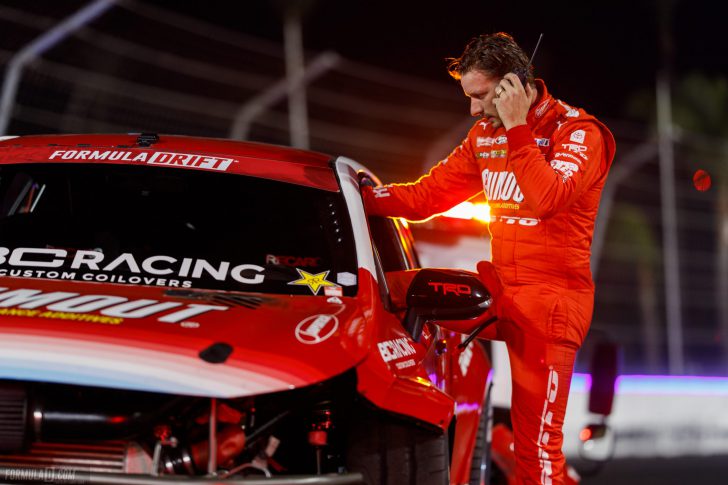 Ryan Tuerck had one of the worst weekends in his Formula Drift career. He started off his Championship chase weekend with a high-speed crash into the big bank on Friday in the Top 16. The Papadakis team couldn't scramble to get the car back together in the allotted time which was a bummer since the team just swapped an engine during halftime.
1. Vaughn Gittin Jr. is Champion Once Again!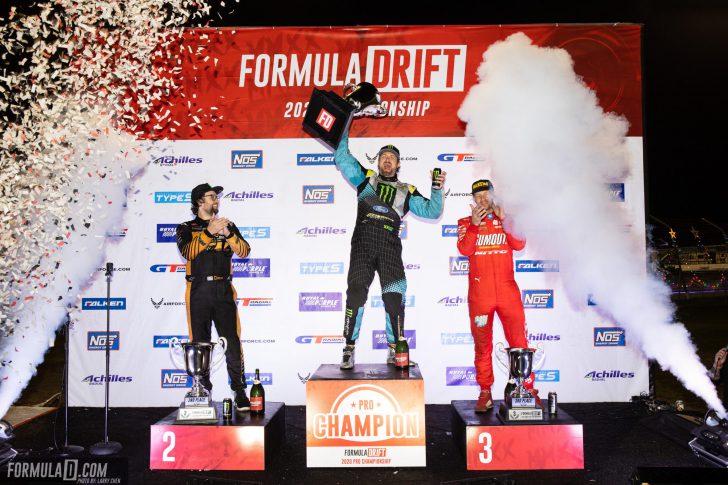 Vaughn Gittin Jr. won his first championship 10 years ago at the same track in a Mustang chassis with a stadium full of fans. Sadly, he takes home his second championship behind closed doors at Irwindale Speedway. The silver lining for him I am sure for him is that he was able to share this one with his son Gunnar! The double round events really put crew and teams to the test and this Championship proves the RTR team is one of the best dominating this season with a 1 and 2 finish. Vaughn becomes only the fifth driver in Formula Drift history to win a second Formula Drift Championship in series history.