Written By Joey Redmond
10. COVID Format and the Future of Formula Drift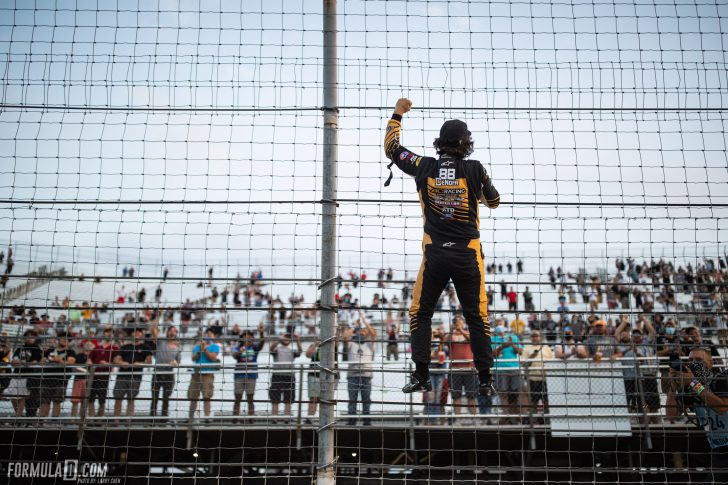 It was so refreshing to have Formula Drift back in action. The COVID series modifications are interesting under the circumstances but I have to wonder if some of these COVID sporting changes could be a test model for the future of the series? For example, did anyone really miss qualifying? I didn't think so! The double round (triple when you count Pro 2) weekend is something I enjoyed far more than I realized I would personally.
Perhaps in the future, Formula Drift could look at doing double rounds where they can run two track layouts at the same venue. Irwindale Speedway comes to mind as the perfect example. The course could be run one way on Saturday and the other direction on Sunday. Just food for thought, but it could be huge savings for teams and really highlight some of the better venues on tour with a double stop.
9. The Matt Field Slide, Crash and Win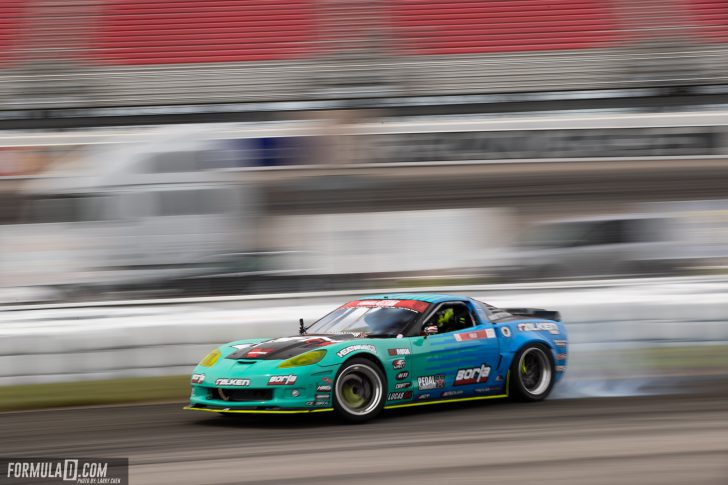 This was clearly a controversial moment in the event that took out a Fredric Aasbo, a potential 2020 Championship contender, rather early in the weekend. Regardless if you like the call that happened, the sporting rulebook proved to cover this incident and I think that deserves some praise in this judged sport with so many variables. We may never know how intentional or why Field went down the track so fast but Aasbo ultimately has to concede that space to allow Field to do his entry in this circumstance. I do understand it hurts to watch that battle end that way because it had so much promise. Also on a side note, did anyone not slam or crash into that poor Corvette over the weekend? Ouch, sorry Matt!
8. Battle of the Weekend / Chelsea DeNofa vs. Chris Forsberg (Round 2)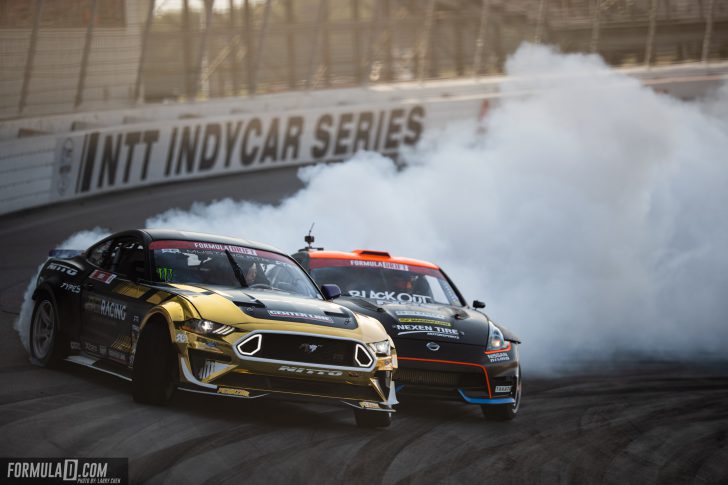 WOW! In the pre interviews both of these drivers seemed to toss a bit of shade at each other and that helped build the anticipation of this battle! I really felt the tension as this battle came to be. This battle delivered and each driver was going full out, which forced the judges into an OMT call. On the OMT, the battle was just as heated with DeNofa flinging the car up onto three wheels and barely pressing the brake pedal with Forsberg in pursuit. Forsberg on his chase got lost in the smoke and then lost drift at the finish line giving DeNofa the victory!
It ended up being almost a mirror weekend of Long Beach 2016 when Chelsea DeNofa won his first career drift event. He beat Forsberg in the Top 16 and went on to a victory!
7. Rookies Prove Driver Gap is Shrinking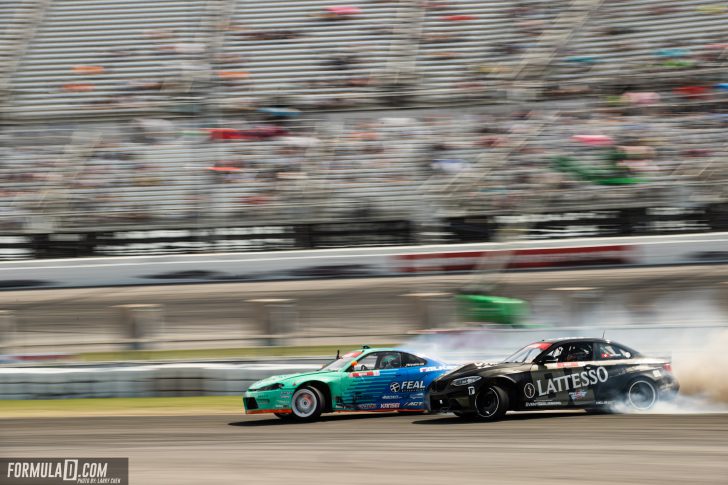 The rookie class was really impressive on aggregate over the weekend. Even though many of the rookie drivers suffered double Top 32 loses on the weekend, they pushed their competition hard and didn't go down without a fight. Adam LZ took on two champions in his Top 32 battles and fought off some car issues while still going down with a decent showing. Yves Meyer arrived from Switzerland and performed quite well in his 2-series BMW considering his short career time spent as a drifter.
My favorite rookie of the weekend was by far Alec Robbins in his Nissan 350z. He now sits 18th in the championship after winning one of his Top 32 battles and putting down a decent Top 16 performance. Alec was notable for going full send on each pass showing he wasn't afraid or hesitant to perform at the worlds highest drifting stage and we want to see more of it at Evergreen Speedway!
6. Rome Charpentier's Story Embodies the Formula Drift Spirit


Rome Charpentier took his rookie badge of courage to the max this past weekend before the race even started. You can find the insane damge on his Instagarm @romecp, but basically his truck/trailer hit some uneven pavement in New Mexico and it flipped over his entire rig. Everyone was safe and unharmed in the accident thankfully! The truck and trailer were a wash but the drift community stepped right in and helped Rome and his team get out to St. Louis so he could compete! What a story and we hope Rome and his team can show the fighting spirit all season long!
5. Mr. Great 8 – Dylan Hughes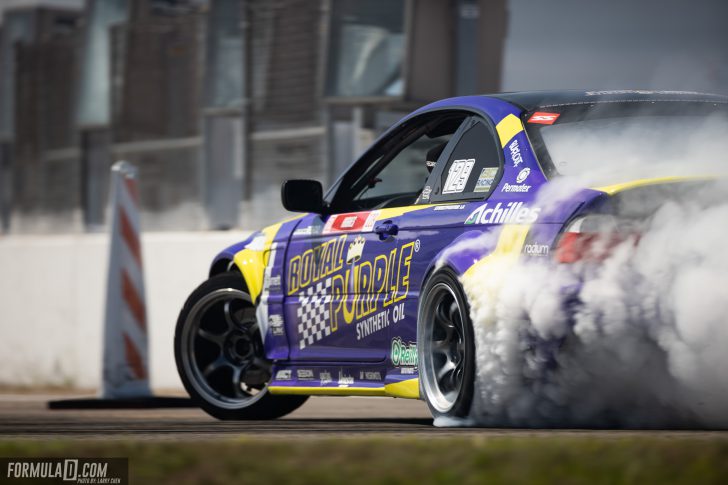 Dylan Hughes looks so good in his newly put together BMW that he built for himself for the 2020 Formula Drift season. Dylan Hughes actually lost to Ryan Tuerck twice in the Great 8 but looked very competitive overall and dialed with his new build. He currently sits seventh in the championship rankings and I think could be the unexpected driver you find finishing in the Top 5 this season if he can keep that performance level up for the next three race weekends.
4. Pro 2 Rookie Josh Love Dominates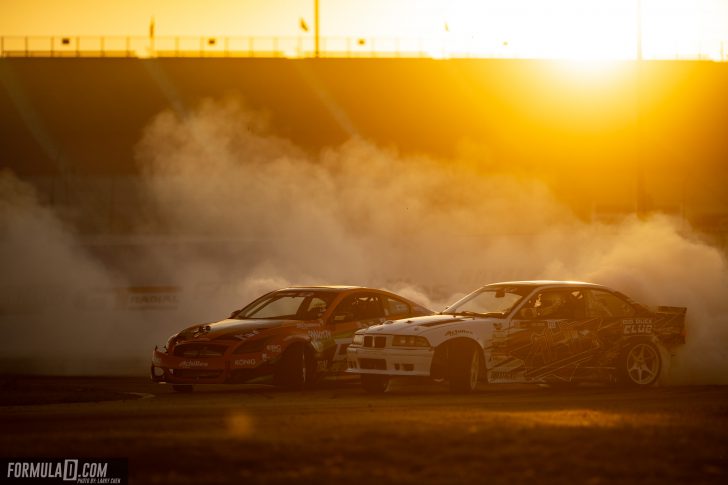 Josh Love stole the Pro 2 show with an insane performance all weekend. His most memorable moment for me was his great battle with Jonathan Hurst in the finals! This is the best start to a Pro 2 season overall and that seemed unlikely with just eight returning drivers from the previous season. The new blood turned it up and one of them even won the whole thing in his BMW! I cannot wait for the next Pro 2 round to go down.
3. One Big James Deane Hole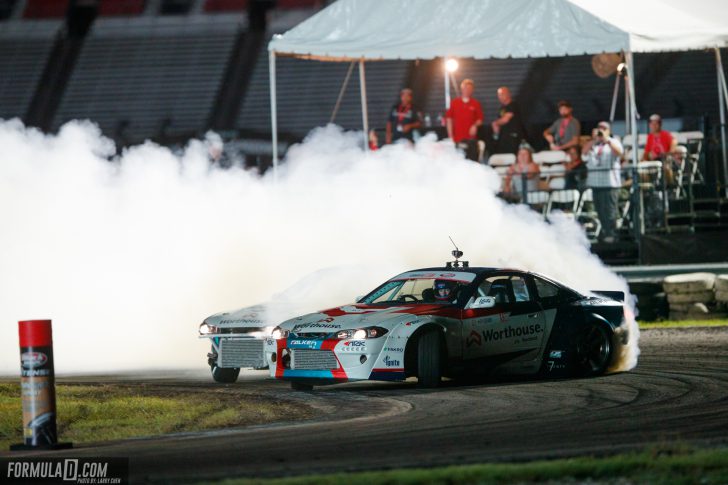 Just before the St. Louis round, James Deane and the Worthhouse Formula Drift team announced they weren't going to return to the series and dismantle the team. James Deane then made a YouTube video implying he would possibly return and had a few options to come back with cars to drive hopefully. James is now unquestionably the greatest Formula Drift driver in history after winning the championship three times in a row. The series has a huge James Deane sized hole in its heart and the two rounds over the weekend didn't feel right without the menacing S15's ready to shake up the event weekend and likely find a podium.
2. Is the Grid About to Get Tuerck'd?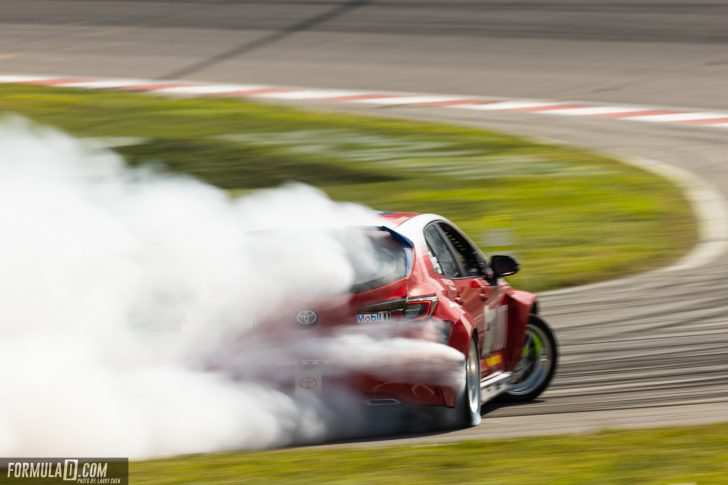 The Papadakis Racing partnership just feels like it has come at the exact right time for Ryan Tuerck. He has always found himself in cars plagued with random issues that really have held him back from being in the end of season championship conversation. This weekend the Toyota Corolla and Tuerck looked great and the combination seemed to give Tuerck supreme confidence throughout the St. Louis weekend and it showed on the track. Tuerck currently sits in first in the Formula Drift championship and he also implied in his interviews the car is barely dialed in and tuned to his specifications.
1. Don't Forget About Odi!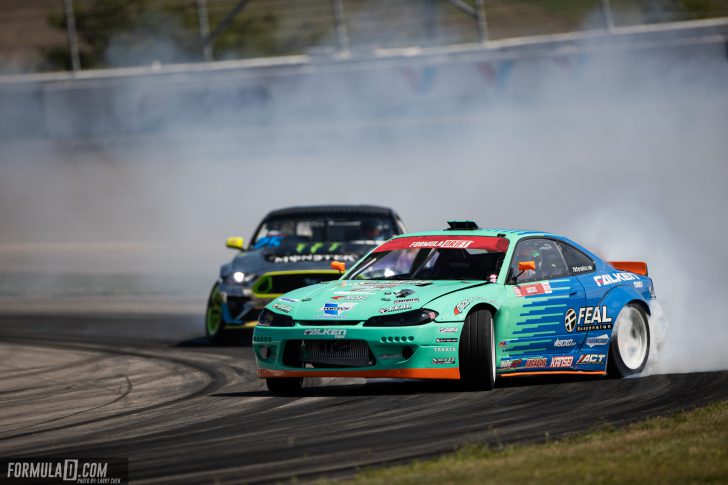 I always look at Odi Bakchis as an underdog or underrated in the sport. His quiet demeanor really sets him apart from the alpha male filled paddock on each race weekend. Odi thinks so much about drifting and how to improve his skills season over season and it shows in his driving and car builds. After two rounds, Odi Bakchis finds himself tied for first in the championship points with Ryan Tuerck! 2019 was such a stand out season for him where he only finished 68 points behind James Deane in the championship race. He came out to St. Louis in a new freshly build S15 Silvia this past weekend showing he wants to continue that upward trend in his career and make it a fourth championship in a row for Falken Tire.