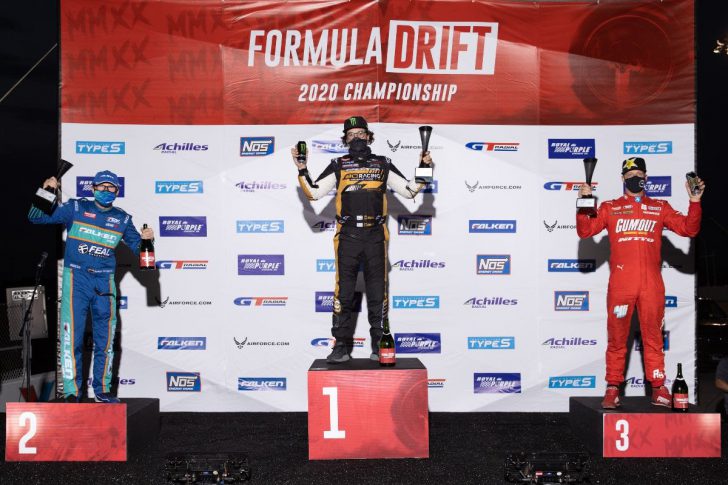 ST. LOUIS, MO – With motorsports gradually returning to pre-pandemic levels, the 17th season of Formula Drift got back on track over Labor Day weekend with a first-ever doubleheader at the "Crossroads," World Wide Technology Raceway outside St. Louis, Missouri. Team Falken's Aurimas "Odi" Bakchis finished 3rd in Round 1 and grabbed 2nd in Round 2, placing him in a tie for first place in the 2020 Driver's Championship.
Team Falken kicked off the 2020 season with four usual faces representing the brand: Matt Field, Justin Pawlak, Dai Yoshihara, and Odi Bakchis. Both Pawlak and Bakchis unveiled new cars: Pawlak arrived with a new version of his traditional Mustang, while Bakchis debuted a new Nissan S15 build.
"Unfortunately, defending and three-time Formula Drift Champion James Deane and Piotr Wiecek of Worthouse DRIFT Team chose not to participate this season due to complications with travel as a result of the pandemic," noted Steve Wong, Falken's Supervisor, Passenger Car Motorsports & Events. "James and Piotr remain in their native home countries. Obviously, we're disappointed they can't be here, but we certainly thank them for three amazing years and hope to work with them again in 2021."
Modified Top 32 bracket seeding placed Field, 2nd; Pawlak, 3rd; Yoshihara, 6th; and Bakchis, 11th. All four Falken drivers advanced to the Top 16 in Round 1, but it was Bakchis who would advance to the Top 4 after defeating teammate Justin Pawlak. He claimed third place in Round 1.
On Sunday, the teams returned to the track ready for Round 2. Again, Top 32 bracket seeding was based on the highest-ranking driver who pulled a number between 2-15, which then saw the grid seeded in an inverted order. This was partially due to time limitations more than anything else, and after 320 days without competing in Formula Drift, the drivers were simply eager to get out on the track.
"This has been a great experience overall," noted Bakchis, who started 6th in Round 2, with teammate Pawlak in 3rd, Field in 9th and Yoshihara, 11th. "After being out of competitive drifting for so long, we started working well together both as a team and individually. My car was set up right, and of course, the four of us have been teammates for a long time. As always, Falken was right there with us every step of the way, along with the always dependable Azenis RT615K+ tires."
Bakchis quickly advanced to the Top 4, having to defeat teammates Yoshihara and Pawlak, then fending off Ryan Tuerck to face Chelsea Denofa in the final. He ultimately finished 2nd, while teammate Matt Field finished 4th.
"It's great to be back at Formula Drift," added Falken's Wong. "Odi took the valuable data he learned from Round 1 to improve his position and finish 2nd in Round 2, and that was simply well done. Team Falken will remain strong, and we're really pleased to have Odi share first place in the Driver's Championship as we march off to our second doubleheader later this month at Evergreen Speedway."
Rankings after Round 2 include Bakchis tied for 1st; Field in 5th; Pawlak, 6th; and Yoshihara in 14th.
Rounds 3 and 4 will be held in Monroe, Washington, September 25-27.