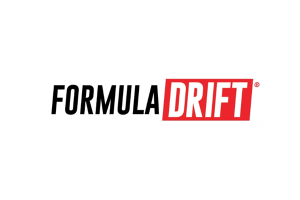 EVENT DETAILS
Date: Sunday, November 22, 2020
Location: Irwindale Speedway, Irwindale, CA
Event: Formula DRIFT PRO Championship Round Eight, TYPE S Title Fight Weekend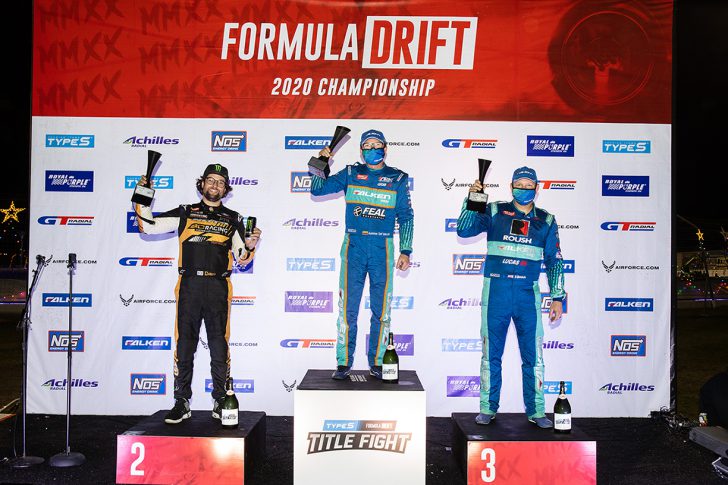 RESULTS
Winner: Aurimas Bakchis (Lithuania) – Falken Tire / Feal Suspension Nissan S15
Second: Chelsea DeNofa (USA) – BC Racing / Nitto Tire Ford Mustang RTR
Third: Justin Pawlak (USA) – Roush Performance / Falken Tire Ford Mustang
2020 FD PRO CHAMPIONSHIP RESULTS
Winner: Vaughn Gittin Jr (USA) – Monster Energy / Nitto Tire / Ford Performance Mustang RTR Spec 5-D
Second: Chelsea DeNofa (USA) – BC Racing / Nitto Tire Ford Mustang RTR
Third: Ryan Tuerck (USA) – Gumout / Nitto Tire / Mobil 1 Toyota Corolla
Top Rookie: Adam LZ (USA) – Enjuku Racing Nissan S15
Auto Cup: Ford
Tire Cup: Nitto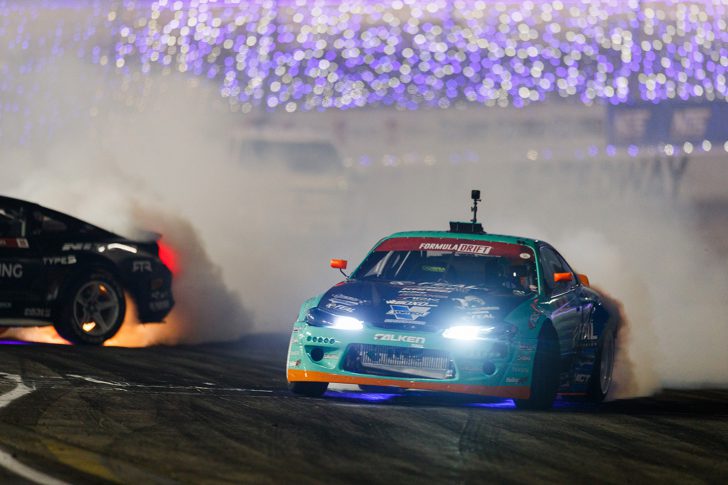 NOTES
2010 FD PRO Champion Vaughn Gittin Jr is the 2020 FD PRO Champion
Gittin Jr won the title at the start of the Top 16 heats when his remaining opponent was eliminated
Third-placed title hopeful Fredric Aasbo (Norway) in the Rockstar Energy Drink / Nitto Tire GR Supra was eliminated during the Top 32 heats after hitting the wall initiating against Ryan Litteral (USA) driving the PowerStop / GT Radial Nissan 350Z
Second placed title contender Ryan Tuerck (USA) in the Gumout / Nitto Tire / Mobil 1 Toyota Corolla was eliminated during the Top 16 heats after he collided with Jonathan Nerren (USA) in the CJ Pony Parts / Shelby American Super Snake
RTR Motorsports placed first and second in 2020 FD PRO Championship
RTR helped Ford claim the Auto Cup and Nitto the Tire Cup
With his Round Eight victory, Bakchis is the sixth winner during the 2020 FD PRO season
ROUND EIGHT TOP 16 PRO DRIVER POINTS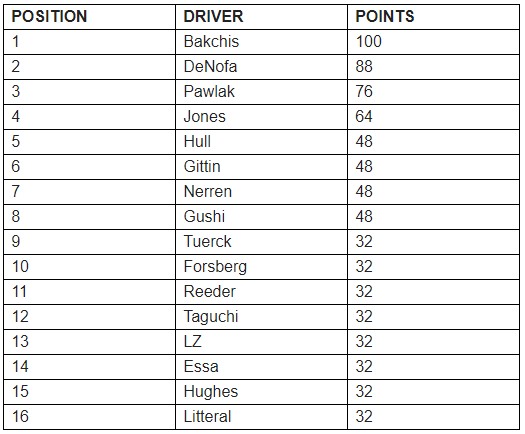 FINAL 2020 PRO CHAMPIONSHIP DRIVER STANDINGS


FINAL 2020 AUTO CUP STANDINGS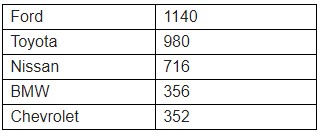 FINAL 2020 TIRE CUP STANDINGS

FORMULA DRIFT IRWINDALE RECAP
A full recap of PRO Rounds Seven and Eight as well as PRO2 Round Four from Irwindale Speedway will follow on Monday along with event images.
2021 SEASON
Thank you for supporting the 2020 Formula DRIFT PRO and Link ECU PRO2 Championships. We will communicate details of the 2021 FD schedule in the New Year. Please visit formulad.com for driver profiles, new content and more.