By Joey Redmond
10. Mike Power Wins his Second PROSPEC Event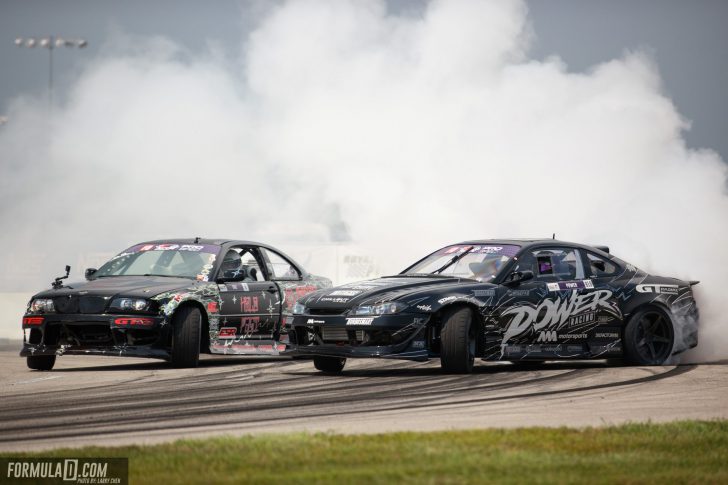 Mike Power finished the 2020 PROSPEC season with a victory at Irwindale and found his way back to a first place finish this weekend at World Wide Technology Raceway in St. Louis! The last PROSPEC round is at Irwindale Speedway again on October 22nd-23rd. Mike Power likely has a small outside chance of winning it all with another Irwindale victory since he is 60 points behind the current leader Dmitriy Brutskiy. Mike Power can be comforted by the fact that Kevin Lawrence pulled off a very similar task during the 2017 Formula Drift PROSPEC series at Texas Motor Speedway. Kevin Lawrence started the last round 81 points behind the leader and in 5th place as the day started but he won the event while others were eliminated early and he managed to win the PROSPEC Championship series.
9. Rookie of the Year Race is Tied


Branden Sorensen jumped back up to tie the ROTY standings by defeating Joshua Reynolds in the Top 32. Simen Olsen then was eliminated in the Top 32 by Michael Essa who performed really well all weekend in his BMW. This puts both drivers tied at 261 points sitting together in 17th place for the ROTY race with just two California events to go.
8. Alec Robbins Dominates Qualifying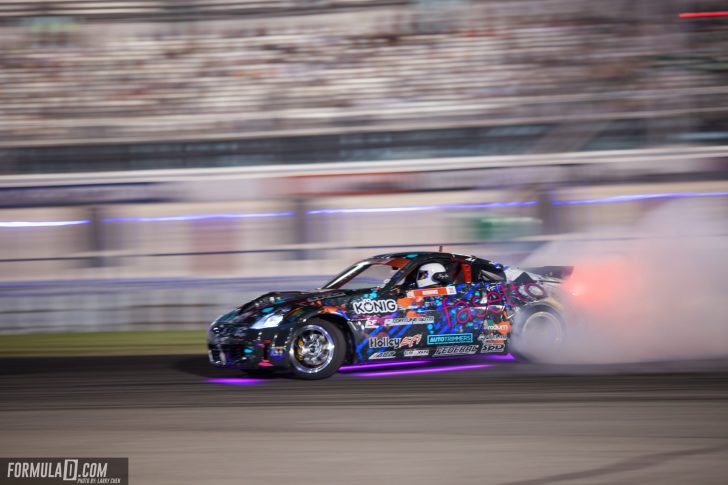 WOW! Alec Robbins looked like a Formula Drift Pro champion in qualifying and secured the first-place qualifying spot granting him a bye run into the Top 16. Alec Robbins ended up making it to the Great 8 where he sadly crashed his Nissan 350z hard trying to push against Ryan Tuerck. I love to see the progression of Alec Robbins and hope he can continue this level of performance next round at Streets of Long Beach September 17th-18th.
7. Two Words: Ken Gushi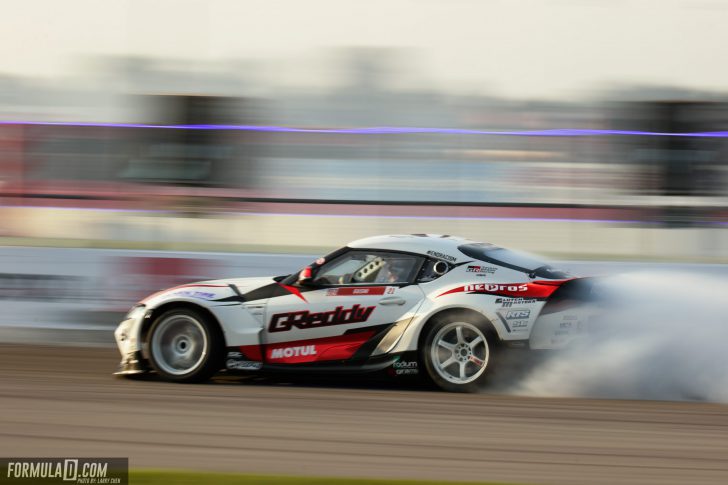 I don't think I have felt so bad for a team and driver in Formula Drift history. Ken Gushi is one of the original 2004 Formula Drift drivers still competing in the sport. His Instagram over the weekend told the story of a team full of confidence after making improvements to his Toyota Supra and feeling good out of the box when St. Louis started off for them. Then, before qualifying he had a catastrophic engine failure and left the team unable to complete a qualifying lap ending their weekend too early yet again.
6. Vaughn Gittin Jr. Turns it Back On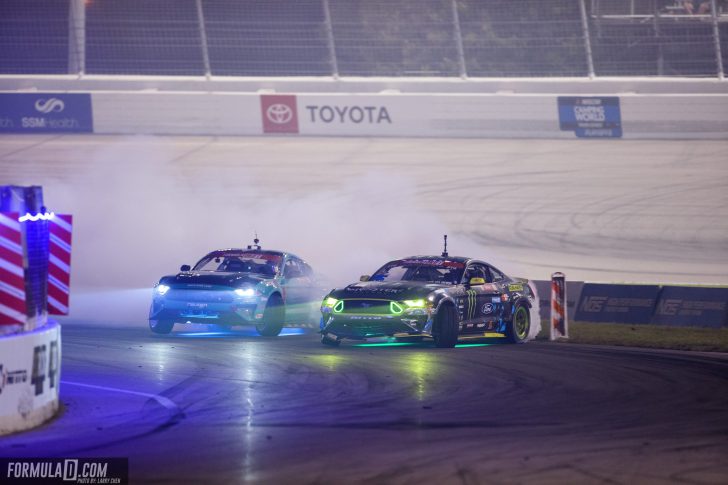 The reigning Formula Drift Champion Vaughn Gittin Jr. has been a little hot/cold with his performances this season. The Mustang vs. Mustang showdown against Justin Pawlak left me wanting another six One More Time calls from the judges so we could see them push each other head to head. He really had a standout and flawless race weekend and finished in the Final Four with one of the hardest tandem brackets anyone saw from Top 32 onward. His tough break came as his car broke against Matt Field and he was unable to fix it for his Final Four battle against Fredirc Aasbo. That Final Four battle would have been one for the history books but hopefully they can meet again at Streets of Long Beach to entertain all of the fans!
5. Matt Field Leaves it on the Track!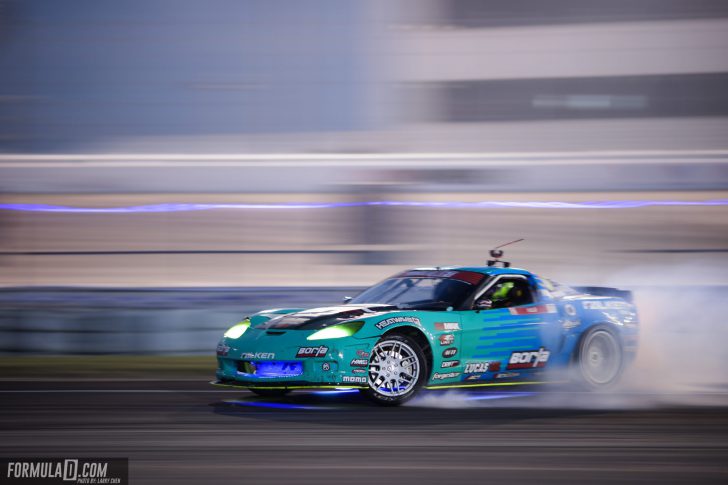 The Top 16 battle with him and Vaughn Gittin Jr. was looking to be one of the best during the entire St. Louis weekend. Sadly, Matt Field had to call a Competition Timeout due to a broken handbrake that he couldn't source a fix for so he ended up running without one on the chance he could make it work in the chase position. I love his teams never give up attitude, but the tandem battle sadly ended up with Matt Field spinning and bumping the wall. Matt Field did retain the Formula Drift Championship lead by 14 points over Chelsea DeNofa.
4. Dylan Hughes Does it Again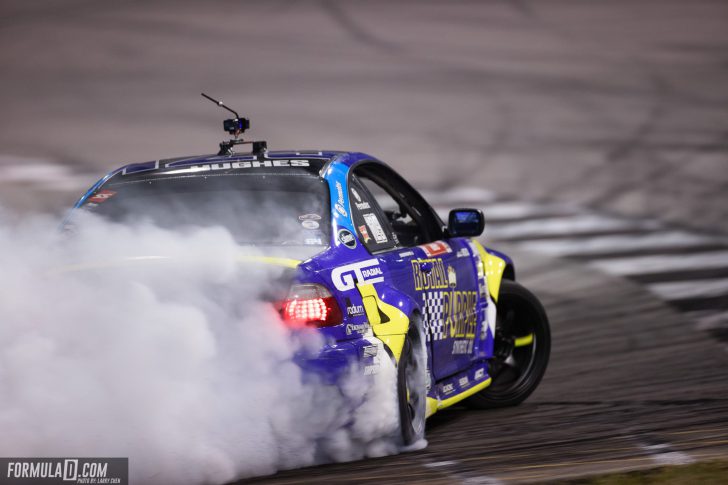 Dylan Hughes goes back to back podiums locking in another third place at St. Louis after his amazing hometown performance in Seattle earlier this month. Dylan had a great tandem battle with Odi Bakchis in the Great 8 that really displayed his growth and talent in the sport. Dylan Hughes was really consistent all weekend long until he crashed into Ryan Tuerck pushing too hard to put down an aggressive chase run in the Final Four. Even with that mistake, his great performance places him seventh in the Formula Drift Championship chase with two rounds of the series left.
3. DeNofa's Tough Loss to Michael Essa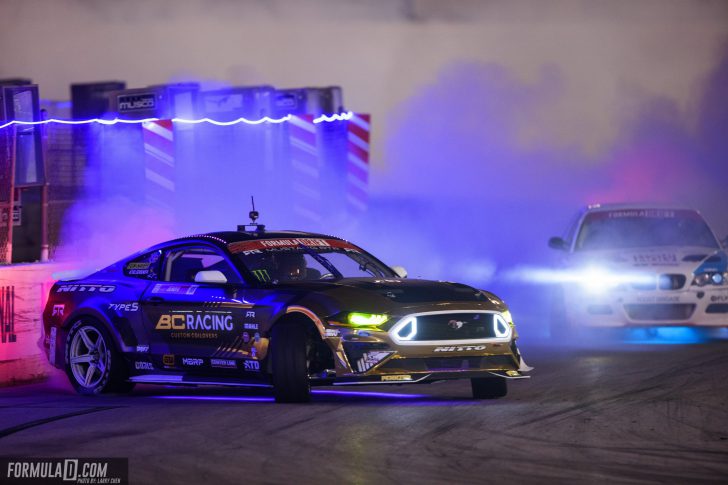 Chelsea DeNofa had some amazing momentum behind him as he rolled into St. Louis by winning the last two events. DeNofa had a really sloppy Top 16 battle with Michael Essa that ultimately ended up with him crashing into Essa while in the chase position. This early exit was a huge missed opportunity for Chelsea DeNofa to take the Championship Points lead from Matt Field who went out early with this broken handbrake.
2. Ryan Tuerck Does Back to Back Second Place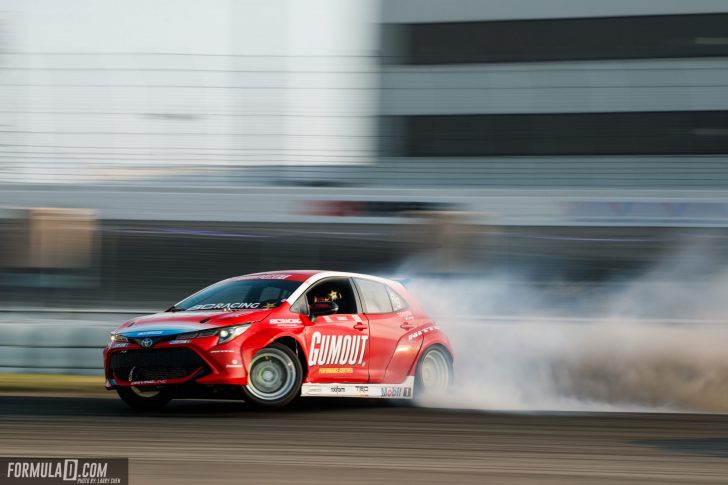 Ryan Tuerck finished in second place for the second Formula Drift event in a row and this time he even got to compete in the final battle. Ryan Tuerck has looked inspiring over these last two rounds including his victory over his longtime friend Chris Forsberg and then his amazing battle with Dylan Hughes in the Final Four. Ryan Tuerck is sitting in fourth place overall just 67 points behind Matt Field as they head to the Streets of Long Beach next.
1. Fredric Aasbo Finishes Top Once Again!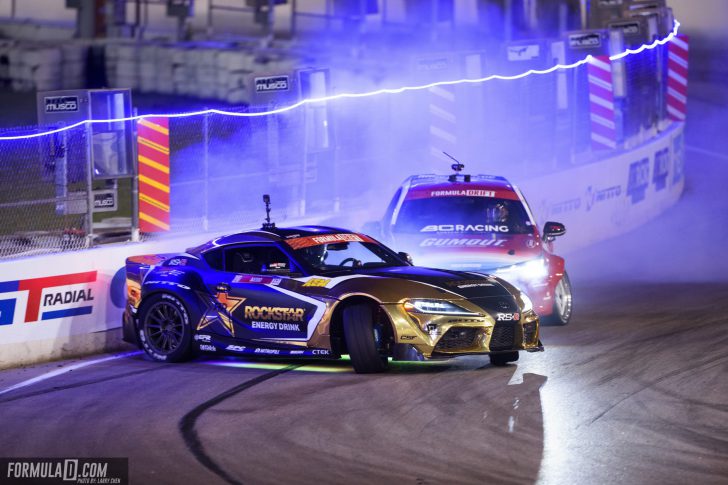 The unstoppable Fredric Aasbo took home a victory on the night after being pushed hard in several battles. His original battle with Michael Essa in the Great 8 was one of my favorites of Formula Drift St. Louis. Aasbo ended up earning the victory by defeating his Papadakis Racing teammate Ryan Tuerck in the finals. This marks his sixteenth career Formula Drift victory and reaffirms his place as the winningest Formula Drift driver in series history. Aasbo now only finds himself 19 points behind Matt Field for the 2021 Formula Drift Championship.