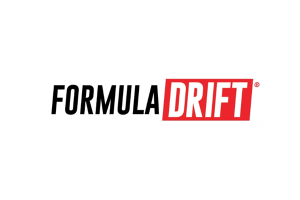 After being scheduled in September last year, the Streets of Long Beach returned to its traditional position as the opening round for the 2022 Formula DRIFT PRO Championship. The teams were treated to perfect drifting weather for Round 1: AutoZone Streets of Long Beach presented by TYPE S, with a warm, sunny K&N Qualifying session on Friday and an overcast Competition Saturday.
Having said goodbye to several of pillars of the sport in 2021, the new season welcomed five Rookies, including four graduates from the FD PROSPEC Championship where success guarantees a PRO license for the top performers. They would be joined by Darren Kelly, a drift champion from New Zealand who grabbed the headlines with a supercharged V12 under the hood of an immaculately prepared Aston Martin Vantage. Unfortunately, he was sidelined with technical issues but everybody is looking forward to Darren's return.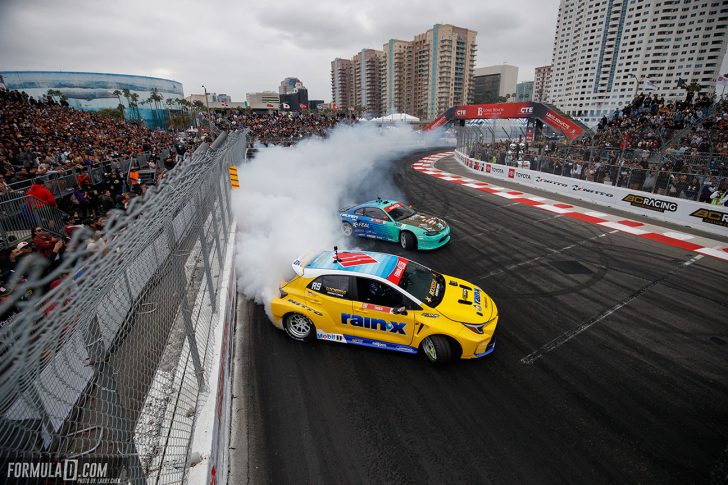 PRO QUALIFYING
Kelly wasn't the only driver at the wheel of a new car. The K&N Qualifying session saw a host of debutants including three-time Champion Chris Forsberg (USA) in the NOS Energy Drink Nissan Z on GT Radials. Reputed to be the first new Z outside of Nissan ownership, it boasts a GTR powertrain and smart new livery. Forsberg qualified the car in eighth position with an 85-point run.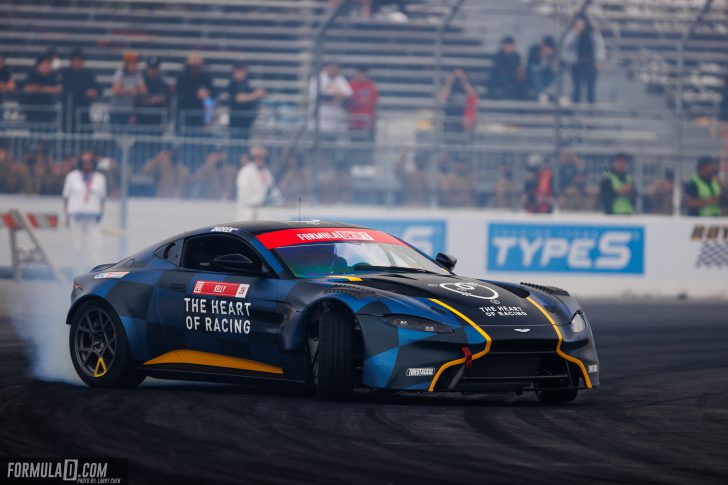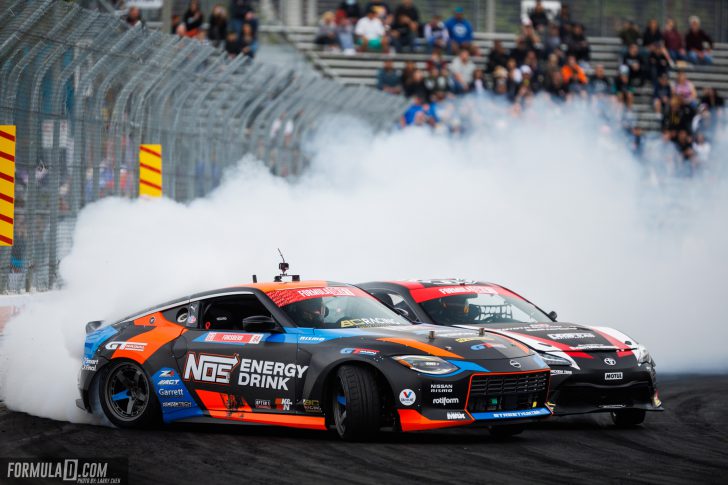 Another big story was the Toyota GR Corolla; a 300hp, AWD, manual transmission hatchback that made its global debut at Formula DRIFT Long Beach. As part of the introduction, Ryan Tuerck (USA) revealed his Rain-X / Nitto Tire Toyota GR Corolla with GR-style bodywork and a distinctive yellow livery. Delivering an almost perfect 93-point qualifying run, Tuerck put his GR Corolla in first place.
Reigning FD PRO Champion and Tuerck's teammate, Fredric Aasbo (Norway) scored 85 points in his Rockstar Energy Toyota GR Supra, placing him seventh in the competition heats.
Completing the Toyota GR trifecta – with FD being the only series in the world to have all three GR models competing – Jhonnattan Castro (Dominican Republic) debuted the Gerdau Metaldom Toyota GR 86 in tenth position.
Adam LZ (USA) replaced the 2010 and 2020 FD Champion Vaughn Gittin Jr in the RTR Motorsports team. Transferring from his Nissan to the 1200hp AutoZone Ford Mustang RTR Spec 5-FD, LZ qualified 11th while teammate Chelsea DeNofa (USA) put his Pennzoil / BC Racing Ford Mustang RTR Spec 5-FD in second with a spectacular 91-point run.
Matt Field (USA) returned to the series in the Drift Cave / Falken Tire C6 Corvette and qualified third, maintaining his momentum from a very strong 2021 Championship challenge. Perhaps his success encouraged Taylor Hull (USA) to trade in his Cadillac ATS-V for the Comp Cams / Liqui Moly / Yellow Speed Racing Chevrolet Corvette. He qualified 24th and continues to be a driver to watch for the future.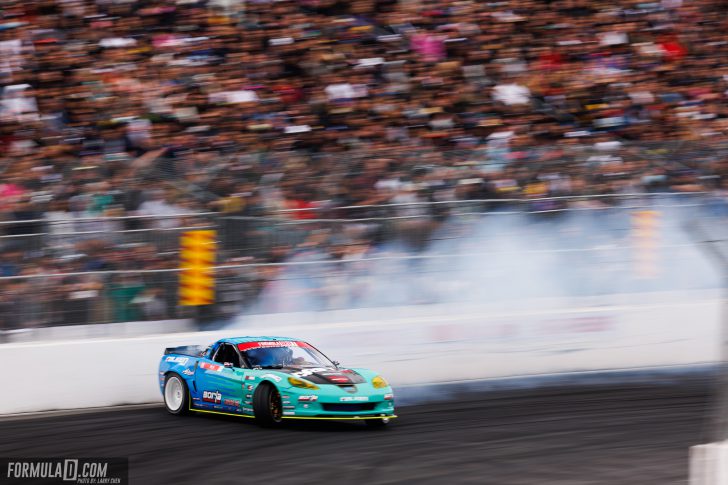 Joao Barion (Brazil) returned from hiatus to debut the Barbarius Drift C8 Corvette, which he qualified in 18th. Technical issues meant he failed to appear for his Top 32 competition heat, giving a bye run to Kyle Mohan in the KMR / Renewable Lubricants / Mazdatrix Mazda RX-8.
Of the five series Rookie drivers, Daniel Stuke (USA) was the quickest to acquaint himself with the Streets of Long Beach; a track not used by the PROSPEC Championship. Driving the Stuke Racing / MspeK Performance Nissan S14.9, he scored 81 points and placed 12th. Joshua Love (USA) acquitted himself well in 21st place driving the After Hours Autosports E46 BMW.
Unfortunately, Nick Noback (USA) spun on his first qualifying run in the KoruWorks E46 BMW, while Mike Power (USA) in the Power Racing Nissan Silvia and Darren Kelly driving the 2022 Heart of Racing Aston Martin Vantage similarly scored zero points. All three would participate in the Knockout Qualifying Format, which sees the bottom eight drivers given a second qualification run. And with 34 drivers competing for 32 competition places, two would be relegated to the sidelines.
Ultimately, it was technical issues that removed two competitors, with Kazuya Taguchi (Japan) in the ISR Upgarage / GT Radial Scion FRS and Federico Sceriffo in the "Fiorella" Ferrari 599 GTB unable to complete their second runs. Kelly would qualify the Aston Martin in 31st but failed to make the Top 32 competition heats, gifting DeNofa a bye run.
PRO COMPETITION
While Toyota scriptwriters might have written a 1-2-3 finish for the event they chose to launch the GR Corolla to the world, they must have been delighted to witness Ryan Tuerck's Rain-X / Nitto Tire Toyota GR Corolla take the gold. It was the first win for Tuerck since Round 5 in 2020 and goes into the history books as the first ever win for the GR Corolla.
With clouds lingering in the Long Beach skies, a Tuerck win seemed to be a stretch as the Papadakis Racing team started the day with a hurried engine change following head gasket concerns. The team did its job and Tuerck had a clean run to the Final.
Tuerck's first battle in the Formula DRIFT PRO Championship Round 1: AutoZone Streets of Long Beach presented by TYPE S saw him pull up to the start line alongside Jeff Jones (USA). This was after Jones had called a Competition Time Out (CTO) to check the Evol Auto Works / PRISMA Labs Nissan 370Z. Possibly down on power, Jones had two respectable runs but Tuerck was set to Expert Level.
In the Top 16, Branden Sorensen (USA) strived to impress his new sponsor in the US Air Force / Sorensen Motorsports BMW. And while he certainly didn't embarrass himself, Sorensen couldn't match Tuerck's moves.
In the Top 8 heats, the opponent was Forsberg in the new Z. The man has forgotten more about drifting than most of us will ever learn and can't be under-estimated. However, Forsberg was late to transition into Outside Zone 1 (OZ1) on the first run, putting him offline and allowing Tuerck to climb all over him. At the end of the run, the cars collided at Inside Clip 1 (IC1), and with Forsberg judged to be at fault, he used his CTO to check the car. With pressure on Forsberg to perform on the second run, he launched fast but a wall impact and over-rotation in OZ3 gave Tuerck the nod from the judges, allowing him to progress to the Top 4 to meet another highly skilled adversary, Aurimas "Odi" Bakchis (Lithuania).
Odi has been a title contender for years and his precise driving style has won him a legion of fans. But he couldn't place his Falken Tire / Feal Suspension Nissan S15 as accurately as the GR Corolla driver, who simply made fewer mistakes and maintained superior proximity.
Tuerck's rival in the Final would be Matt Field (USA) in the Drift Cave / Falken Tire C6 Corvette. Another serious contender for the 2021 title, his day started easily enough with a Top 32 contest against Mike Power. Unfortunately, there were problems with the Power Racing Nissan Silvia, which was slow off the line on the first run and, having previously used his CTO, Power retired.
Field had a bye run in the Top 16 when Jonathan Hurst (USA) failed to appear. Hurst had suffered a huge hit on his first run when Ryan Litteral (USA) transitioned late towards OZ2 in his Powerstop Brakes Nissan S15. With Hurst close behind in the Cash Racing E46 BMW, he was whipped into the wall by the Nissan's tail flick, resulting in a bent car and damaged foot. However, the FD paddock rallied around and almost got Hurst back on track, failing by a matter of seconds.
The heroics resulted in a bye run for Field who advanced to meet Dylan Hughes (USA) in an intense Top 8 confrontation. In his first match of the day, Field held nothing back, kissing the wall in OZ2 and clouting OZ3 but holding his line and finishing strong with Hughes in close company. On the second run, with Hughes leading in the DHR / Royal Purple / Falken Tire BMW, he set a tremendous pace and good line but the judge's decision went to Field.
And that was how Field faced reigning Champion Fredric Aasbo (Norway) in the Top 4. But things went very wrong, very quickly. With Field in the lead position, he missiled into the first turn, Aasbo trailing slightly. Aware of the Corvette's pace, Aasbo's Rockstar Energy Drink Toyota GR Supra closed in through OZ1. "I don't want to be that guy but I was greedy and ruined his day," an apologetic Aasbo would later explain.
As Field transitioned into OZ2, Aasbo was too close and their bumpers touched, knocking Field into the concrete walls. The subsequent spin damaged all four corners on the Vette, leaving Aasbo first on the scene to apologize.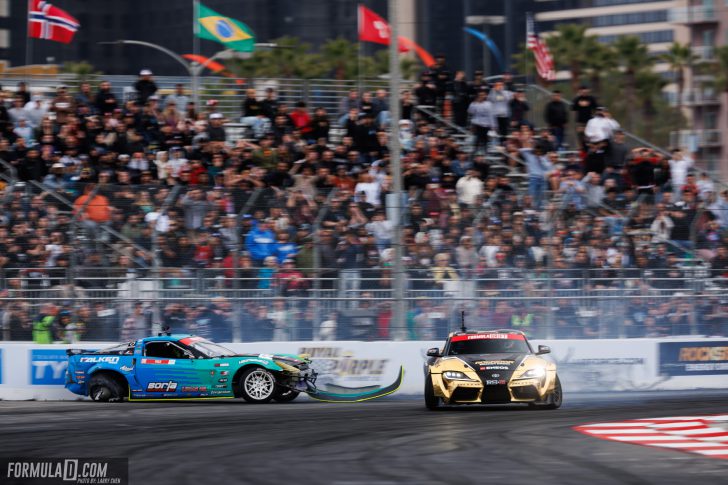 With the Norwegian at fault, Formula DRIFT rules permit the injured party 10min to effect repairs. Each driver also has an optional 5min Competition Time Out, which Field would be able to apply. The rulebook states that if Field was able to repair the car, his Quarter Final against Aasbo could continue, and with major points deducted from Aasbo for the collision, Field would essentially just need to complete the run. However, since Field was unable to fix the Vette, Aasbo was eliminated for causing the accident, meaning Field advanced to the Final. But since the Vette was beyond repair, Field had to settle for second and Tuerck took a smoky victory run to claim the Round 1 win.
"It was a perfect weekend – qualifying first and winning the Round; something I've never done in my 15 years of Formula DRIFT competition. But it's even more amazing to achieve it in the first round, so I'm going to try to take this momentum to Road Atlanta," a jubilant Tuerck told us after the podium celebrations. "The team worked hard to prepare the car coming into this season knowing I was having my son, which would limit my testing and practice time. I have to thank my crew chief, Brian Hartsock, Nick Byatt, Dominic Brio and Chris Kusnierek; those guys pulled me through this weekend and gave me a car capable of running through the competition and putting me on top." 
With no third-place competition, Bakchis placed third by virtue of his superior qualifying position (fourth) compared to Aasbo (seventh).
Top Rookie was Daniel Stuke (USA) who reached the Top 16 in his Stuke Racing / MspeK Performance Nissan S14.9 where he lost to Rome Charpentier (USA) driving the Garagistic / Federal Tires / imaginegarage E36 BMW. The pair had an epic battle that went to One More Time on two occasions. Stuke eventually finished tenth overall, signaling a promising future for the Rookie in the FD PRO Championship
After the first round, Toyota leads the 2022 Formula DRIFT PRO Auto Cup and Nitto heads the Tire Cup.
Before heading home for his post-race bubble bath and candles ritual, we caught up with Formula DRIFT President, Ryan Sage: "The weekend was incredible and it's great to kick off at Long Beach again, especially as this was the biggest event we've ever held. It's a remarkable record to set at the beginning of the season and gives us a phenomenal launching pad for the 19th season. We're all looking forward to start the national tour in Atlanta next month and can't wait to see the fans out there."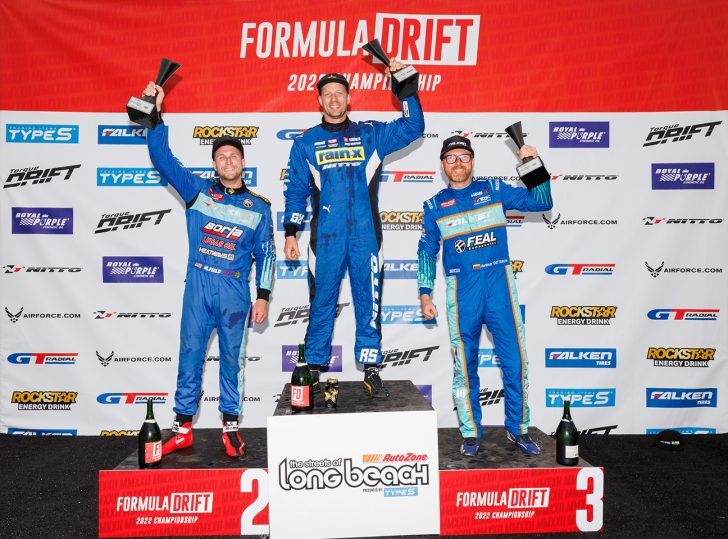 2022 FORMULA DRIFT CHAMPIONSHIP RESULTS
ROUND 1 FD PRO TOP 16 DRIVER POINTS & CHAMPIONSHIP STANDINGS
| | | |
| --- | --- | --- |
| POSITION | DRIVER | POINTS |
| 1 | Ryan Tuerck | 103 |
| 2 | Matt Field | 92 |
| 3 | Aurimas Bakchis | 80 |
| 4 | Fredric Aasbo | 80 |
| 5 | Chelsea DeNofa | 69 |
| 6 | Rome Charpentier | 67 |
| 7 | Dylan Hughes | 67 |
| 8 | Chris Forsberg | 67 |
| 9 | Jhonnattan Castro | 52 |
| 10 | Daniel Stuke | 52 |
| 11 | Kyle Mohan | 52 |
| 12 | Branden Sorensen | 52 |
| 13 | Jonathan Hurst | 52 |
| 14 | Dean Kearney | 52 |
| 15 | Wataru Masuyama | 52 |
| 16 | Taylor Hull | 52 |
2022 AUTO CUP TOP FIVE STANDINGS
| | |
| --- | --- |
| Toyota | 183 |
| Chevrolet | 144 |
| Ford | 104 |
| Nissan | 102 |
| Dodge | 52 |
2022 TIRE CUP STANDINGS
| | |
| --- | --- |
| Nitto Tire | 183 |
| Falken Tire | 172 |
| GT Radial | 119 |
| Federal Tire | 119 |
| Nexen Tire | 104 |
NEXT ROUND
Michelin Raceway Road Atlanta will host the Formula DRIFT PRO Championship Round 2: AutoZone Road to the Championship presented by TYPE S on May 6-7. Please visit formulad.com for the competition schedule, ticket information, driver profiles, special content, and the event livestream.