After the concrete walls of the opening round at Streets of Long Beach, the 2022 Formula DRIFT PRO Championship teams were relieved to experience the open spaces of Michelin Raceway Road Atlanta. The track has been a feature of the series since the inaugural 2004 season and its unique uphill/downhill layout sees the drivers start and finish at Turn 9, giving a unique character to Round 2: AutoZone Road to the Championship presented by TYPE S.
PRO QUALIFYING
The K&N Qualifying session began at 7:30PM on Friday, requiring all teams to run TYPE S undercar lighting kits. Warm, breezy conditions were a welcome alternative to threatened storms and helped disperse tire smoke from the track between runs.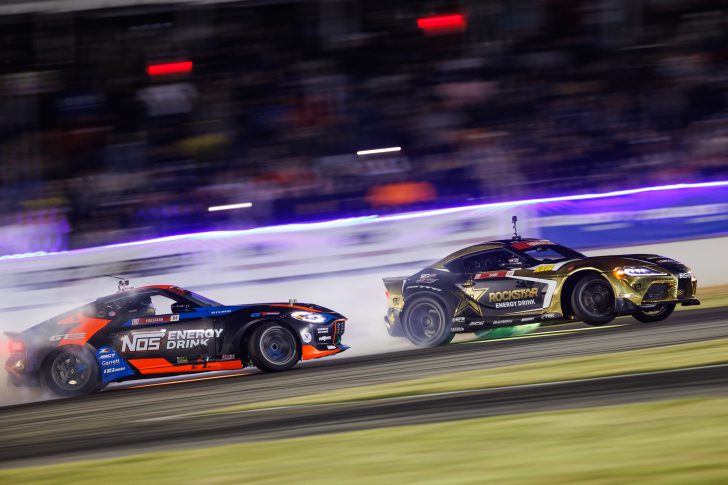 Continuing his incredible 2021 form, Matt Field qualified the Drift Cave / Falken Tire C6 Corvette in first position thanks to his trademark precision and aggression. Field scored an identical 93 points to second place Chelsea DeNofa (USA) in the Pennzoil / BC Racing Ford Mustang RTR Spec 5-FD, but took top spot by virtue of a superior style score.
Reigning Champion Fredric Aasbo (Norway) put his Rockstar Energy Toyota GR Supra in third with an 89-point score, while Papadakis Racing teammate Ryan Tuerck (USA) was in sixth after an 87-point run. As the top qualifier and winner of Round 1, Tuerck is a constant threat in his Rain-X / Nitto Tire Toyota GR Corolla.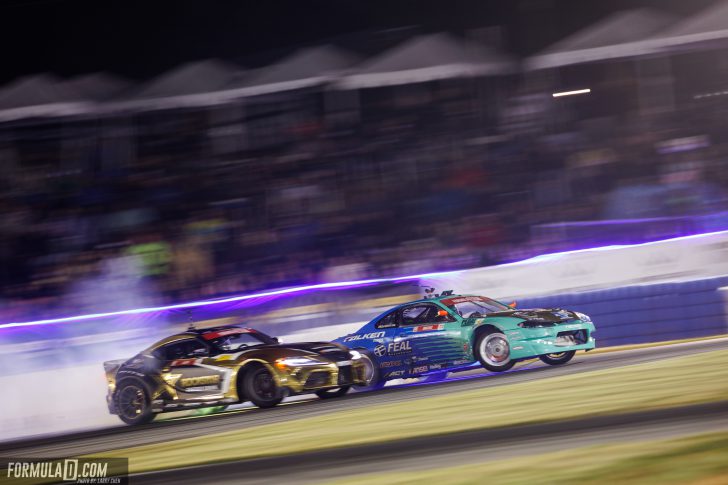 With Formula DRIFT reinstating championship points for the top three qualifiers, Friday's performance has become even more critical. Not only does it place greater emphasis on a consistent weekend performance, but possibly discourages the 2021 antics where Championship contenders were sandbagging in qualifying to juggle the competition bracket.
With many of the usual suspects occupying the top positions, Dan Burkett (USA) made a surprise appearance in fourth place driving the RAD Industries / GearWrench / GT Radial MkIV Toyota Supra. He scored 88 points, narrowly beating Jhonnattan Castro (Dominican Republic), who was another welcome addition to the Top 5. Looking potent in the new Gerdau Metaldom Toyota GR 86, drift fans were hoping Castro would also have a strong Saturday.
And in more good news for gearheads, Darren Kelly (New Zealand) qualified his 2022 Heart of Racing Aston Martin Vantage in 28th position, meaning drift fans would witness the first competition heats by this exotic machine.
Top Rookie qualifier was Mike Power (USA) driving the Power Racing Nissan Silvia. He scored 80 points and placed 20th, comfortably evading the Knockout Qualifying Format (KQF), which sees the bottom eight drivers repeat their qualifying run. Not only does it give a second chance to drivers who might have an incomplete first run, but helps to decide the elimination battle. With 37 drivers attempting to qualify for the Top 32 competition places, there would be tears before bedtime. On this occasion, Dean Kearney (Ireland), Ryan Litteral (USA) and Josh Reynolds (USA) hit the sack early after they were eliminated by technical problems. Joshua Love (USA) and Yves Meyer (Switzerland) were unable to finish their second runs and were also out.
PRO COMPETITION
With a fleet of Gazoo Racing machines littered throughout the entry list, Toyota continued its dominance of the 2022 Formula DRIFT PRO Championship with Fredric Aasbo (Norway) taking the win in his Rockstar Energy Toyota GR Supra. And he might have been joined in the Final by Round 1 winner Tuerck had the bracket not paired them in the Top 8 for an epic "One More Time" battle.
The 2015 and reigning Champion Aasbo started his day with a Top 32 battle against Joao Barion (Brazil) in the Barbarius Drift C8 Corvette. With Aasbo setting an extraordinary pace, Barion cut several corners to find proximity, resulting in steering damage as he dropped off the high curbs. Forced to take a 5min Competition Time Out (CTO) for repairs, the Corvette broke as it left the starting line for its second run.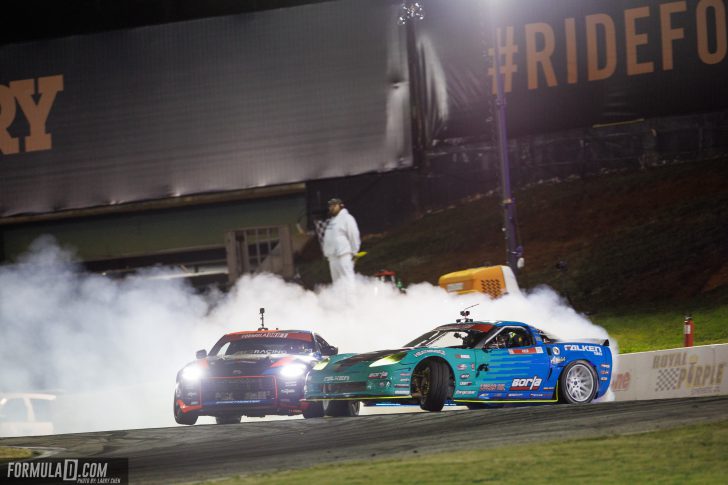 In the Top 16, Aasbo faced stiff competition from Justin Pawlak (USA). At the wheel of the 2022 Falken Tire Ford Mustang, Pawlak never takes prisoners and piled the pressure on the Norwegian. However, Aasbo had a speed advantage in the lead position and got close enough to kiss Pawlak's tires during his chase run. With both drivers defining aggressive composure, the judges awarded the win to Aasbo by virtue of his superior chase.
His Top 8 battle against Tuerck was another barnstormer. After being asked to repeat the runs by the judges (and fans), the contest was decided by a mechanical problem for Tuerck. The two cars made light contact in Outside Zone 2 (OZ2), after which Tuerck appeared to hesitate before returning to the chase. Diagnosing a possible broken transmission, Tuerck committed to his final run but was unable to overcome the deficit.
In the Top 4, Aurimas "Odi" Bakchis (Lithuania) presented another major hurdle for Aasbo to overcome. Driving the Falken Tire / Feal Suspension Nissan S15, Bakchis continues to drive with precision while seeming to have even more power from his Chevy LS-powered Nissan. Fortunately, Aasbo also had an extremely fast car, allowing him to dominate the lead and chase runs. And while Bakchis put up a strong challenge, Aasbo's proximity in the chase position again gave him the judge's decision.
It would be a similar story in the Final against Chris Forsberg (USA). The 2009, 2014 and 2016 FD Champion is still developing the NOS Energy Drink Nissan Z on GT Radials, which debuted at Round 1 but was looking unstoppable.
Forsberg's path to the Final of Round 2: AutoZone Road to the Championship presented by TYPE S began with a Top 32 scrap against Adam LZ (USA) who hustled his AutoZone Ford Mustang RTR Spec 5-FD around Road Atlanta. Unfortunately, LZ cut some turns in the chase position to maintain proximity to Forsberg and was unable to shake him on the lead run, leading to his early dismissal.
In the Top 16, Forsberg faced a revitalized Castro who similarly compromised his lines to stay close to the Nissan driver. Despite Castro's valiant effort, Forsberg got the nod and battled Burkett in the Top 8 where an identical scenario played out.
In the Top 4, it was even money that on-form Field would finally end Forsberg's party. On the first run, Field set a blistering pace, pulling away from the three-time Champ on the uphill climb. However, Forsberg reeled him in and ended the run alongside Field's Corvette. The pressure was on Forsberg for his lead run and Field was determined to spoil the party but came to an abrupt halt in OZ2, frustrated by a technical issue.
The first two runs in the Final between Aasbo and Forsberg produced equal skills and spills, encouraging the judges to request OMT. On the third run, Aasbo continued to charge at insane speed but was shadowed by the new Nissan Z throughout the course until returning to the Touch & Go. Possibly lost in Aasbo's smoke trial, Forsberg appeared to transition early to Inside Clip 3 and drove across the infield. With three or more tires off the course, Forsberg's run was essentially incomplete.
With a colossal deficit to overcome, Forsberg could only drift the perfect lead run and hope Aasbo made a big mistake. However, the two-time Champion knew what was required and took a relatively comfortable win. Forsberg had to be content with second – the same result as his first visit to Road Atlanta in 2004.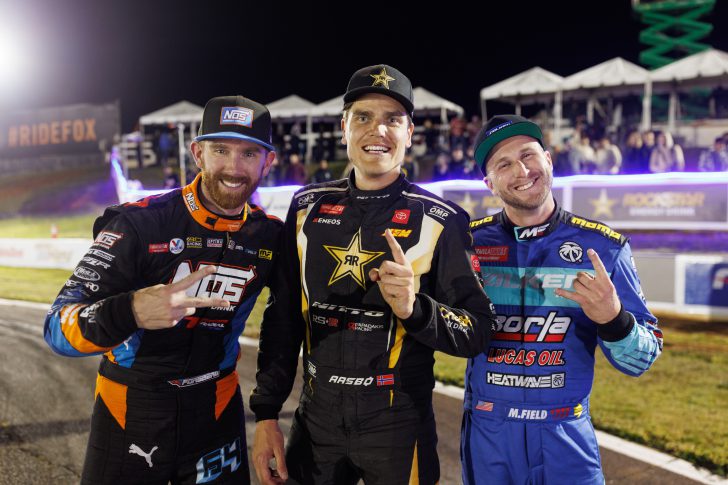 "What an incredible weekend. From struggling in practice with set up issues, to not getting much seat time, and making a small mistake in qualifying, we gradually got better and faster and cleaner. I feel like we peaked at just the right moment," Aasbo told us after the podium ceremony. "Against this stacked field of drivers with incredible skill and fantastic cars, this win feels particularly sweet. And I really want to thank the fabulous fans for remaining at the track late into the night to celebrate with us."
With no third place run-off, Field took third by virtue of qualifying first, relegating Bakchis to fourth. Top Rookie was Power who lost to Burkett in the Top 16 but placed 15th overall.
After Round 2, Toyota continues to lead the 2022 Formula DRIFT PRO Auto Cup and Nitto retained its lead of the Tire Cup.
The final word went to Formula DRIFT President, Ryan Sage: "As a chilly event comes to an end, the on-track action was super-hot with Fredric Aasbo not only taking the win but also the lead in the Championship. Matt Field and Ryan Tuerck are close behind, with Chris Forsberg and Odi Bakchis also having a great weekend and completing the Top 5. We love coming to Road Atlanta for the amazing fans and the track is a favorite for many people, but we're now looking forward to Orlando for FD PRO Round 3 and the opening round of the Link ECU  PROSPEC Championship." 
2022 FORMULA DRIFT CHAMPIONSHIP RESULTS
ROUND 2 FD PRO TOP 16 DRIVER POINTS
| | | |
| --- | --- | --- |
| POSITION | DRIVER | POINTS |
| 1 | Fredric Aasbo | 101 |
| 2 | Chris Forsberg | 91 |
| 3 | Matt Field | 83 |
| 4 | Aurimas Bakchis | 80 |
| 5 | Dan Burkett | 67 |
| 6 | Ryan Tuerck | 67 |
| 7 | Jeff Jones | 67 |
| 8 | Branden Sorensen | 67 |
| 9 | Chelsea DeNofa | 54 |
| 10 | Jhonnattan Castro | 52 |
| 11 | Travis Reeder | 52 |
| 12 | Kazuya Taguchi | 52 |
| 13 | Justin Pawlak | 52 |
| 14 | Alec Robbins | 52 |
| 15 | Mike Power | 52 |
| 16 | Federico Sceriffo | 52 |
2022 FD PRO TOP 16 CHAMPIONSHIP STANDINGS
| | | |
| --- | --- | --- |
| POSITION | DRIVER | POINTS |
| 1 | Fredric Aasbo | 181 |
| 2 | Matt Field | 175 |
| 3 | Ryan Tuerck | 170 |
| 4 | Aurimas Bakchis | 160 |
| 5 | Chris Forsberg | 158 |
| 6 | Chelsea DeNofa | 123 |
| 7 | Branden Sorensen | 119 |
| 8 | Jhonnattan Castro | 104 |
| 9 | Dan Burkett | 102 |
| 10 | Jeff Jones | 102 |
| 11 | Dylan Hughes | 102 |
| 12 | Rome Charpentier | 102 |
| 13 | Travis Reeder | 87 |
| 14 | Justin Pawlak | 87 |
| 15 | Taylor Hull | 87 |
| 16 | Alec Robbins | 87 |
2022 AUTO CUP TOP FIVE STANDINGS
| | |
| --- | --- |
| Toyota | 351 |
| Chevrolet | 262 |
| Nissan | 245 |
| Ford | 210 |
| Mazda | 87 |
2022 TIRE CUP STANDINGS
| | |
| --- | --- |
| Nitto Tire | 351 |
| Falken Tire | 335 |
| GT Radial | 277 |
| Nexen Tire | 208 |
| Federal Tire | 206 |
NEXT ROUND
Orlando Speed World will host the Formula DRIFT PRO Championship Round 3: Type S Scorched presented by AutoZone on May 19-21 as well as the opening round of the Formula DRIFT Link ECU PROSPEC Championship. Please visit formulad.com for the competition schedule, ticket information, driver profiles, special content, and the event livestream