As an addition to the series last year, Utah Motorsports Campus near Salt Lake City, UT has become a favorite among many of the drivers. The high-speed track has an elevated status, not simply because it's 4000ft above sea level, but also because it hosts the Final Round of the Formula DRIFT Link ECU PROSPEC Championship. And by default, it also hosts Round 7 of the PRO Championship, the penultimate event before the PRO title is decided at the Irwindale Final. With so much on the line, fans witness an intense weekend of drift action both in-person and via the series livestream, which is now available on MAV TV as well.
New for 2023, Formula DRIFT changed the course layout, removing an Inside Clip and replacing it with a longer Outside Zone 2. The improved track flow provided a better experience for the drivers and fans, resulting in exciting battles and high drama.
PRO QUALIFYING
As a reflection of the 2023 season, the K&N PRO qualifying session was dominated by RTR Motorsports with Team Feal knocking on the door.
The number one position was claimed by triple FD PRO Champion James Deane (Ireland) driving the AutoZone Ford Mustang RTR Spec 5-FD. Scoring 91.6 points, his pole position could possibly produce his first win of the season since he remains the only member of the four RTR drivers without a victory.
Second place went to Simen Olsen (Norway) in the Feal Suspension Nissan S14.9. He had reportedly struggled with set up during practice but nailed a 90-point qualifying run to reinforce his Top 5 PRO Championship position as both he and team leader Aurimas Bakchis (Lithuania) continued to be a thorn in the side of RTR. Bakchis qualified 15th but was determined to turn things around in competition.
Championship points leader Chelsea DeNofa (USA) put his Pennzoil / BC Racing Ford Mustang RTR Spec 5-FD in third place with 89.6 points as he reaches towards his first series title.
DeNofa's Championship rivals fared poorly, with Fredric Aasbo (Norway) qualifying 13th in the Rockstar Energy Toyota GR Supra, Bakchis in 15th, and Matt Field (USA) relegated to the Knockout Qualifying Format (KQF) after a flawed first run in the Borla Performance / GT Radial Corvette. Field's second run resulted in a 92.3 point run, which would've been good enough for first place, but the best he could achieve in KQF was 25th.
With only two Rookie drivers in the FD PRO Championship, and one not competing regularly, Diego Higa (Brazil) was again the best Rookie qualifier, placing his JDMSupreme Toyota GT86 in 26th. However, Ola Jaeger (Norway) in the Team Japan Auto Toyota Supra wasn't so lucky. He had the lowest score after KQFand as the 33rd driver to qualify for the Top 32 competition places, he was eliminated from the event.
PRO COMPETITION
In a season that didn't see a repeat winner until Round 6, DeNofa claimed his third victory at Round 7, extending his lead in the 2023 Formula DRIFT PRO Championship to a remarkable 53 points.
Following his strong qualifying performance, DeNofa took a slow march through the competition heats, avoiding major incidents such as Mike Power (USA) spinning his Power Racing Type Nissan S15 in front of him in Outside Zone 3 (OZ3). Taking to the dirt himself, DeNofa kept the Pennzoil / BC Racing Ford Mustang RTR Spec 5-FD in one piece and faced a similar situation in the Top 16. This time it was Robert Thorne (USA) who dropped three wheels off OZ3 in his ASM E46 BMW Sedan Pro Edition. DeNofa followed suit but was awarded the win thanks to a stellar lead run.
In the Great 8, it was Kazuya Taguchi (Japan) who tried off-roading at OZ2 in his Upgarage / ISR Performance / GT Radial / Jerry Yang Racing Toyota 86. Whereas the two previous excursions occurred when competitors were attempting to break away from DeNofa, Taguchi made the mistake of trying to keep pace. DeNofa himself was using his rear wheels as gravel machine guns in OZ2 but retained control and slid into the Final 4 to meet Simen Olsen (Norway).
Despite an incredible season driving the ridiculously fast Feal Suspension Nissan S14.9, Olsen also tried to maintain proximity to the Mustang. As a result, he over-committed to OZ1, over-rotated in the drift and scrambled to regain control.
Finishing third was still a great result for Olsen, who interjected himself into the title chase recently and left Utah third in the Championship. Unfortunately, one of his victims was team leader Aurimas "Odi" Bakchis (Lithuania) who he ejected from the Top 16. The loss dropped Odi to fifth overall and out of title contention.
Olsen in third has a 77-point deficit, which perhaps only gives him a mathematical chance of winning the title. But like Hobson in PROSPEC, Olsen transformed his FD status by joining Odi's Team Feal this year and will undoubtedly be a major contender in 2024.
In the Final, DeNofa was paired against Matt Field (USA) ­in the Borla Performance / GT Radial Corvette. Both drivers have a similar approach to the sport and a precise aggression that gets the job done.
Field's poor qualification meant he faced serious opposition on route to the Final. However, technical problems for the Corvette Barbarius of Joao Barion (Brazil) in the Top 32 meant Field's first competitive heat was against Dean Keraney (Ireland) in the Top 16. It was close combat with the HyperNFT Dodge Viper but Field took the win thanks to a superior chase run.
Meeting three-time FD PRO Champion Chris Forsberg (USA) in the Great 8 was another potential stumbling block but early initiation and a big correction at Inside Clip 1 (IC1) put the driver of the NOS Energy Drink / GT Radial Nissan Z out of contention.
Field's Final 4 heat against Ryan Tuerck (USA) driving the Rain-X / Nitto Tire / Rockstar Energy GR Corolla was an incredibly close call in favor of the Corvette driver. Tuerck had earlier eliminated teammate Aasbo from the Great 8. Dropping him from second to fourth in the title race and with an 81 point deficit to DeNofa, three-time FD Champion Aasbo appears to have an impossible task in Irwindale.
The Final between DeNofa and Field seemed to be over almost as soon as it had begun. With every driver aware of DeNofa's speed, Field left the start line in hot pursuit. Drifting into IC1, Field's Vette appeared to find front-end grip, causing it to suddenly straighten. In very close proximity to DeNofa, Field speared the rear of the Mustang. The high-speed collision threw debris across the track before both cars were recovered to the pits.
With 10min for DeNofa and 5min for Field, there was speculation around whether both cars could return to the combat arena. But the experience and preparation of the leading teams in Formula DRIFT meant two cars completed the second run. DeNofa was awarded the win after a restrained chase sealed the deal but not without initial speculation that DeNofa had come out of drift.
"Utah was a wild event but very different for me," Chelsea told us after the podium celebrations. "Usually we win by driving as hard as we can and being very precise, but today it was more about luck and making less mistakes than the other drivers. The win feels different but the points move us up in the Championship, which is important going into Irwindale where we're going to try to enjoy the event. A Championship would be cool but winning every event is the goal and maybe we'll end up on top!"
As DeNofa claimed his third win of the season and RTR Motorsports racked up five, it meant Ford was crowned winner of the 2023 Formula DRIFT PRO Auto Cup. Nitto continued to lead the Tire Cup, in large part thanks to the same team.
Field's result meant he leapfrogged Aasbo into second in the title chase. Field would need luck to lift the 2023 trophy but extraordinary things happen in Formula DRIFT, so don't miss the Final Round at Irwindale Speedway on October 13-14, livestreamed on the series YouTube Channel and MAV TV.
For his thoughts on proceedings we turned to Formula DRIFT President, Ryan Sage: "Winning three events has put Chelsea DeNofa in the best possible position for the Championship. Admittedly, he had a close call at the end where Chelsea almost straightened on the final run of the day but he took the win. It's the first time a driver has won three times in a season since James Deane took four victories in 2017. Can Chelsea match that record and claim the title in what's essentially become a two-horse race with Matt Field? It's going to be really exciting when we get to the House of Drift next month!"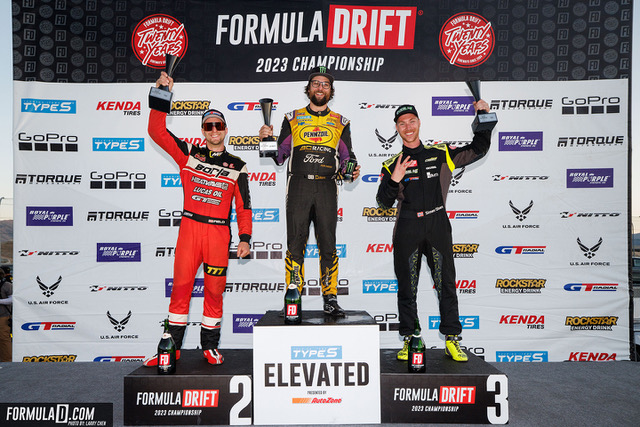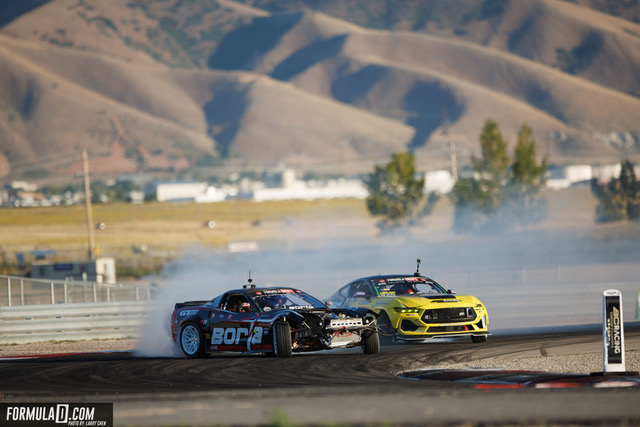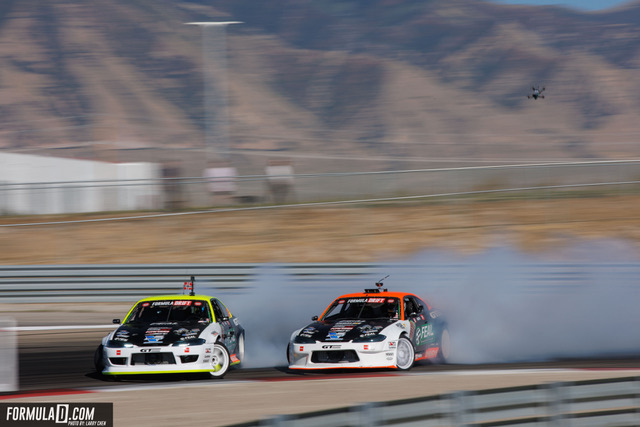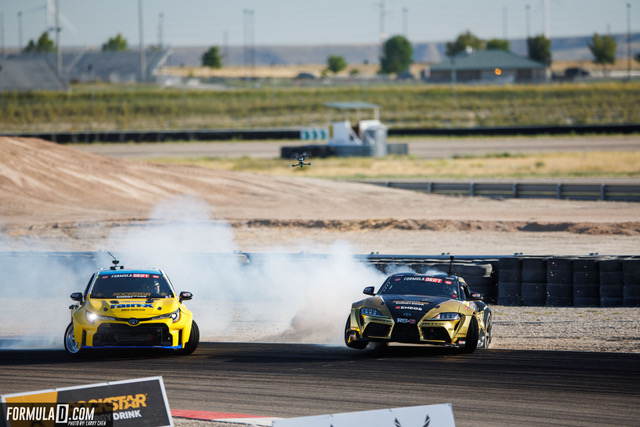 PROSPEC QUALIFYING
Arriving at the Final Round, qualifying had greater significance since it determined the pairings throughout competition. So, it wasn't the ideal time for PROSPEC Championship leader Ben Hobson (USA) to experience his worst qualifying session of the year in the Pedal Commander / Feal Suspension / Koruworks / Motegi Racing Nissan S14. He placed ninth with a 76.3 point run and it remained to be seen how that would affect his weekend. With a comfortable 65 point cushion to second place Andy Hateley (USA) – who qualified fourth – it was the first time Hobson looked fragile all season and at a critical moment.
The top qualifier was Rudy Hansen (USA) with 85.3 points in the Track Tires / Mast Motor / J&A Racing Oil Nissan 240SX S13. Having won the opening Round in Atlanta but struggled in the two previous Rounds, Hansen occupied third place in the Link ECU PROSPEC Championship, 81 points behind Hobson. As one of three drivers with a mathematical chance to take the title, Hansen set himself up for success.
Second place qualifier was Geoff Donati (USA) in the Freedom Builders / Tuner Tools-powered E46 BMW. He scored 84.6 while Joshua Love (USA) ­in the Josh Loves Drifting / After Hours Autosports E46 BMW placed third with 83 points. Sitting mid-table, both drivers would be hoping to finish the season on the podium.
Double PROSPEC Champion Dmitriy Brutskiy failed to complete his qualifying run after a technical issue with the DriftHQ E46 BMW. Given a second chance under KQF, he scored 86.6 points and placed 25th overall. Just like Field in PRO, if Brutskiy had received the same score for his first run, he would have qualified in first place…
The top Rookie qualifier was Sam Maghmoumi (Lebanon) who scored 80.3 points and placed fifth driving an E36 BMW rather than his regular 412 Motorsport E82 BMW. With an eye on the 2023 Rookie of the Year title race, he was given a boost when points Rookie leader Connor O'Sullivan (USA) failed to complete two qualifying runs in the RTS / GT Radial E46 BMW. Despite a 12-point lead over his nearest Rookie rival, O'Sullivan was eliminated and would almost certainly lose the title, but who would take his place?
A field of 37 drivers battled for the 32 PROSPEC competition places. After the bottom 13 qualifiers ran a second time under KQF, the eliminated drivers included Zandara Kennedy (Canada), Chris Leonard (USA), Alex Lichliter (USA), Erick Medici (Brazil) and Connor O'Sullivan (USA).
PROSPEC COMPETITION
Taking his second win from the four-round season, Hobson claimed the 2023 Formula DRIFT Link ECU PROSPEC Championship title by claiming victory in Utah. His dominance was emphasized by a 101-point lead over second-place Hateley, all while driving a totally new car after joining the Odi Bakchis Team Feal organization this year.
"We set a goal to win the Championship this season and we did it!" a jubilant Hobson said on the podium. "I wanted five trophies this year but I'll settle for four! I was blessed to have a great team of guys supporting me and it's an honor to be part of Formula DRIFT. It's crazy to say we've won the Championship."
Adding to the podium celebrations was 19 year-old Cole Richards (USA). By reaching the Final with Hobson, he claimed Rookie of the Year after a phenomenal season that saw him win Round 2 in New Jersey driving the Richards Racing / Koruworks Scion FRS.
Richards' second place in Utah came after the team appealed the judges' decision in the Great 8, which restored him to competition. Allowed a second run against Joshua Love (USA), Richards appeared to struggled with overheating issues from a replaced radiator but battled through to eventually meet Hobson in the Final. Finishing fourth in the 2023 PROSPEC Championship, Richards beat his closest Rookie rival by ten places.
Third place in Utah went to Donati. Finishing the season fifth overall, he'd been improving at each Round and will be one to watch in 2024.
Hateley finished fourth in Utah driving the Hateley Motorsports Habanero E46 BMW, securing second in the 2023 title race despite not winning a Round all year. The result gave him a 29-point margin over Hansen in the Championship after Hansen finished fifth in Utah, knocked out of the Great 8 by Hobson.
The top finishers in the 2023 Formula DRIFT Link ECU PROSPEC Championship become eligible for 2024 FD PRO licenses if they choose to move up. In the past, most drivers rushed to sit at the top table but many now wisely consider their sponsorship support and drift experience before making the decision.
"It's been another great year for PROSPEC. Last year we saw Robert Thorne destroy the competition, and this year Ben Hobson has been a new breed of driver; an excellent ambassador with skill, talent and charisma, who teamed up with Odi Bakchis to take the title," said Ryan Sage, President of Formula DRIFT. "Ben Hobson had a tremendous season and looked like a pro from the beginning, but now he has the big decision of whether to remain in PROSPEC or move up to PRO and compete against his teammates."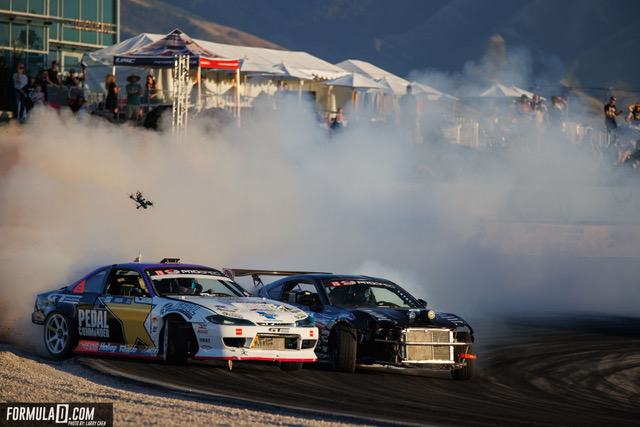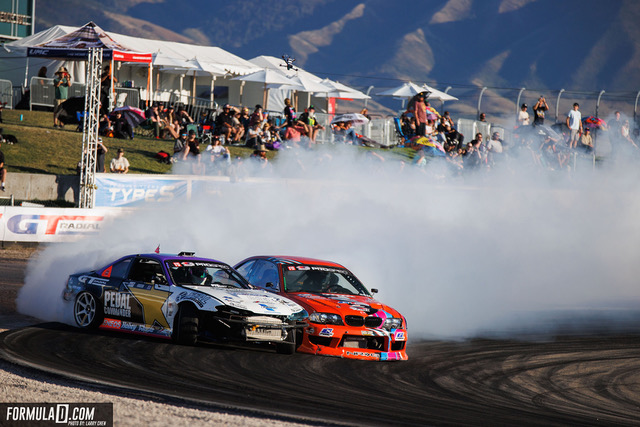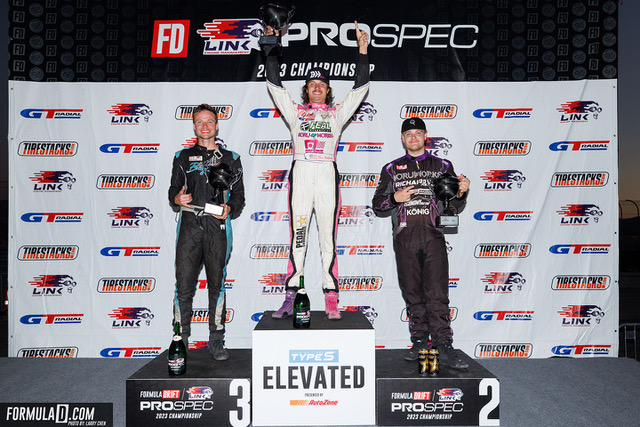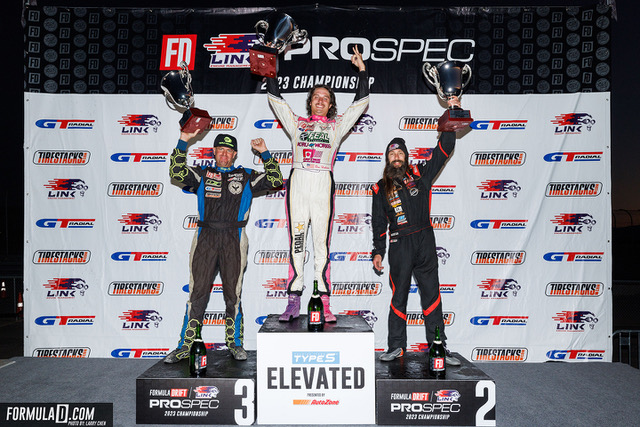 2023 FORMULA DRIFT CHAMPIONSHIP RESULTS
 
ROUND 7 FD PRO TOP 16 DRIVER POINTS
| | | |
| --- | --- | --- |
| POSITION | DRIVER | POINTS |
| 1 | Chelsea DeNofa | 101 |
| 2 | Matt Field | 88 |
| 3 | Simen Olsen | 78 |
| 4 | Ryan Tuerck | 64 |
| 5 | Kazuya Taguchi | 48 |
| 6 | Trenton Beechum | 48 |
| 7 | Fredric Aasbo | 48 |
| 8 | Chris Forsberg | 48 |
| 9 | James Deane | 35 |
| 10 | Travis Reeder | 32 |
| 11 | Dean Kearney | 32 |
| 12 | Branden Sorensen | 32 |
| 13 | Aurimas Bakchis | 32 |
| 14 | Robert Thorne | 32 |
| 15 | Jhonnattan Castro | 32 |
| 16 | Diego Higa | 32 |
 
2023 FD PRO TOP 16 DRIVER CHAMPIONSHIP STANDINGS
| | | |
| --- | --- | --- |
| POSITION | DRIVER | POINTS |
| 1 | Chelsea DeNofa | 464 |
| 2 | Matt Field | 411 |
| 3 | Simen Olsen | 387 |
| 4 | Fredric Aasbo | 383 |
| 5 | Aurimas Bakchis | 355 |
| 6 | James Deane | 337 |
| 7 | Ryan Tuerck | 328 |
| 8 | Chris Forsberg | 312 |
| 9 | Dylan Hughes | 297 |
| 10 | Kazuya Taguchi | 272 |
| 11 | Rome Charpentier | 248 |
| 12 | Jonathan Hurst | 224 |
| 13 | Jhonnattan Castro | 208 |
| 14 | Dean Kearney | 177 |
| 15 | Travis Reeder | 176 |
| 16 | Trenton Beechum | 160 |
2023 AUTO CUP TOP 5 STANDINGS
| | |
| --- | --- |
| Ford | 940 |
| Toyota | 740 |
| Chevrolet | 587 |
| Nissan | 424 |
| Dodge | 177 |
 
2023 TIRE CUP STANDINGS
| | |
| --- | --- |
| Nitto Tire | 1109 |
| GT Radial | 1082 |
| Vitour Tire | 504 |
| Nexen Tire | 369 |
| Kenda Tire | 322 |
 
 
ROUND 4 FD PROSPEC TOP 16 DRIVER POINTS
| | | |
| --- | --- | --- |
| POSITION | DRIVER | POINTS |
| 1 | Ben Hobson | 100 |
| 2 | Cole Richards | 88 |
| 3 | Geoff Donati | 78 |
| 4 | Andy Hateley | 64 |
| 5 | Rudy Hansen | 51 |
| 6 | Joshua Love | 49 |
| 7 | Trevor Root | 48 |
| 8 | Jack Davis | 48 |
| 9 | Kasey Kohl | 32 |
| 10 | Austin Matta | 32 |
| 11 | Kelsey Rowlings | 32 |
| 12 | Hooman Rahimi | 32 |
| 13 | Dustin Miles | 32 |
| 14 | Adam Knapik | 32 |
| 15 | Evan Bogovich | 26 |
| 16 | Tyler Foley | 32 |
 
FD PROSPEC TOP 16 FINAL CHAMPIONSHIP STANDINGS
| | | |
| --- | --- | --- |
| POSITION | DRIVER | POINTS |
| 1 | Ben Hobson | 345 |
| 2 | Andy Hateley | 244 |
| 3 | Rudy Hansen | 215 |
| 4 | Cole Richards | 204 |
| 5 | Geoff Donati | 186 |
| 6 | Jack Davis | 176 |
| 7 | Dmitriy Brutskiy | 153 |
| 8 | Nate Chen | 146 |
| 9 | Joshua Love | 145 |
| 10 | Austin Matta | 144 |
| 11 | Alex Jagger | 140 |
| 12 | Dustin Miles | 128 |
| 13 | Faruk Kugay | 128 |
| 14 | Cody Buchanan | 128 |
| 15 | Connor O´Sullivan | 128 |
| 16 | Blake Olsen | 116 |