Despite high temperatures, sweltering humidity, a Friday night thunderstorm and Saturday rain storm, the packed grandstands enjoyed extremely close competition at the Formula DRIFT PRO Championship Round 5: Crossroads and Round 3 of the Link ECU PROSPEC Championship at World Wide Technology Raceway near St Louis.
To help the drivers achieve fluid runs through the course, track officials had significantly widened the paved surface in Outside Zone 3 (OZ3) and repositioned OZ4. They also added raised curbs in OZ4 to help the drivers find the edge of the course and avoid putting their rear tires in the dirt.
The track improvements helped reduce the number of incidents but St Louis remains a challenging weekend for FD teams. The 2023 Rounds would witness big names retired early, multiple collisions, a driver protest, multiple One More Time decisions, a failed bye run for the first time in 20 years, the first all-female tandem run, both PRO and PROSPEC Championships would get first-time season winners and new Championship leaders. With the PROSPEC Top 16 postponed by the thunderstorm, the action began at 9:30AM on Saturday and finished at 12:30AM after the PRO Championship schedule was frequently delayed by mechanical issues and collisions. It was just another extraordinary Formula DRIFT Round in St Louis.
PRO QUALIFYING
Three different names appeared at the top of the results sheets from the K&N PRO Qualifying session on Thursday evening. Leading the charge was Kazuya Taguchi (Japan) who won the St Louis Round in 2022. His 94-point qualifying run suggested the Upgarage / ISR Performance / GT Radial / Jerry Yang Racing Toyota 86 was still direct-dialed into the track.
As an added bonus, both Taguchi and second place Nick Noback (USA) would receive bye runs through the Top 32 heats, reducing the potential battle damage each might receive.
For Noback in the Noback Racing Co E46 BMW by Jerry Yang Racing, his 89-point qualifying score gave him a narrow advantage over third place Dean Kearney (Ireland) who socred 88.6 points in the HyperNFT Dodge Viper. However, races are won by fractions and Noback was delighted with the result.
Formula DRIFT PRO Championship points leader Matt Field (USA) scored 78.6 points in the Borla Performance / GT Radial Corvette. It placed him in a lowly 21st position and meant he'd compete against the winner of Round 4, Adam LZ (USA) in the Top 32 heats.
LZ's teammate, Chelsea DeNofa (USA), who sat second in the FD PRO title race coming into St Louis, lost power in his Pennzoil / BC Racing Ford Mustang RTR Spec 5-FD on his first qualifying run. Just like the New Jersey Round, DeNofa was demoted to the Knockout Qualifying Format (KQF) reserved for drivers who qualified below 24th place. He salvaged 25th place and would undoubtedly be a major force once competition began.
With several teams absent, 31 drivers qualified for the Top 32 competition places until a technical problem sidelined Diego Higa (Brazil) who failed to complete his KQF run. Therefore, 30 drivers qualified, handing Taguchi and Noback their bye runs.
PRO COMPETITION
After RTR Motorsports had dominated three of the previous four FD PRO Rounds this season, there were whispers of rising domination among the teams and fans. And yet it's the unpredictability of the sport that makes each Round utterly addictive. And as Aurimas "Odi" Bakchis raised the winner's trophy for the first time since 2021, there was a collective celebration for one of the most popular figures in the sport. In that moment, we also witnessed the rise of a new dynasty as Odi's Feal Race Team had dominated the weekend, claiming first and third in PRO and a win in PROSPEC!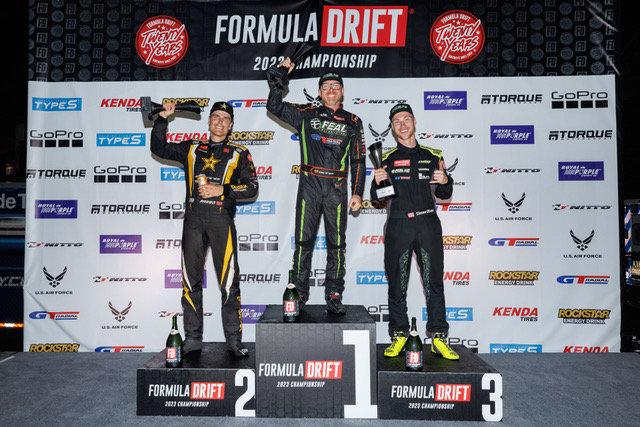 Having qualified fifth at the wheel of his Feal Suspension / GT Radial Nissan S15, Odi's first competition heat was against Mike Power (USA) driving the Power Racing Type Nissan S15. And while they shared the same chassis, it was 1000hp supercharged Texas Speed LSR V8 against 1000hp Toyota 2JZ power and both drivers weren't sparing the horses!
It was close combat that saw Bakchis draw blood with a superior chase lead in a car that seemed to draw an almost perfect line around the course.
Advancing into the Top 16, Bakchis met the first of three drift titans he'd need to vanquish on his path to the podium, beginning with Championship leader Matt Field. Both drivers exemplify the type of fast, aggressive, close driving needed to succeed in Formula DRIFT. And after their first runs, the judges couldn't pick a winner, so requested so requested One More Time (OMT) where the drivers repeat both runs. As in the previous heat, it was Odi's proximity and angle in the chase position that finally gave him the nod, while Field would watch the remainder of the event from a comfy chair. Field placed 14th on the night, which dropped him to second in the title chase. But we all know that's not where his story will end!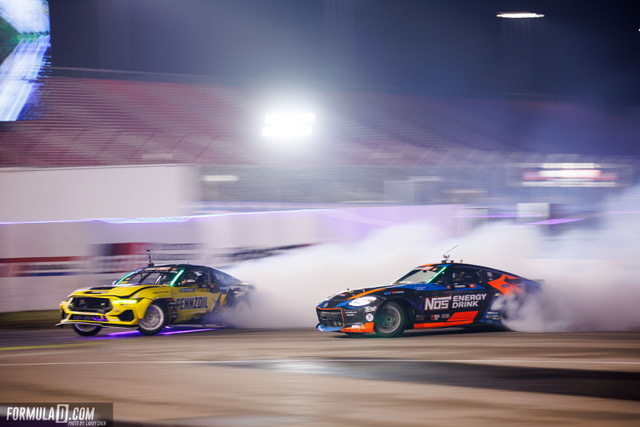 Moving into the Great 8 heats, Bakchis was awarded a bye run directly into the Final 4. The unusual situation arose after Ryan Tuerck (USA) was himself given a bye run in his Top 16 heat against Ken Gushi (Japan). Unable to make the starting line in the Three's Racing Toyota GR86, Gushi withdrew and Tuerck simply needed to make a single run to prove his car was fit for duty. Except it wasn't.
For the first time in 20 years, a car was unable to start its bye run. Tuerck withdrew his Rain-X / Nitto Tire / Rockstar Energy GR Corolla. Leaving no competitor for his Great 8 heat, Bakchis completed his bye run and waited patiently for the Final 4.
His next opponent would be triple Formula DRIFT PRO Champion Chris Forsberg (USA) in the NOS Energy Drink / GT Radial Nissan Z. But their meeting would be somewhat controversial.
It began on the first run where Forsberg collided with Bakchis in OZ1 shortly after initiation. The impact spun Bakchis and fault was laid at Forsberg's feet, allowing Team Feal a 10min window to check and repair the S15. After a short delay, the pair completed their second run and Bakchis was duly awarded the win. He then proceeded to watch the second all-Norwegian Final 4 heat between teammate Simen Olsen (Norway) in the Feal Suspension Nissan S14.9 and defending Champion Fredric Aasbo (Norway) in Rockstar Energy Toyota GR Supra. The prospect of two Feal Race Team Nissans in the Final was tantalizingly close.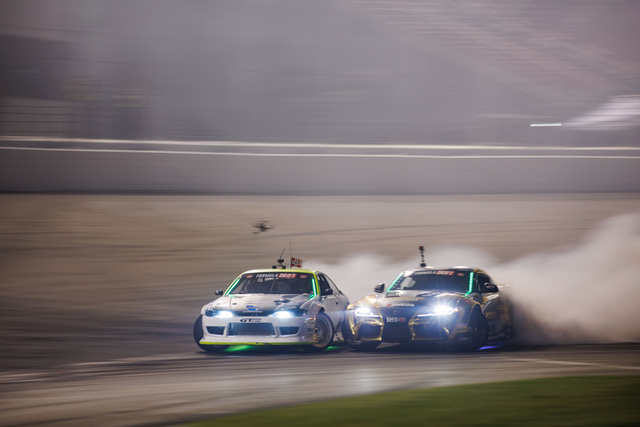 That was until Forsberg Racing lodged a protest with the stewards. They argued that Bakchis had slowed momentarily at OZ1, ultimately causing the collision. Visible from lights fitted to every car to indicate momentum, the judges had originally assessed it was inconsequential to the impact. However, Forsberg Racing made a compelling argument, won the appeal, and the drivers repeated the two runs.
In the event, the result was the same. Forsberg dropped two tires into the dirt at OZ4 in the lead and hadn't maintained proximity in the chase position, so normal service was resumed.
A monumental battle had already taken place between Olsen and Aasbo. Requiring two OMT, Aasbo was awarded the win after a light touch by Olsen during the transition into OZ4 required a small adjustment from the Nissan driver. Olsen would finish the night in third and claim his second podium of the season.
In the Final, Bakchis returned to his winning formula; a fast, precise lead run and an aggressive chase that put him in constant proximity to the Toyota's paintwork. Despite Aasbo's best efforts, he again failed to win his first Round of the season by a whisker. But it was vindication after New Jersey, where Aasbo was expelled from the Top 32 and lost a pile of points. Instead, with his closest rivals knocked out early, Aasbo returned to the Championship lead, turning a 41-point deficit into a 15-point advantage.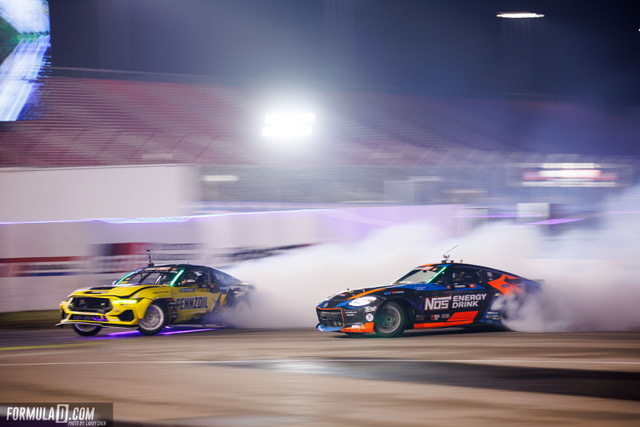 "What a crazy event! Winning was no easy feat but it feels very special because it represents the tenth win in my Formula DRIFT PRO career," an excited Odi told us after the trophy ceremony. "Simen and I put my team through a lot today but we both got on the podium. And to do that against a field of crazy drivers means you have to beat on the cars super-hard, and we did that. We laid it all on the line and the cars got beaten up. They constantly needed attention from the crew but they kept them together for us and we kept on going. We definitely owe it to them and I'm thrilled with Feal Race Team – we took first place in PROSPEC as well as first and third in PRO, so we're carrying a lot of momentum going into the PRO Round in Seattle. Simen and I have to keep charging hard but the cars and team are working well, so we're confident for the next Round."
With Field knocked down to second, Chelsea DeNofa (USA) fought his way to the Great 8 but lost a physical battle with Forsberg that saw the Nissan Z punted into the track signage. Finishing 15th, the driver of the Pennzoil / BC Racing Ford Mustang RTR Spec 5-FD dropped from third to fourth in the Championship while Bakchis leapt from sixth to third and Olsen remained fifth.
Taguchi, whose qualifying performance suggested a repeat of his 2022 win, was eliminated from the Top 16 by Forsberg, placing 11th on the night.
Thanks to the success enjoyed by Feal Race Team and Forsberg, GT Radial reclaimed the lead of the 2023 Formula DRIFT PRO Tire Cup, while Ford maintained its lead the Auto Cup.
For the final words, we turn to Formula DRIFT President, Ryan Sage: "Round 5 of the Formula DRIFT PRO Championship was another crazy event! Once again we saw a brand new winner – the fifth in five rounds – and this time it was Odi Bakchis who fought through some epic battles and overcame a protest to grab the trophy. However, we also saw Fredric Aasbo capture the points lead after Matt Field went out early. And with just three rounds to go, it remains an incredibly tight battle at the top. Anybody could still take the Championship title."
PROSPEC QUALIFYING
As the most successful qualifier in the 2023 Link ECU PROSPEC Championship, Ben Hobson (USA) put his Pedal Commander / Feal Suspension / Koruworks / Motegi Racing Nissan S14 in first position for the third time in three rounds. Sitting second in the title race, he'd yet to reach the top step of the podium, so all eyes were on Hobson to see if St Louis would see his breakthrough.
Certainly Hobson's ambitions received a boost when Championship leader Rudy Hansen (USA) was relegated to KQF where his second qualifying run could only place him 25th.
With Hobson's 88.6-point qualifying run claiming the top spot, second place fell to Amanda Sorensen (USA) in the United States Air Force / Sorensen Motorsports BMW M4. Not only was the 85.3-point run her best qualifying result to date, but it comes during a season where she's also competing in the ExtremeE racing series and had missed the opening PROSPEC Round.
Third-place Derek Madison (USA) narrowly missed second place with an 85-point run in his­ Fuelab Fuel Systems / IG Motorsports Nissan S14. Despite some strong runs, Madison sat 14th overall in the PROSPEC title race and would be hoping to convert his qualifying performance into Championship points.
The winner of Round 2, Rookie Cole Richards (USA) was unable to complete his first and second qualifying runs in his Richards Racing / Koruworks Scion FRS. Consequently, the driver who sat third in the points table coming into St Louis went home early.
Top Rookie qualifier, Zandara Kennedy (Canada), put her ZeeDrives Nissan 240SX in ninth position with a 79.3-point run.
A packed field of 39 drivers battled for the 32 PROSPEC competition places, with the bottom seven qualifiers being excluded from the event. And after completing their second run in KQF we waved goodbye to Justin Chesnutt (USA), Zach Farrar (USA), Margaritis Katsanidis (Greece), Alex Lichliter (USA), Erick Medici (Brazil), Cole Richards (USA) and Cory Talaska (USA).
PROSPEC COMPETITION
Proving dreams do come true, Ben Hobson (USA) successfully converted his qualifying form into victory, claiming his first Link ECU PROSPEC win since joining the Championship in 2021. And with his closest rivals out of contention, Hobson took a commanding 65-point lead in the title race heading to the Final Round in Utah on September 14-16.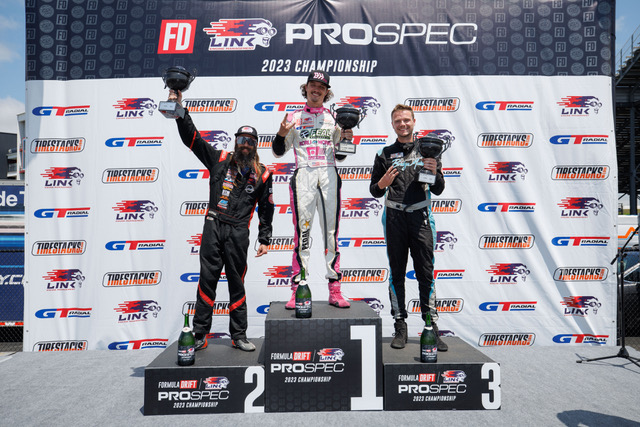 Hobson's advantage was doubled by the early demise of Rudy Hansen (USA), the PROSPEC Championship leader coming into St Louis. Hansen was eliminated from the Top 32 heats by Austin Matta (USA) and finished the day in 27th, dropping to third overall with an 81-point deficit. And with a maximum of 103 points available in the Final Round, Hansen needs Hobson and Hateley to experience some major malfunctions to claim the title.
Double PROSPEC Champion, Dmitriy Brutskiy was knocked out of the Top 16 by Geoff Donati (USA) on his way to third place in the Freedom Builders / Tuner Tools-powered E46 BMW. Finishing 14th in St Louis, Brutskiy is 108 points behind Hobson, making him mathematically incapable of clinching a third title.
Hobson's march to victory began with a Top 32 win over Matthew Bystrak (USA) driving the Gas Factory Nissan S13. Unfortunately, Bystrak slid into Hobson's Pedal Commander / Feal Suspension / Koruworks / Motegi Racing Nissan S14 in OZ1 on their first run. The mistake proved fatal and Hobson moved onto the Top 16 where he had an epic battle against Trevor Root (USA) in the Peak Performance Fab E36 BMW.
The judges were unable to separate their first runs, so requested One More Time. And with Root struggling to fill the zones as he chased Hobson, the win went to the Nissan driver thanks to a superior chase performance.
In the Great 8, Hobson beat Matta on a split decision by virtue of another strong chase. The judges had an easier decision in the Final 4 after Connor O'Sullivan (USA) put two wheels in the dirt in OZ1 and then hit the wall in OZ2, taking him out of contention. However, O'Sullivan would place fourth to reward his effort, finishing as the top PROSPEC Rookie in his RTS / GT Radial E46 BMW. The result catapulted him to sixth overall and the leading contender for Rookie of the year.
Hobson's win secured his place in the Final where he faced Andy Hateley (USA) driving the Hateley Motorsports Habanero E46 BMW. The Drift Wizard had vanquished Hooman Rahimi (USA), Nate Chen (USA), Blake Olsen (USA) and Donati to earn his spot. However, concern over his lug nuts meant Hateley opted to run on the same tires he had used in the Final 4. This put him at a disadvantage, which became apparent almost immediately as he struggled to fill the zones and maintain proximity to Hobson in the lead position. With the roles reversed, Hateley made several mistakes in the lead, running off the track in OZ4 to give Hobson his first win.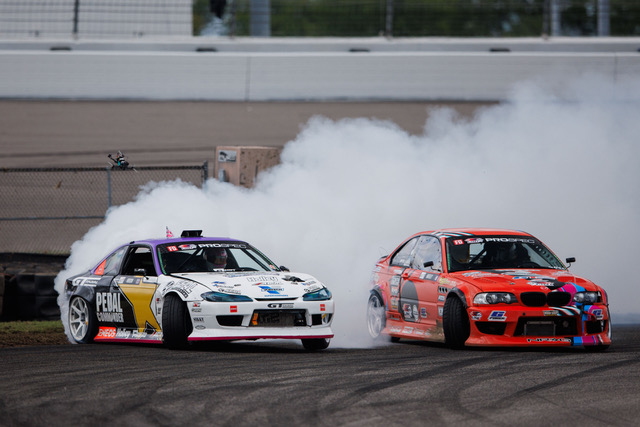 Claiming his second podium of the season, Hateley climbed from ninth to second in the Link ECU PROSPEC Championship and became one of only three drivers with a chance of claiming the 2023 title in Utah.
"It's been a long time coming but we finally achieved a perfect event and I'm super-stoked about it," Hobson confirmed after the podium celebrations. "My team and family are going crazy and I want to thank my sponsors as well. We're going gung-ho into the next round where we have a chance of taking the Championship. And I'm not lifting, so we're running into Round 4 at full tilt like we have all season!"
Among the many "firsts" in St Louis was the first ever all-female Formula DRIFT tandem battle. It took place between Zandara Kennedy (Canada) and Kelsey Rowlings (USA) in the Top 32 heats. The contest went to OMT, with Rowlings getting the close call. Rowlings would progress to the Top 16 where she was beaten by Austin Matta (USA). Meanwhile, the number two qualifier, Amanda Sorensen, also reached the Top 16 and finished ninth overall.
2023 FORMULA DRIFT CHAMPIONSHIP RESULTS
ROUND 5 FD PRO TOP 16 DRIVER POINTS
| | | |
| --- | --- | --- |
| POSITION | DRIVER | POINTS |
| 1 | Aurimas Bakchis | 100 |
| 2 | Fredric Aasbo | 88 |
| 3 | Simen Olsen | 76 |
| 4 | Chris Forsberg | 64 |
| 5 | Jhonnattan Castro | 48 |
| 6 | Jonathan Hurst | 48 |
| 7 | Chelsea DeNofa | 48 |
| 8 | Kazuya Taguchi | 35 |
| 9 | Nick Noback | 34 |
| 10 | Dean Kearney | 33 |
| 11 | Ryan Tuerck | 32 |
| 12 | Dylan Hughes | 32 |
| 13 | Kenshiro Gushi | 32 |
| 14 | Matt Field | 32 |
| 15 | Ryan Litteral | 32 |
| 16 | Robert Thorne | 32 |
2023 FD PRO TOP 16 DRIVER CHAMPIONSHIP STANDINGS
| | | |
| --- | --- | --- |
| POSITION | DRIVER | POINTS |
| 1 | Fredric Aasbo | 303 |
| 2 | Matt Field | 288 |
| 3 | Aurimas Bakchis | 273 |
| 4 | Chelsea DeNofa | 263 |
| 5 | Simen Olsen | 260 |
| 6 | Chris Forsberg | 232 |
| 7 | James Deane | 226 |
| 8 | Ryan Tuerck | 200 |
| 9 | Dylan Hughes | 193 |
| 10 | Jonathan Hurst | 192 |
| 11 | Rome Charpentier | 184 |
| 12 | Kazuya Taguchi | 176 |
| 13 | Adam LZ | 148 |
| 14 | Jhonnattan Castro | 144 |
| 15 | Kenshiro Gushi | 128 |
| 16 | Travis Reeder | 128 |
2023 AUTO CUP STANDINGS
| | |
| --- | --- |
| Ford | 628 |
| Toyota | 532 |
| Chevrolet | 432 |
| Nissan | 296 |
| Dodge | 113 |
| Aston Martin | 80 |
| Mazda | 48 |
2023 TIRE CUP STANDINGS
| | |
| --- | --- |
| GT Radial | 778 |
| Nitto Tire | 768 |
| Vitour Tire | 408 |
| Kenda Tire | 258 |
| Nexen Tire | 241 |
ROUND 3 FD PROSPEC TOP 16 DRIVER POINTS
| | | |
| --- | --- | --- |
| POSITION | DRIVER | POINTS |
| 1 | Ben Hobson | 103 |
| 2 | Andy Hateley | 88 |
| 3 | Geoff Donati | 76 |
| 4 | Connor O´Sullivan | 64 |
| 5 | Joshua Love | 48 |
| 6 | Austin Matta | 48 |
| 7 | Blake Olsen | 45 |
| 8 | Dustin Miles | 48 |
| 9 | Amanda Sorensen | 34 |
| 10 | Derek Madison | 33 |
| 11 | Jack Davis | 32 |
| 12 | Trevor Root | 32 |
| 13 | Cody Buchanan | 32 |
| 14 | Dmitriy Brutskiy | 32 |
| 15 | Kelsey Rowlings | 32 |
| 16 | Nate Chen | 32 |
FD PROSPEC TOP 16 CHAMPIONSHIP STANDINGS
| | | |
| --- | --- | --- |
| POSITION | DRIVER | POINTS |
| 1 | Ben Hobson | 245 |
| 2 | Andy Hateley | 180 |
| 3 | Rudy Hansen | 164 |
| 4 | Dmitriy Brutskiy | 137 |
| 5 | Nate Chen | 130 |
| 6 | Connor O´Sullivan | 128 |
| 7 | Jack Davis | 128 |
| 8 | Alex Jagger | 124 |
| 9 | Cole Richards | 116 |
| 10 | Austin Matta | 112 |
| 11 | Cody Buchanan | 112 |
| 12 | Faruk Kugay | 112 |
| 13 | Geoff Donati | 108 |
| 14 | Blake Olsen | 103 |
| 15 | Jayden Martorana | 99 |
| 16 | Derek Madison | 97 |
NEXT ROUND
Evergreen Speedway in Monroe, WA  will host the Formula DRIFT PRO Championship Round 6 on August 11-12. Please visit formulad.com for the competition schedule, ticket information, driver profiles, special content, and the event livestream.