Wrightwood, CA) – Aurimas "Odi" Bakchis secured his 10th event win last weekend at the fifth round of the 2023 Formula Drift Pro Championship at Worldwide Technology Raceway in Madison, IL. This win was Bakchis' first since 2021, and also marked his place in drift history as the 3rd winningest driver in Formula Drift, a title he shares with former champion Chris Forsberg. This win also marks Bakchis' 19th podium finish in the series, and puts him 3rd overall in championship standings.
Bakchis qualified 5th on Thursday, and continued to showcase precise car control throughout tandem competition on Saturday in his Feal Suspension GT Radial S15. After winning against Mike Power in Top 32, Bakchis met GT Radial teammate Matt Field during the Top 16 main competition. Bakchis advanced into the Great 8 following an impactful one-more-time call with Field.
Granted a bye run in Great 8, Bakchis moved on to the Final 4 bracket against Forsberg. Bakchis demonstrated continued calculated precision with a nearly perfect lead run and an impressively close chase run, securing his position in the finals against defending champion Fredric Aasbo.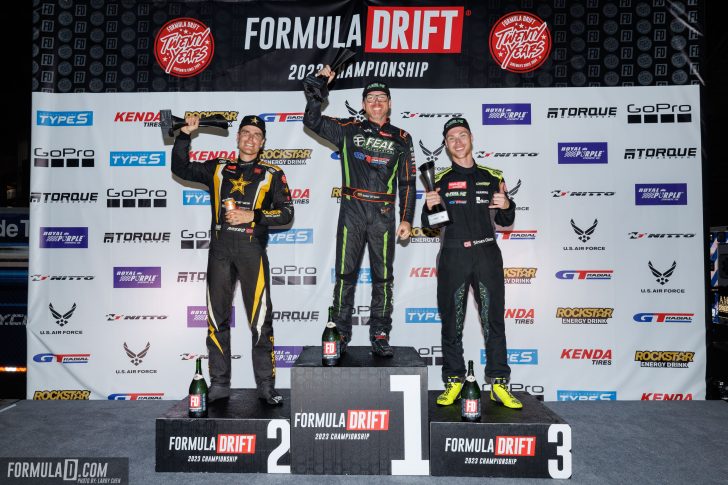 As the higher qualifier, Bakchis led first in the finals, continuing his display of near perfect car control throughout the course. Bakchis then maintained exceptional proximity in the chase position behind Aasbo, ultimately earning the overall event win.
Bakchis noted, "I've been one win away from having ten career wins, so I was very much looking forward to securing that. The Feal Suspension Race Team was amazing, not only keeping me ready for competition, but in getting both me and teammate Simen Olsen on the podium in St. Louis. This track is hard on cars and drivers, but our team was prepared and on point. This was a huge weekend for me personally and for the Feal Suspension Race Team. Now we're hungrier than ever for continued results for the remainder of the season."
Bakchis also attributed his win to his sponsors including Feal Suspension, GT Radial, Eneos, Pedal Commander, Kansei Wheels, Swift Springs, Megalife Battery USA, Boxo tools, Rola Audio Video, Holley Performance, Cobra Seats, Ignite Racing Fuel, Deatschwerks, Texas Speed, Ascend Print Studio, G and J Aircraft, Advanced Clutch Technology, Driveshaft Shop, Wisefab, Vortech Superchargers, Wilwood Brakes, Radium Engineering, 326power Japan, Treadstone Performance, Crower Cams, NRG Innovations, Turnone Steering, JE Pistons, 2f Performance, Simpson Race Products, and Steel it Coatings.