Despite Economy, Businesses Still Spending in Motorsports
by Dan Frio
It may be the worst economy seen in several generations, but companies are still spending money marketing their brands in motorsports. It's an idea that might give most CEOs insomnia. Slashing marketing budgets in downturns is custom. But to then spend those fewer dollars in motorsports sponsorships, never a cheap arena to begin with?
Foolhardy.
Not so, say some marketers. For companies that can stomach the risk, downturns provide an opportunity to capture market share at the expense of cautious rivals.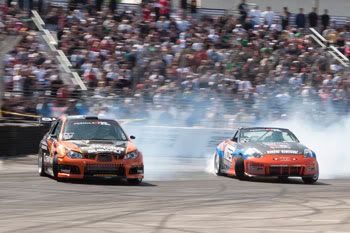 "Motorsports is a very important avenue for us," says Nick Fousekis, Falken Tire Senior Manager Consumer Marketing. "It's another opportunity to get in front of people that already know, or may not know, our brand. They can see that we're not just a tire manufacturer peddling black, round objects. We're out there. We're active."
As 2009 opened, the motorsports headlines were not encouraging.
To read the rest of the article
Continue reading Great SEMA News Article on Formula DRIFT