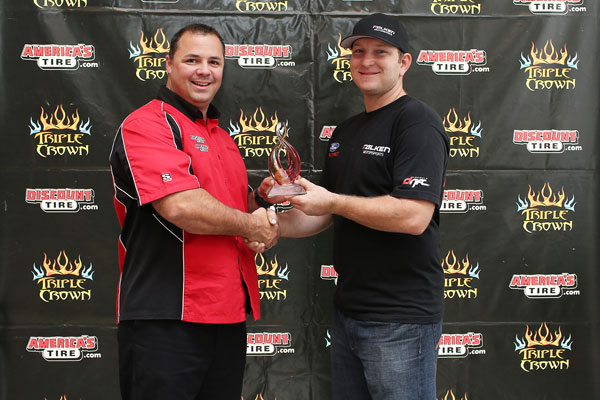 Long Beach, Calif. – October 26, 2012 – Justin Pawlak in the Falken Tire Ford Mustang is the winner of the Tires.com Triple Crown bonus prize taking home $10,000 and a 51-30 Nixon watch. Pawlak finished fourth in the overall 2012 Formula DRIFT Pro Championship standings.
"This was an exciting Tires.com Triple Crown chase. We could not believe how close it was and were excited to crown a new champion. JTP has a college fund to start and we are happy to provide the first deposit. We are very happy to support the sport and drivers with this prize," said Discount Tire.
The Tires.com Triple Crown bonus prize is awarded to the driver that accumulates the most points within the selected three rounds of competition. For the 2012 Formula DRIFT Pro Championship season the event chosen were Round 2: Road to the Championship at Road Atlanta, Round 5: Throwdown at Evergreen Speedway and Round 7: Title Fight at Irwindale Speedway.
"Going into the year with two wins I really thought this could be my year for the championship," said Justin Pawlak, winner of the 2012 Tires.com Triple Crown. "After things started to shank down I knew this wasn't going to be the year. But winning the Tires.com Triple Crown kind of made it all worthwhile. All the trials of the season and the birth of my son, it's the icing on the cake!"
Pawlak edged out the 2012 Formula DRIFT champion Daigo Saito and the 2010 Formula DRIFT champion Vaughn Gittin, Jr. in the closest chase for the Triple Crown in history. Pawlak joins past winners of the Tires.com Triple Crown that include:
2011 – Dai Yoshihara
2010 – Tanner Foust
2009 – Chris Forsberg
2008 – Rhys Millen
2007 – Chris Forsberg
2006 – Rhys Millen
Formula DRIFT enters its tenth season of competition in 2013. Tickets are on-sale currently and can be purchased through the Formula DRIFT website and Ticketmaster. Round 1: Streets of Long Beach will be held on April 12-13, 2013.