Formula DRIFT Round 5: Throwdown Results;
Daijiro Yoshihara Takes the Victory and the Lead in the Standings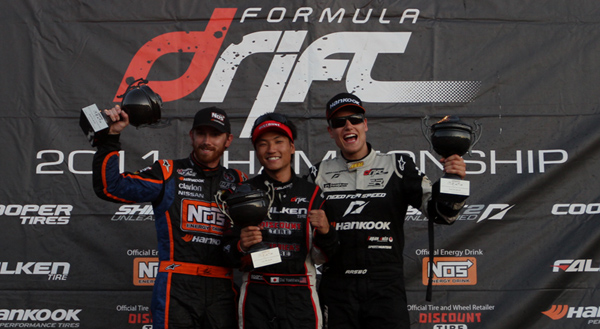 Long Beach, Calif. – July 23, 2011 – Formula DRIFT returned to Evergreen Speedway for Round 5: Throwdown. Daijiro Yoshihara in the Discount Tire / Falken Nissan S13 takes the victory and the lead in the overall Pro Championship points standings. Attendance records were broken as the event reached capacity for the venue.
Round 5: Throwdown reached capacity as fans came in droves to Evergreen Speedway. Attendance was up over 10% from last season continuing the increase in numbers for the Series. Fans were treated to an exciting round of action from the top drivers in the sport.
"The Pacific Northwest has an amazing fan base, which was proven today," said Jim Liaw, president and co-founder of Formula DRIFT. "We are excited to see the growth of the sport and the Series this season with a continued increase in attendance at each event."
The competition heated up with the final four drivers aiming to move closer in their chase for the championship. Fredric Aasbo in the Need For Speed / Scion Racing TC went head to head with Rhys Millen in the Red Bull / Hankook Hyundai Genesis Coupe and edged out the former champion earning third place. The Finals matched up the 2009 champion, Chris Forsberg in the NOS Energy Drink / Hankook Nissan 370Z with Daijiro Yoshihara. Yoshihara took the victory and gained the lead in the Pro Championship point standings and remains the leader with a commanding lead in the Tires.com Triple Crown bonus.
"It feels great to be in the lead," stated Daijiro Yoshihara, winner of Round 5: Throwdown. "After the Top 32 when Justin Pawlak was taken out of the competition I knew I had a good chance to win, but I didn't want to think about points and focused on winning one round at a time, which worked! We have 2 competitions left so I need to focus on them still before I can think too much about the championship."
The Formula DRIFT Championship continues for Round 6: After Dark at the Las Vegas Motor Speedway on August 26 – 27. Tickets are available to purchase online.