Another exciting round of competition. Some highlights include Verdier taking out the #1 qualifier and winner of last year's RD1 LB event, Chris Forsberg, in a close battle. Nishida moving on past Quoc Ly. Gittin easily moving past Kondo. Hubinette edging out Long Beach native Justin Pawlak in one of the most exciting rounds of action. Tony Brakiohiapa beating out Darren McNamara in a close battle. Tuerck moving past Grunewald after Grunewald crashes out. In one of the most anticipated battles Ueo vs Foust – with Foust taking out the Formula DRIFT rookie. Another Rookie Jones after a "One More Time" vs Aono crashes out moving Aono to the Great 8.
And did I mention a visit from UFC lightweight fighter Rampage!
Highlight photos
Foust and Ueo in a tight battle!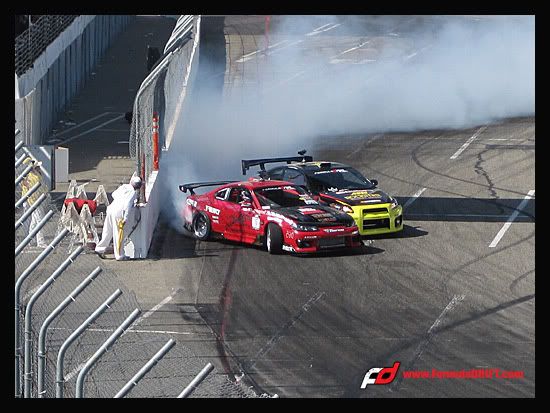 More photos after the jump and stay tuned for the GREAT 8
Continue reading LIVE from the Top 16