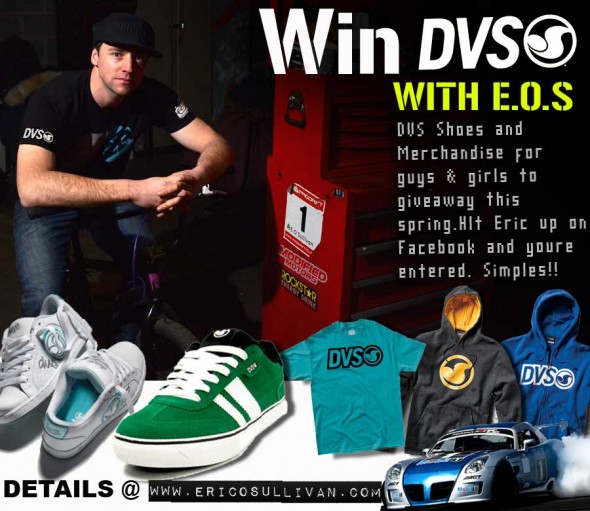 'Kicks 4 Clicks' – Win DVS Shoes with Eric O'Sullivan
DVS Shoes and Eric O'Sullivan are giving drift fans an opportunity to get their hands on fresh DVS shoes, hoods and t-shirts in advance of the 2011 drifting season.
In celebration of Eric's move to Gardella Racing and the launch of a new ericosullivan.com website and facebook fan page, Eric is giving away DVS merchandise for guys and girls who sign up to follow his progress during the 2011 season.
To enter for a chance to win this gear, simply sign up to the new Eric O'Sullivan fan page on Facebook and you're in. There will be a separate prize for male & female fans and winners will be announced on St.Patricks Day, March 17th, 2011.
To join Eric O'Sullivan on Facebook, simply visit http://www.facebook.com/pages/Eric-OSullivan-Fan-Page

To keep up with all of Eric's news, please visit his official website, http://www.ericosullivan.com