Autoblog has published the first renderings of Formula DRIFT champion Rhys Millen's Pikes Peak vehicle.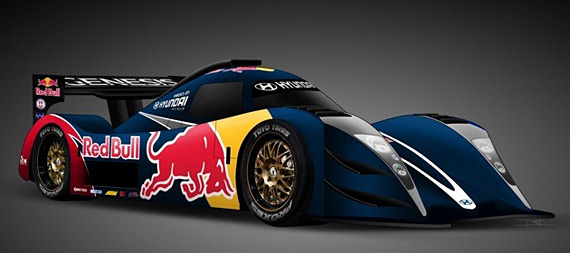 Last week, we learned that Rhys Millen has been busy preparing a new unlimited class challenger to try to recapture the overall Pikes Peak Hill Climb record that his father held for over a decade. At the time, all we knew was that it would be Hyundai powered, and we assumed that it would bear at least a vague resemblance to a Genesis Coupe.
Instead, these first official renderings suggest that the Rhys Millen Racing Hyundai Genesis PM580 looks more like a Le Mans prototype than some of the cartoonish looking Suzuki or Toyota racersdriven by Nobuhiro "Monster" Tajima or Rod Millen – let alone one of the more traditional open-wheel buggies that long dominated the Peak.
The PM580 uses a steel tube frame chassis wrapped in a carbon fiber skin. A turbocharged 4.1-liter Hyundai V6 producing up to 750 horsepower will put power down through an active all-wheel-drive system. The rear wing also has active trimming out on the straights to reduce drag, and it can tip up to generate additional downforce in the corners. Millen's goal is to set the first ever sub-10 minute time for the 12.42 mile "Run to the Clouds." Since you've got until June 27 until the green flag drops, why not check out the high-res gallery of renderings below and the official press release after the jump?
More on Autoblog