Formula DRIFT Round 6: Throwdown Results;
Aurimas "Odi" Bakchis Takes the Victory to Shake Up the Standings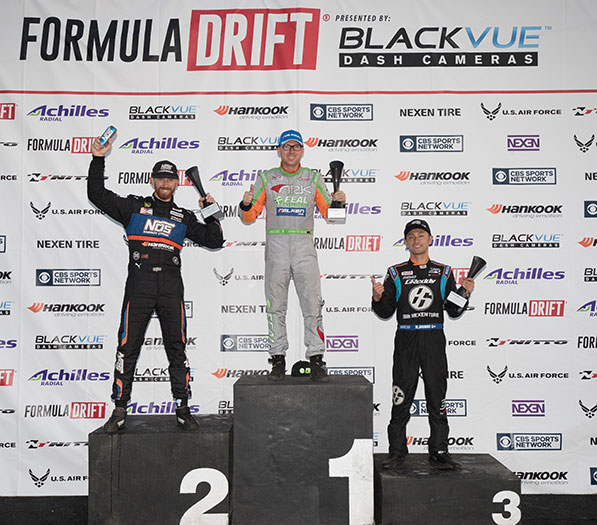 Long Beach, Calif. – August 6, 2016 – Formula DRIFT presented by BlackVue returned to Monroe, Washington for the sixth round of competition. Aurimas "Odi" Bakchis in the Ark Performance / Feal Suspension / Falken Tire Hyundai Genesis is Victorious.
Evergreen Speedway hosted Round 6: Throwdown in the Pacific Northwest. The action packed event showcased some of the closest battles to date. The competition was fierce as many of the high ranked drivers were taken out early in the competition opening the door for the other drivers to move up in the standings. With two events remaining in the 2016 Pro Championship season less than 55 points separate the top four drivers.
"It was awesome to treat the capacity crowd to an amazing weekend of competition, during one of the busiest event weekends in the region." said Jim Liaw, President of Formula DRIFT.
The highly competitive event saw a shake up in the Pro Championship standings with Vaughn Gittin, who qualified first and was on top of the standings heading into Round 6, lose in the Top 16, which opened the door for the other drivers as Gittin moves down to third place overall by only 15 points. 2-time champion, Chris Forsberg in the NOS Energy / Hankook Tire Nissan 370Z faced Matt Coffman in the Coffman Racing Nissan 240 in the semi-finals. Forsberg edged out the young driver to advance to the Finals. Ken Gushi in the GReddy Racing / Nexen Tire SR by Toyota 86 met Bakchis in the semi-finals. Bakchis outdrove his opponent to move to the Finals. Errors on Forsberg's run helped give Bakchis his first victory of the season. Forsberg's second place finish moves him into the lead by 5 points over Fredric Aasbo.
"I'm really happy with the win. It's been a lot of work on our part and with our sponsors Ark Performance, Feal Suspension, and Falken Tire," said Aurimas "Odi" Bakchis, winner of Round 6: Throwdown. "I really want to keep this momentum going into the next round and am excited for the rest of the season."
The 2016 Formula DRIFT Pro Championship will continue to Round 7: Showdown on September 9-10, 2016 at Texas Motor Speedway. For more information visit, www.formulad.com and find Formula DRIFT on Instagram @formulad, Facebook www.facebook.com/formuladrift, Twitter @FormulaD, and Snapchat – formula_drift. Tune into Formula DRIFT on CBS Sports and check your local listings for airtimes.
Round 6: Throwdown Event Results
1. Bakchis, Aurimas Ark Performance / Feal Suspension / Falken Hyundai Genesis Winner
2. Forsberg, Chris NOS Energy Drink / Hankook Tire Nissan 370Z 2nd Place
3. Gushi, Ken GReddy Racing / Nexen Tire SR by Toyota 86 3rd Place
4. Coffman, Matt Coffman Racing Nissan 240 4th Place
5. McQuarrie, Tyler Mobil 1 Chevy Camaro 5th Place
6. Aasbo, Fredric Rockstar Energy Drink / Nexen Tire SR by Toyota tC 6th Place
7. Foust, Tanner Rockstar Energy Drink / Nexen Tire Volkswagen Passat 7th Place
8. Kearney, Dean Oracle Lighting Dodge Viper 8th Place
9. Gittin, Vaughn Monster Energy / Nitto Tire Ford Mustang RTR 9th Place
10. Field, Matt Falken Tire / Driftcave Motorsports Nissan 240 10th Place
11. Yoshihara, Dai Falken Tire / Turn 14 Subaru BRZ 11th Place
12. Moen, Kenny Team Boost Lock BMW M3 12th Place
13. Wang, Forrest Get Nuts Lab / Hankook Tire Nissan 240 13th Place
14. Nishida, Robbie Achilles Radial Infiniti G37 14th Place
15. Hohnadell, Alec Enjuku / Get Nuts Lab / Nexen Tire Nissan 240 15th Place
16. Castro, Jhonnattan Gerdau Meltadom / Nexen Tire Toyota 86 16th Place
2016 Formula DRIFT Championship Presented by BlackVue Standings After 6 Events
1. Forsberg, Chris
NOS Energy Drink / Hankook Tire Nissan 370Z
419.00 Points
2. Aasbo, Fredric Rockstar Energy Drink / Nexen Tire SR by Toyota tC 414.00 Points
3. Gittin, Vaughn Monster Energy / Nitto Tire Ford Mustang RTR 404.00 Points
2016 Manufacturer Championship Standings After 6 Events
1. SR by Toyota 737.00 Points
2. Ford 565.00 Points
3. Nissan 558.00 Points
4. BMW 389.00 Points
5. Mazda 245.00 Points
6. Chevrolet 222.00 Points
7. Dodge 203.00 Points
8. Infiniti 190.00 Points
9. Lexus 122.00 Points
2016 Tire Championship Standings After 6 Events
1. Nexen 796.00 Points
2. Falken 750.00 Points
3. Hankook 682.00 Points
4. Nitto 593.00 Points
5. Achilles 521.00 Points
7. GT Radial 320.00 Points