Formula DRIFT World Championship: Japan Round Results;
Masato Kawabata Wins at Fuji International Speedway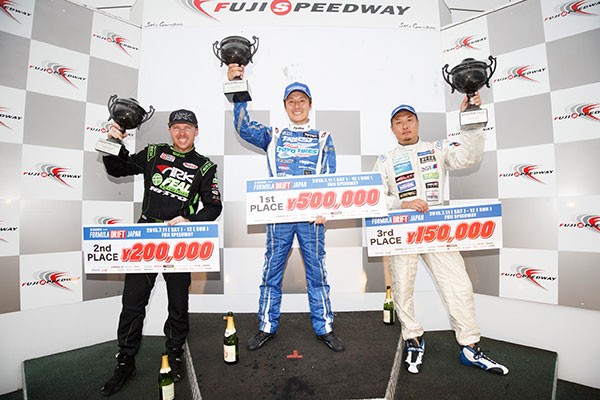 Long Beach, Calif. – July 13, 2015 – Formula DRIFT Japan presented by G-Shock entered Fuji International Speedway for the 5th Round of the inaugural Formula DRIFT World Championship. Masato Kawabata in the Team Toyo Tires Drift/Trust Racing Nissan 35RX GTR takes the event victory and Aurimas "Odi" Bakchis leads the Formula Drift World Championship with a second place finish.
Formula DRIFT Japan at Fuji Speedway was the first world championship round outside of the U.S. The break in the rainy weather treated fans to a great display of international drifting competition as 63 drivers from 8 nations battled to be at the top of the podium. Almost 300,000 Livestream viewers joined the action and tuned in from around the world.
"Last November we took a bold step to launch the Formula DRIFT World Championship and this round officially kicks off which drivers will be eligible," says Jim Liaw, President of Formula DRIFT. "Japan is the birthplace of drifting and it's fitting to start the first international round where it all started."
The event was challenging as many drivers who have never competed against each other matched up for the first time on this seemingly simple but very technical course. The semi-finals pitted Tadahiro Fukada in his RC-ART Dreamteam with Falken Toyota Mark II against Aurimas Bakchis in his ARK Performance / Feal Suspension / Nitto Tire Hyundai Genesis Coupe with Bakchis edging out Fukada to head into the finals. Number 1 qualifier Masato Kawabata in his Team Toyo Tire Drift / Trust Racing Nissan 35RX GTR defeated Masao Suenaga in his RE Amemiya Mazda RX-7 to face Bakchis in the finals. The final head-to-head battle between Bakchis and Kawabata came to an early end as Bakchis's motor gave on the second run and was not able to maintain drift. This gave Kawabata his perfect weekend by qualifying 1st and winning the competition.
"It felt really good to compete and be successful against foreign drivers that I have never driven against before," stated Masato Kawabata, winner for Formula DRIFT Japan. "I was provided with a great car that did not have any troubles all weekend and drove comfortably. I would love to compete more internationally. The world be ready, I am coming."
The 2015 Formula DRIFT season will continue to Round 5: Throwdown on July 24-25, 2015 at Evergreen Speedway in Monroe, WA. For more information visit: www.formuladrift.com and find Formula DRIFT on Instagram, Facebook and Twitter. Tune into Formula DRIFT on CBS Sports and check your local listings for airtimes.
Formula DRIFT Japan: Fuji International Speedway Event Results

1. Kawabata, Masato
Team Toyo Tires Drift / Trust Racing Nissan 35RX GTR
Winner
2. Bakchis, Aurimas "Odi"
ARK Performance / Feal Suspension / Nitto Tire Hyundai Genesis Coupe
2nd Place
3. Fukada, Tadahiro
RC-ART Dreamteam with Falken Toyota Mark II
3rd Place

2015 Formula DRIFT World Championship Standings After One Round

1. Aurimas "Odi" Bakchis
ARK Performance / Feal Suspension / Nitto Tire Hyundai Genesis Coup
358.00 Points
2. Aasbo, Fredric
RS-R Japan / Toyota GT86 NZ6
320.00 Points
3. Field, Matt
Drift Cave Motorsports / Toyota Chaser JZX100
210.00 Points
4. Yokoi, Masashi
D-MAX Racing with Yokohama / Nissan Silvia S15
187.00 Points
5. Kearney, Dean
Oracle Lighting / Achilles Motorsports / Nissan 180SX S13
153.00 Points
6. Saito, Daigo
Fat Five Racing / Lexus SC430
139.00 Points
7. Nishida, Robbie
Team FNATZ x LB Works with ATR Radial / Nissan Skyline GTR
125.00 Points
8. Ng, Charles
SoGun Motorsports / Mitsubishi Evo
122.00 Points
9. Whiddett, Mike
Team Magic / Mazda RX7 FD3S
72.00 Points