Formula DRIFT Japan Round 3 / World Championship Round 8 Results;
Andrew Gray Takes the Victory and Chris Forsberg Moves to the Top of the World Championship Standings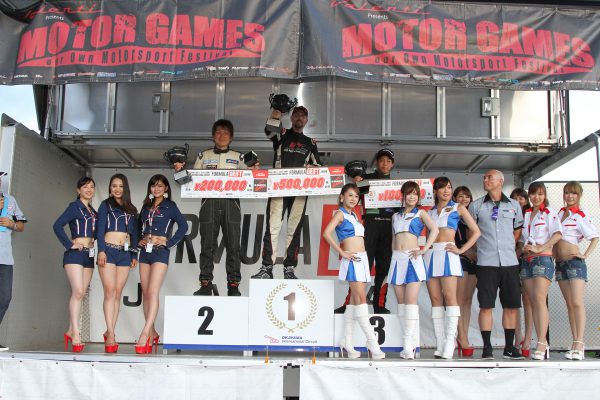 Long Beach, Calif. – August 23, 2016 – Formula DRIFT Japan presented by G-Shock returned to the Okayama International Circuit for Round 3 of the Formula DRIFT Japan Championship / Round 8 of the World Championship. Andrew Gray battled to victory to solidify his defense of his 2015 Formula DRIFT Japan title. Chris Forsberg moves atop the World Championship Standings.
The famed Okayama International Circuit, home to previous Formula One events, hosted the event round. Andrew Gray took the victory through consistent driving at the historic track.
"The whole weekend I focused on being consistent and to take each battle as it came," said Andrew Gray, winner of Formula DRIFT Japan Round 3. "I never play it safe, but the team helped me out to get the win in the end."
The highly competitive event saw a new driver enter the field. 2-time Formula DRIFT champion, Chris Forsberg, set his sights on securing a Formula DRIFT World Championship. After a One More Time battle with second place finisher Kazuki Hayashi, Forsberg failed to reach the podium, but secured a healthy lead in the overall chase for the World Championship.
"I'm really happy with where I finished this weekend. It was a grueling event where I had to deal with lots of travel as well as trying to figure out how to drive at a high level on the other side of the car, but with my Top 16 finish, I have put my campaign for the World Championship in a good position," said Chris Forsberg.
The 2016 Formula DRIFT Pro Championship will continue to Round 7: Showdown on September 9-10, 2016 at Texas Motor Speedway. For more information visit, www.formulad.com and find Formula DRIFT on Instagram @formulad, Facebook www.facebook.com/formuladrift, Twitter @FormulaD, and Snapchat – formula_drift. Tune into Formula DRIFT on CBS Sports and check your local listings for airtimes.
Formula DRIFT Japan Round 3 / Formula DRIFT World Championship Round 8 Event Results
1. Gray, Andrew Team Kazama with Powervehicles Toyota JZX100 Chaser Winner
2. Hayashi, Kazuya T-Select HID Shingen w/DMAX Nissan Silvia
2nd Place
3. Kasahara, Masaki Team Masaki Nissan S15 Silvia 3rd Place
2016 Formula DRIFT World Championship Standings
1. Forsberg, Chris
NOS Energy Drink / Hankook Tire Nissan 370Z
453.00 Points
2. Whiddett, Mike Redbull / Nitto Tire / TCP Magic RX7
264.00 Points
3. Field, Matt Falken Tire / Driftcave Motorsports Nissan 240
258.00 Points