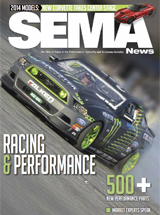 Excerpt from article
According to Jim Liaw, president and co-founder of Formula Drift, economics play a huge factor in youth motorsports involvement.
"Motorsports participants skew older in most cases because motorsports are more expensive than sports like surfing, basketball or even golf," Liaw explained. "An older individual tends to have more disposable income. Yes, there are a lot of young drivers in development—kids that are go-karting, young drivers going through development series such as F2000, Indy Lights, etc.—but they are rare and few and are funded by family money."
Along with the motorsports mentioned above, drifting not only remains a favorite of young performance enthusiasts, but has also developed a cultural following.
"Cost of entry is low," said Liaw. "Participants are much younger. If you look at the profiles of Formula Drift Pro Drivers, they range from 21–39, representing a dozen countries and multiple ethnicities. The majority of them have Facebook, Twitter and Instagram accounts, which shows that they are social-media savvy and are early adaptors to these new technologies. In 2012, we had 38 drivers commit to the entire tour, showing that most of them consider Formula Drift a major priority—if not the priority—in their driving careers."
CLICK HERE for the full story.