Formula DRIFT Round 6: Showdown Results;
Rookie Masashi Yokoi is Victorious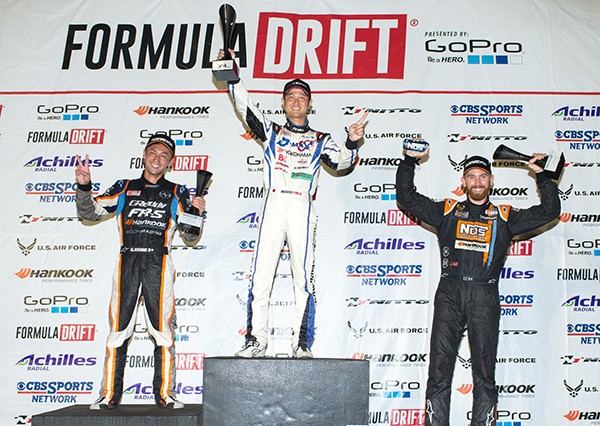 Long Beach, Calif. – August 23, 2015 – Formula DRIFT presented by GoPro returned to Texas Motor Speedway for Round 6: Showdown. Japanese rookie Masashi Yokoi in the D-MAX Nissan S15 earns his first Formula DRIFT victory. The championship will be determined at the Series finale on October 10.
Round 6: Showdown was an action packed event weekend. The new course configuration at Texas Motor Speedway proved to be challenging and highly competitive for the drivers. With only one event remaining in the 2015 season a champion will be crowned at the season finale at Irwindale Speedway.  Over 400,000 fans tuned in live throughout the event weekend on the Driftstream.
"Texas has some of the most diehard fans as they braved the heat to see the action through the weekend and were rewarded with intense drifting action," said Jim Liaw, President of Formula DRIFT. "With only one event remaining, the season will come to climatic conclusion to end a remarkable year."
Points leader and number one qualifier, Fredric Aasbo lost in the Great 8 opening the chase for the championship up to the rest of the field. Aasbo will head into the championship with a considerable lead of 80 points. The semi-finals had Daigo Saito in the Achilles Radial Nissan GT-R face against his close friend Ken Gushi in the GReddy Performance / Hankook Tire Scion FR-S. Gushi was able to outdrive his opponent on his way to his third podium of the season. Yokoi battled Chris Forsberg in the NOS Energy Drink / Hankook Tire Nissan 370Z. Yokoi beat the former champion to head into the Finals. The Finals were close with the rookie Yokoi being awarded the win by the judges for his first podium and victory in Formula DRIFT. Gushi's second place finish moves him into second place overall.
"I wanted to come out and show the Japanese style of driving and really worked hard in the tandem battles," said Masashi Yokoi, winner of Round 6: Showdown. "In the end I wasn't able to show everything that I wanted, but I'm really happy to get the victory."
The 2015 Formula DRIFT Pro Championship season will conclude at Round 7: Final Fight at Irwindale Speedway on October 9-10. For more information visit: www.formuladrift.com and find Formula DRIFT on Instagram, Facebook and Twitter. Tune into Formula DRIFT on CBS Sports and check your local listings for airtimes.
Round 6: Showdown Event Results
1. Yokoi, Masashi
D-Max Nissan S15 Silvia
Winner
2. Gushi, Ken
GReddy Racing / Hankook Tire Scion Racing FR-S
2nd Place
3. Forsberg, Chris
NOS Energy Drink / Hankook Tire Nissan 370Z
3rd Place
4. Saito, Daigo
Achilles Radial Nissan GT-R
4th Place
5. Aasbo, Fredric
Rockstar Energy Drink / Hankook Scion tC
5th Place
6. Moen, Kenny
Bridges Racing / Achilles / Gatebil Nissan S14
6th Place
7. Hohnadell, Alec
11 Racing Nissan S14
7th Place
8. Yoshihara, Dai
Falken Tire / Turn 14 Distribution Subaru BRZ
8th Place
9. Whiddett, Mike
RedBull / Mobil 1 Mazda "Radbul"
9th Place
10. Tuerck, Ryan
Ryan Tuerck Racing / Retaks / Maxxis Scion FR-S

10

th Place
11. Wang, Forrest
Get Nuts Lab Nissan S15
11th Place
12. Kearney, Dean
Oracle Lighting / Achilles Motorsports Dodge Viper
12th Place
13. Bluss, Kristaps
HGK Motorsport BMW 3 Series
13th Place
14. Evans, James
SIKKY Racing Nissan 350Z
14th Place
15. Ng, Charles
Maxxis / Sparkplugs.com / Speedhunters Infiniti G37
15th Place
16. Castro, Jhonnattan
E3 / Hankook / Progresso Nissan 350Z
16th Place
2015 Formula DRIFT Championship Presented by GoPro Top 3 Standings After Six Rounds
1. Aasbo, Fredric
Rockstar Energy Drink / Hankook Scion tC
428.00 Points
2. Gushi, Ken
GReddy Racing / Hankook Tire Scion Racing FR-S
348.00 Points
3. Tuerck, Ryan
Ryan Tuerck Racing / Retaks / Maxxis Scion FR-S
332.00 Points
Manufacturers Championship Standings After Six Rounds
1. Scion
924.00 Points
2. Nissan
555.00 Points
3. Ford
447.00 Points
4. Chevrolet
337.00 Points
5. Mazda
248.00 Points
6. Infiniti
211.00 Points
7. Dodge
204.00 Points
8. BMW
157.00 Points
9. Toyota
123.00 Points
Tire Championship Standings After Six Rounds
1. Hankook
905.00 Points
2. Achilles
643.00 Points
3. Nitto
570.00 Points
4. Yokohama
569.00 Points
5. Falken
557.00 Points
6. Maxxis
470.00 Points
7. GT Radial
302.00 Points