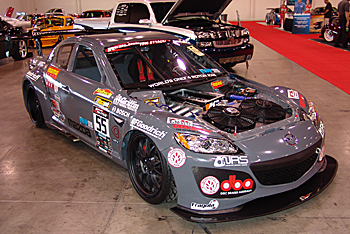 TORRANCE, CA (April 4th, 2010)- BMI Racing is happy to announce that Drift Alliance Ace Brian Wilkerson will drive the BMI Racing 2009 Mazda RX-8 4-Rotor drift car at Formula Drift Round 1: Streets Of Long Beach on April 9-10th.
Brian Wilkerson has been a constant presence in the east coast grassroots drifting scene for years, competing in several amateur and semi-professional events since 2006 with impressive results. Brian has renewed his Formula Drift competition license for 2010 and is looking to punch a hole in the pro-drift circuit and show that he has what it takes to be a serious contender among the world's best drifters in the top level American drift series.
BMI Racing is currently finishing up prep-work on their one of a kind 2009 Mazda RX-8 powered by a rare 4-Rotor engine. BMI Racing is the first performance shop to successfully install a 4-Rotor engine into an RX-8 chassis. Since the car's completion it has been an internet sensation and has received over 80,000 video hits combined on YouTube.com and StreetFire.net as well as over 200,000 total impressions due to coverage on Autoblog.com and Mazda USA's corporate website.
While both BMI Racing and Brian Wilkerson have years of experience in their respective specialties both parties are relatively (Brian competed in Round 2 in Atlanta in '09) new to Formula Drift and expect tough challenges ahead. However, Brian and BMI Racing are also confident that together, they can make a strong impression at Long Beach.
For further information on BMI Racing and Brian Wilkerson you can visit http://www.bmiracing.net and www.brianwilkerson.com.
If you have any inquires on BMI Racing feel free to contact Andrew Beckford ([email protected])
ABOUT BMI RACING:
BMI Racing consists of Adam and Sarah Burgess a happily married couple that moved from Australia to the USA to pursue their shared passion for motorsport, and with over 25 years combined experience they have built extreme and diverse performance vehicles.
BMI Racing has successfully built the World's only 2009 Mazda RX-8 4 Rotor, a naturally aspirated beast that has a unique engine sound that can only be compared to that of a Formula One car. The RX-8 4 rotor has been well received wherever it has been on display, including shows such as Seven Stock 12 held at Mazda Headquarters Irvine, the final round of Formula D at Irwindale, and the world largest automotive show – The SEMA show held in Las Vegas.