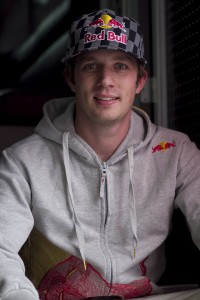 Gardella Racing's Ryan Tuerck has reached the pinnacle of sports sponsorship by signing as a Red Bull athlete for the 2010 Formula Drift season. Tuerck finished second in the overall Formula Drift standings in 2009.
Tuerck was introduced to the Red Bull family at a special gathering on March 20th at the grand opening of the Red Bull Arena, home to the New York Red Bulls soccer team. He met other Red Bull athletes including Super Bowl champion Reggie Bush, Olympic downhill skiing champion Lindsey Vonn and BMX biker Kevin Robinson.
"To be involved with the best energy drink and coolest brand in the world is something I never dreamed of happening," said an excited Tuerck. "When Red Bull gets together it's like a big family, and I am really excited to be a part of it."
In addition to the Formula D series, Tuerck and Gardella Racing will receive additional exposure through various programs implemented by Red Bull, including a demo tour at military bases, colleges and festivals throughout the North East. A schedule of appearances is coming soon.
Gardella Racing has been associated with Red Bull for more than six years. The partnership began when team owner Gary Gardella was racing in NHRA and NOPI sport compact drag racing. Gardella captured a drag racing championship during this partnership.
Be sure to watch for Tuerck, Red Bull and Gardella Racing at the first round of the Formula Drift's Streets of Long Beach competition in Long Beach, Calif. April 9-10. Tuerck is shooting for his second consecutive win in Long Beach.