Tony Brakohiapa Partners with Top Cover Racing For The 2010 Formula DRIFT Championship
Coming off his best season in 2009 as the highest placing privateer, Brakohiapa returns to Formula DRIFT with new partner, Top Cover Racing.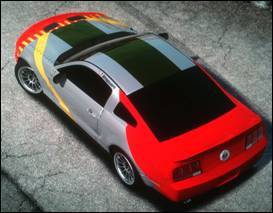 Top Cover Racing (TCR) was launched in 2005 with the legacy of the Tuskegee Airmen as its operational compass. The Tuskegee Airmen are the intrepid group of African-American U.S. Army Air Corps pilots and support personnel who distinguished themselves in World War II. Taking the name of the segregated base in Tuskegee, Alabama, where they trained, they were also known as the "Red Tails" for the distinctive paint scheme of their fighter aircraft. Compiling an exemplary record, they supported ground troops and escorted allied bombers and providing "top cover" on missions over North Africa and Europe. TCR includes direct descendents of the Airmen and the bomber crews they protected, with a number of original Tuskegee Airmen participating as mentors and advisors.
"We're very happy to have Tony B. in the driver's seat," said Weyman Watson, Co-Founder of Top Cover Racing. "He's a superbly talented and intelligent driver who's also a fierce competitor."
"I'm honored to be TCR's driver and their link to the Formula DRIFT audience. TCR has a diverse motorsports background and brings a wealth of knowledge to this year's campaign," said Tony Brakohiapa, Formula DRIFT professional driver. "The Tuskegee Airmen have determination, experience, and wisdom that we can all learn from. They have an amazing story that needs to be told. I look forward to being their "Red Tail" ambassador in motorsports, and bringing home victories in their honor."
TCR's motorsports experience covers the American Le Mans (ALMS), Grand-Am, NHRA, Trans-Am and Indy Racing League (IRL) racing series. Following Formula DRIFT for the past few years, TCR recently decided that now is the right time to get in.
"We've been fans of Tony and Formula DRIFT since we first saw him compete several years ago," said Junious Matthews, Co-founder of Top Cover Racing. "He's an exciting competitor with an appeal that will allow us to engage the audience that we want to reach."
Brakohiapa will return this season with a modified, supercharged Ford Mustang. It will feature special Tuskegee Airmen "Red Tail" livery to commemorate the P-51 Mustang fighter planes they flew in World War II.
Brakohiapa is pleased to introduce new sponsors for 2010 – Wilwood Brakes, and Sparco. He is happy to continue his relationships with Sam's Autobody & Paint, Glazier Ironworks, Cooper Tires, Seibon, Eibach, Go Pro, Enkei, Exedy, Livernois Motorsports, Griggs Racing Toi Boy Productions, and Barn Style Performance.