Daijiro Yoshihara Takes the Victory and the Lead in the Tires.com Triple Crown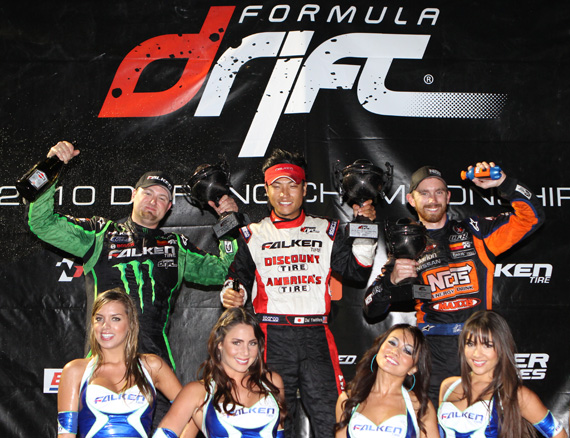 Long Beach, Calif. – May 8, 2010 – Formula DRIFT returned to the site of the inaugural event at Road Atlanta for Round 2: Road to the Championship. Daijiro Yoshihara in the Discount Tire / Falken Tire Nissan S13 takes the victory and the lead in the first event of the Tires.com Triple Crown.
For the seventh straight season, Formula DRIFT brought drifting back to Road Atlanta and provided exciting action for all the die-hard drift fans in the South. The thousands of fans that came to watch the event were treated to great weather as temperatures dropped dramatically for the main event day. The competition was as exciting as ever with the drivers pushing the limits of their vehicles through one of the best courses for drifting.
"It all started over seven years ago here at Road Atlanta," said Jim Liaw, president and co-founder of Formula DRIFT. "Each year the drivers and teams have stepped it up and the level of competition is as tight as it has ever been. This is a great sign of the constant evolution of this still emerging sport."
Round 2: Road to the Championship showcased intense tandem action that kept fans in their seats throughout the day and into the evening for the final battle. The consolation round for third place was between champion Chris Forsberg in the NOS Energy Nissan 350Z and Michael Essa in the Nitto Tires / GSR Autosport BMW 350R. Essa made it the furthest in his career after failing to make the Top 32 during Round 1. Forsberg showcased why he is the current champion and why he won the the event at Road Atlanta last season by beating out Essa for third place. Daijiro Yoshihara earned the victory with solid driving throughout the weekend and made his way to the Tires.com Triple Crown leaderboard. The final battle was between Yoshihara and winner of Round 1: Streets of Long Beach, Vaughn Gittin, Jr. in the Monster Energy / Falken Tires Ford Mustang with Yoshihara edging his way past his Falken Tires teammate. Gittin found the podium for the second consecutive event and retains the lead in the Formula DRIFT Pro Championship points standings.
"I am so excited to be back in the game," said Daijiro Yoshihara, winner of Round 2: Road to the Championship. "I haven't been on the podium for two years and I proved to myself that I can compete once again in Formula DRIFT. Formula DRIFT is the most competitive series in the world and it feels great to be on top. I couldn't have done it without the help of my sponsors at Discount Tire, Falken Tire, KW Suspension, Sparco, and the crew at SPD Metal Works."
The action continues on June 4-5, 2010 for Round 3: The Gauntlet at Wall Speedway in New Jersey. Tickets are available on-line. For more information and details visit the Formula DRIFT website at: www.formuladrift.com
Formula DRIFT Professional Championship 2010 Point Standings
1. Gittin, Vaughn Monster Energy / Falken Tire Ford Mustang 199 Points
2. Yoshihara, Daijiro Discount Tire / Falken Tire Nissan S13 162 Points
3. Millen, Rhys RMR / Red Bull Hyundai Genesis Coupe 158 Points
4. Foust, Tanner Rockstar Energy Scion TC 148 Points
5. Forsberg, Chris NOS Energy Drink / CFR Nissan 350Z 137 Points
6. Tuerck, Ryan Mobil 1 / Maxxis Tire / Gardella Racing Pontiac Solstice 136 Points
7. McNamara, Darren Falken Tire Saturn Sky 123 Points
8. Hubinette, Samuel SHR-Dodge / BF Goodrich Dodge Challenger 120 Points
9. Mordaunt, Patrick Brian Crower / PM Racing Nissan 350Z 117 Points
10. Grunewald, Conrad Hankook Tire / GM Performance Chevrolet Camaro 93.50 Points
11. Gushi, Ken Scion Racing / RS*R Scion TC 86.50 Points
12. Miki, Ryuji APEXi / Hankook Tire Mazda RX-7 81 Points
13. Pawlak, Justin Ford Racing / Falken Tire Ford Mustang 80.50 Points
14. Maeng, Joon Full Tilt Poker / Mazda / Nitto Mazda RX-8 80.25 Points
15. Petty, Ross Falken Tire / Garage Boso Nissan S15 79 Points
16. Verdier, Stephan Royal Purple / Crawford Performance / Cooper Subaru STI 78.75 Points
16. Wang, Forest BF Goodrich / Drift Emporium Infiniti G35 78.75 Points

Round 2: Road to the Championship Event Results
1. Yoshihara, Daijiro Discount Tire / Falken Tire Nissan S13 1st Place
2. Gittin, Vaughn Monster Energy / Falken Tire Ford Mustang 2nd Place
3. Forsberg, Chris NOS Energy Drink Nissan 350Z 3rd Place

Tires.com Triple Crown – Event 1 of 3
1. Yoshihara, Daijiro Discount Tire / Falken Tire Nissan S13 106 Points
2. Gittin, Vaughn Monster Energy / Falken Tire Ford Mustang 91 Points
3. Forsberg, Chris NOS Energy Drink Nissan 350Z 81 Points