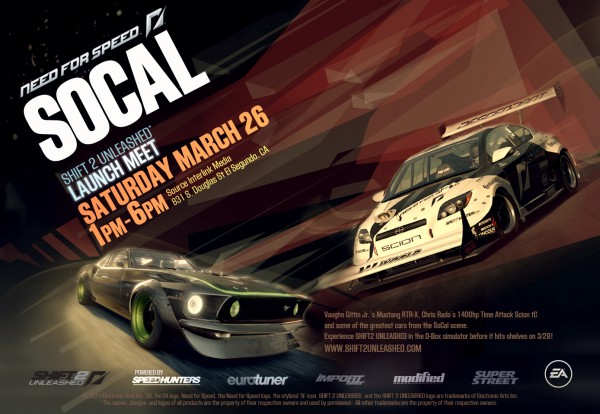 Come celebrate the launch of SHIFT 2 Unleashed and see the cars, both in-game and in person, on Saturday, March 26th! SHIFT 2 will be at Source Interlink Media in El Segundo, CA for the "NEED FOR SPEED SoCal – Powered by SpeedHunters" car meet. Here are the details:
What: "Need for Speed SoCal – Powered by SpeedHunters" is a car meet that celebrates the upcoming launch of SHIFT 2 Unleashed and highlights elite Team Need for Speed cars as well as top vehicles in the SoCal Area. You'll see Vaughn Gittin Jr.'s one-off Mustang RTR-X, Chris Rado's 1400hp Time Attack Scion tC, the Twins Turbo Dodge Viper drag car, and approximately 50 other top cars in the SoCal scene.
When: Saturday, March 26 from 1-6pm (PST)
Where: Source Interlink Media – 831 S. Douglas St. El Segundo, CA
Who: Formula Drift 2010 Champion Vaughn Gittin Jr., Time Attack Record Holder Chris Rado and renowned car builders Twins Turbo will be in attendance and available for interviews. Also on hand will be former Miss Formula Drift Miki Taka and the Team Need for Speed Girls.
Other Details: SHIFT 2 UNLEASHED will be featured on 2 D-Box simulator chairs and there will be a time attack competition for consumers as well as frequent random draws for great swag.
And of course, the event is totally FREE to the public! Make sure you check it out and be sure to share pictures with us on Facebook.