Formula DRIFT Round 7: Title Fight Results;
Daijiro Yoshihara Wins the Championship and Tyler McQuarrie Takes the Event Victory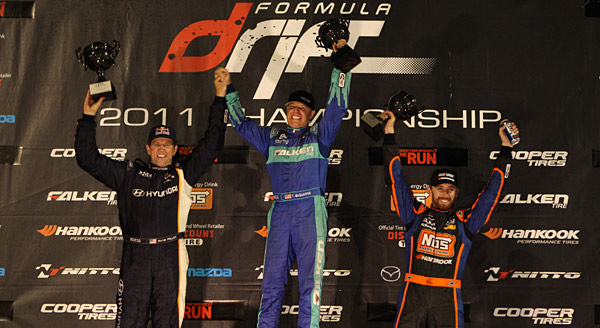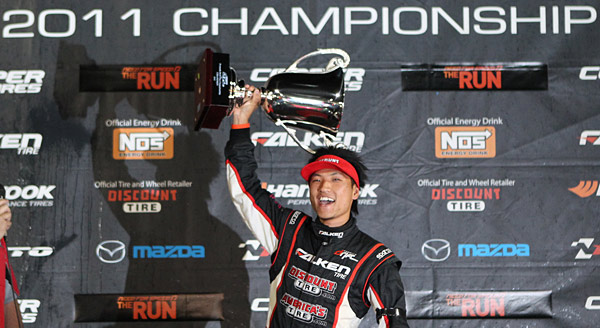 Long Beach, Calif. – October 8, 2011 – Formula DRIFT returned to the Toyota Speedway at Irwindale for the final event of the 2011 season. Daijiro Yoshihara in the America's Tire / Falken Tire Nissan S13 won the championship, while Tyler McQuarrie in the Falken Tire Nissan 350Z took the event victory.
Round 7: Title Fight concluded the most successful season in Formula DRIFT history. The sold out crowd eclipsed attendance records for the Toyota Speedway at Irwindale and is now the largest Formula DRIFT event in history.
"First of all we would like to congratulate Dai on his first championship. He has worked hard for over 8 years and has consistently had good results and its awesome to see it pay off for him," said Jim Liaw, president and co-founder of Formula DRIFT. "You couldn't script the finals to be any better capping off the season with excitement and drama and ending on a high note to a sell out crowd to be the largest drifting event we have ever produced."
With the championship decided in the Final 4 competition, the event was far from over. Chris Forsberg in the NOS Energy Drink / Hankook Nissan 370Z defeated Darren McNamara in the consolation round to secure third place for the event and also move him up into third place overall. The final battle of the evening pitted Rhys Millen in the Redbull / Hankook Hyundai Genesis Coupe against Tyler McQuarrie. After an intense battle McQuarrie took the victory moving himself up to finish in the fifth standing position for the season.
"To win in Irwindale is massive for any driver and to do it under the circumstances surrounding this week is incredible," stated Tyler McQuarrie, winner of Round 7: Title Fight. "This victory paints a better picture and gives me the momentum heading into the off-season."
The results of the event could only be described as the ultimate finish to crown a champion. This event was the closest and most competitive chase for the championship in Formula DRIFT history, with 5 drivers entering with a chance at the title. Rookie of the year honors went to Aurimas "Odi" Bakchis. Many scenarios played out with such a close gap in the point standings. Daijiro Yoshihara entered with the point lead and was taken out early in the Top 16 opening the door for the others to take the championship. Yet, the stars were aligned for Yoshihara and by a narrow margin he was able to hold onto the lead to win the 2011 Formula DRIFT Championship along with the Tires.com Triple Crown. Marking the first time in Series history that the champion also wins the bonus prize.
"It's a great feeling and a dream come true," said Daijiro Yoshihara, 2011 Formula DRIFT champion. "After 8 years of driving it finally paid off. I owe a lot to my team and sponsors. My new goal will be to defend the championship and win it outright during the event."