February 10, 2011
Tanner Foust Announces Temporary Retirement From Formula DRIFT;
Papadakis Racing and Team Need For Speed Announce the Signing of 2010 Formula DRIFT Rookie of the Year, Fredric Aasbo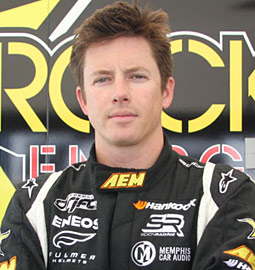 Long Beach, Calif. – February 10th, 2011 – Formula DRIFT has announced that 2-time Formula DRIFT champion, Tanner Foust will temporarily step away from the sport of drifting. In conjunction, Papadakis Racing and Team Need For Speed have announced the signing of the 2010 Formula DRIFT Rookie of the Year, Fredric Aasbo.
"Tanner's semi-retirement is bittersweet for the Series as he has become one of the most recognizable drivers on the circuit and is one of the most competitive spokesmen for Formula DRIFT," said Jim Liaw, president and co-founder of Formula DRIFT. "As with the growth and progression of the Series we can expect to see opportunities brought to many of the drivers and wish Tanner more success in his career both on and off the track. His departure will leave a spot open for a future star of drifting to rise, which we are excited to see."
Foust has announced his temporary retirement from drifting due to a demanding 2011 schedule of European Rally events, X-Games and television responsibilities. The 2-time Formula DRIFT champion and Tires.com Triple Crown bonus winner will be competing one last time in the Rockstar / Papadakis Racing Scion tC on February 25, 2010 during the Formula DRIFT UAE Invitational competition.
"I owe a lot to Formula DRIFT and Stephan Papadakis. This sport, Stephan and his team have been, and will remain, an integral part of my motorsports life," said Tanner Foust, from his home in San Juan Capistrano. "This was a hard choice to make, but with my schedule looking even busier than last year's I will not be able to fully commit to the 2011 Formula DRIFT season. However, I am looking forward to competing in the Rockstar Scion tC for one last time in Abu Dhabi this month." With an open seat, team owner, Stephan Papadakis has enlisted the highly touted and talented driver, Fredric Aasbo. In addition, a newly created partnership with Team Need For Speed has solidified the alliance. Aasbo will be competing in the brand new Need for 2011 Scion tC this season with the competition debut during Round 1: Streets of Long Beach on April 8-9, 2011.
"Our new partnership with Need For Speed and having Fredric behind the wheel of the new Need for Speed 2011 Scion tC is very exciting," stated Stephan Papadakis, team owner of Papadakis Racing. "To be aligned with such a top brand in the gaming world is a dream of ours. The synergy between our programs is a natural fit. We build crazy cars for competition and they have the technology for the world to drive them! It has been a pleasure to work with Tanner for the past 5 years and our team thanks him for his hard work and determination and wish him nothing but the best."
The 2011 Formula DRIFT season begins on April 8-9, 2011 and will mark the debut of many cars, drivers, and teams. For more information visit: www.formuladrift.com