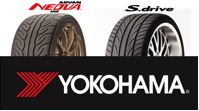 Long Beach, Calif. – March 21, 2012 – Formula DRIFT has announced the return of Yokohama Tire Corporation as an official tire supplier for the 2012 Pro Championship.
Yokohama will showcase their ADVAN Neova AD08 tire and the technology driven performance of the Yokohama S.drive on competition vehicles within the Series.
"Yokohama has a long history in the sport of drifting and was among the first tire brands embraced by the pioneers of the sport," said Matt Johnson, Yokohama Performance Marketing Supervisor. "In addition, the first 2 Formula DRIFT championships were won by drivers using Yokohama tires. The Yokohama brand is synonymous with performance and we look forward to showcasing our products in 2012."
In the inaugural and second season of Formula DRIFT, Yokohama found success and was the tire on both championship-winning vehicles.
"Yokohama's proven success within the Series will make for an even more competitive competition in 2012," said Jim Liaw, president and co-founder of Formula DRIFT. "We are excited to have one of the original sponsors of the Series return and make a run at another championship."