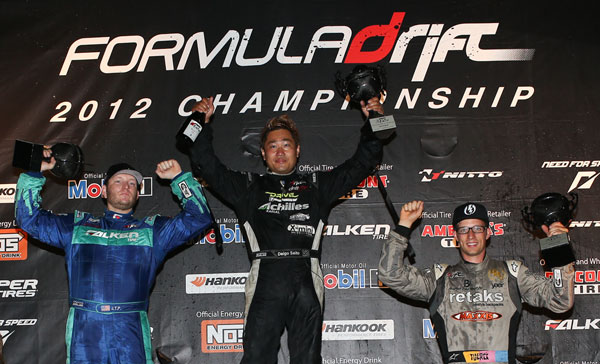 Long Beach, Calif. – October 13, 2012 – Formula DRIFT returned to Irwindale Speedway for the 2012 season finale. Daigo Saito in the Achilles Tire / Bridges Racing Lexus SC430 takes the event victory and wins the 2012 Formula DRIFT Championship.
Round 7: Title Fight at Irwindale Speedway showcased drifting in its finest form. For the first time in Formula DRIFT and Irwindale Speedway history the event sold out before the gates opened to the public.
"Last year was so amazing we didn't think we could do it again, not like this" said Jim Liaw, president and co-founder of Formula DRIFT. "This is why we love drifting. We are so energized for season 10 starting April 12-13, 2013."
The competition was intense as the championship was up for grabs. Entering the event, seven drivers had a chance for the title. This soon changed as top drivers in the chase were taken out early including points leader Vaughn Gittin, Jr. in the Monster Energy / Falken Ford Mustang, defending champion Daijiro Yoshihara, in the America's Tire / Falken Tire Nissan 240 and the 2009 champion, Chris Forsberg in the NOS Energy / Hankook Nissan 370Z. This opened the door for both Daigo Saito and Rhys Millen in the RMR / Hankook Hyundai Genesis Coupe who met in the Final Four. Millen, the number one qualifier took himself out as he went hard into the wall giving the win to Saito. The wall took a number of victims through the competition including Justin Pawlak in the Falken Tire Ford Mustang when he battled Saito in the Finals, giving Saito the event victory. Saito in his rookie year in the Series becomes the first Series rookie to also be crowned Formula DRIFT champion. Saito a seasoned veteran drifter is arguably considered the best drifter in the world winning the Formula DRIFT Asia championship, D1 championship and now Formula DRIFT Pro Championship.
"Luck was with me tonight. I'm very happy to be able to compete in Formula DRIFT this year. I've wanted to compete in the Series for so long," said Daigo Saito, winner of Round 7: Title Fight and 2012 Formula DRIFT champion. "Thank you to Formula DRIFT and Achilles Tires. I wouldn't have been able to do this without the help of everyone that helped me get to this point."
Formula DRIFT enters its tenth season of competition in 2013. Tickets are on-sale currently and can be purchased through the Formula DRIFT website and Ticketmaster. Round 1: Streets of Long Beach will be held on April 12-13, 2013.