May 11, 2013
Round 2: Road to the Championship Results;
Daigo Saito Takes the Victory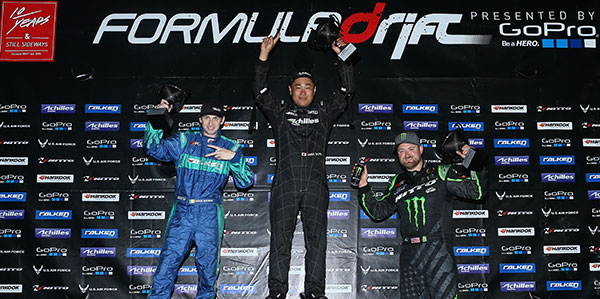 Long Beach, Calif. – May 11, 2013 – Formula DRIFT presented by GoPro continued to Round 2: Road to the Championship at Road Atlanta. Defending 2012 champion, Daigo Saito in the Achilles / Bridges Racing Lexus SC430 takes the victory.
Round 2: Road to the Championship returned for the tenth consecutive season to the home of the inaugural Formula DRIFT competition at Road Atlanta. This is the only course on the circuit that has paved a custom section of the track specifically for drifting. Despite the intermittent rain, the fans in Atlanta came out in force and stayed through to the end of the event. Road Atlanta has the largest attendance for the Series outside of California.
"Drifting is chaotic and unpredictable," stated Jim Liaw, president and co-founder of Formula DRIFT. "Today showed the ability of the Formula DRIFT drivers to adapt to the changing conditions while still performing."
The rain slicked track proved to be a challenge as the event entered into the Top 16 portion of the competition. Heading into the competition, Daijiro Yoshihara in the Discount Tire / Falken Tire Nissan 240SX held the points lead, but surprisingly failed to make it into the Top 16, opening the opportunity for other drivers in the point standings. Michael Essa in the GSR Autosport / Yokohama Tire BMW M3 faced Vaughn Gittin, Jr. in the Monster Energy / Nitto Tire Ford Mustang RTR in the consolation round. Gittin won third place and takes the lead in the 2013 Pro Championship point standings. The final round pitted Darren McNamara in the Falken Tire Nissan 240SX against returning champion Daigo Saito. McNamara on the first run misjudged the speed of Saito and ran into his car causing damage and giving up the advantage, which his team was not able to overcome. Saito earned his first victory of the season and moves into second place overall.
"This almost feels like revenge from Long Beach since I was only able to make it into the Top 16 at Round 1," said Daigo Saito, winner of Round 2: Road to the Championship. "The track conditions were horrible and it could have been anyone that won, but I am happy that I was able to pull off the victory. Thanks to the team and Achilles for helping make this all possible."
For more information visit: www.formuladrift.com
Formula DRIFT Professional Championship Presented by GoPro 2013 Standings After Two Rounds
1. Gittin Jr., Vaughn Monster Energy / Nitto Tire Ford Mustang RTR 172 Points
2. Saito, Daigo Achilles Tire / Bridges Racing Lexus SC430 161 Points
3. McNamara, Darren Falken Tire Nissan S14 156 Points
4. Essa, Michael GSR Autosport / Yokohama BMW M3 141 Points
5. Yoshihara, Daijiro Discount Tire / Falken Tire Nissan S13 137 Points
6. Aasbo, Fredric Hankook Tire Scion Racing tC 136 Points
7. Forsberg, Chris NOS Energy Drink / Hankook Nissan 370Z 135 Points
8. Tuerck, Ryan Team Retaks / Maxxis Scion Racing FR-S 125.50 Points
9. Moen, Kenneth Lutz Performance / Falken Tire Nissan 350Z 120 Points
10. Powers, Matt Nitto Tire / Fatlace Nissan S14 119 Points
11. Pawlak, Justin Falken Tire Ford Mustang 116.50 Points
12. Bakchis, Aurimas Nexen Tire Nissan S14 112 Points
13. DeNofa, Chelsea BC Racing BMW 3 Series 105 Points
14. Mohan, Kyle Nexen Tire / Mazdatrix RX-8 86 Points
15. Wang, Forrest Get Nuts Labs Nissan 240SX 82 Points
16. Field, Matt CX Racing / Blacktrax Nissan 240SX 81.50 Points
Round 2: Road to the Championship Event Results
1. Saito, Daigo Achilles Tire / Bridges Racing Lexus SC430 Winner
2. McNamara, Darren Falken Tire Nissan S14 Second Place
3. Gittin Jr., Vaughn Monster Energy / Nitto Ford Mustang RTR Third Place
Manufacturers Championship Standings After Two Rounds
1. Ford 288.50 Points
2. Scion 261.50 Points
3. Nissan 248 Points
4. BMW 246 Points
5. Lexus 239.75 Points
Tire Championship Standings After Two Rounds
1. Falken 330 Points
2. Nitto 311 Points
3. Hankook 270 Points
4. Achilles 243 Points
5. Nexen 228.50 Points