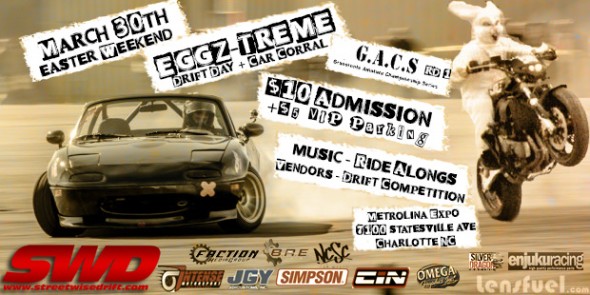 Link to the flyer for sharing 
Here
March 30th EGGZ-TREME Drift Day and Car Corral
Facebook events page 
HERE
( THIS EVENT WILL BE LIVE STREAMED ONLINE )
Drift Day Driver Reg – 75.00  
Competition Driver 125.00
Driver sign in 7:30 AM
Track Hot@ 9:30 AM -6:30
Driver Registration Link
HERE  
A Full day of Drifting and car show fun is coming up on March 30th!
@
METROLINA EXPO 
7100 Statesville RD
Charlotte NC
Spectator and Car Corral Gates open @ 10AM
Indoor VIP Car Corral Space is First come first Serve
General Admission 10.00
Kids 12 and under in free
Indoor and Secure Lot Car Corral Parking +5.00
Features
All Day Drifting
Tandem Competition
Ride Along's
Indoor Paddock
Huge Covered Car Corral
Vendor Row
Music
Check out the Facebook Event Page for news and updates about the event.
Car Corral
Inddoor VIP Space
(First come first serve)
All car clubs and individuals welcome:
STANCED
EXOTICS
IMPORT
DOMESTIC
EURO
MINI TRUKS
CUSTOM 4×4
BIKES
If you have a large club and would like to secure space for your members please click  here to reserve space.
Gates open 10AM – 6:30PM
Spread the word!
Media Request : [email protected]
Volunteer: [email protected]