Formula DRIFT Asia Championship, Round 3, Sydney Motorsports Park Results;
Australian Levi Clarke Takes Competition Victory in an all Australian Finals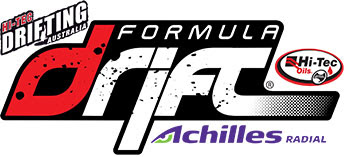 Long Beach, Calif. – October 22, 2014 – Formula DRIFT Asia Championship returned to Australia by making a stop at Sydney Motorsports Park for the first time as part of the World Time Attack Challenge weekend. Australian Levi Clarke in the Exedy Drift Team Nissan Silvia S15 takes the win.
The HiTec Oil Formula DRIFT Australia presented by Achilles Tire was the third stop in the seven year old Formula DRIFT Asia Championship. The Series returns to Australia by bringing the sport to a new venue, Sydney Motorsports Park, as part of the World Time Attack Challenge weekend. The South Circuit section that was used provided an unique and challenging, almost hill climb like, all uphill drift course. This 3-day event was an international spectacle with drivers from all over the world.
The Semi-Finals / Top 4 paired up Norwegian Aasbo against Australian Levi Clarke and New Zealander Whiter against Australian Nic Coulson. Aasbo had to forfeit to Clarke after one run due to mechanical issues and Coulson topped Whiter setting up an all Australian final. In the Finals, neither driver let up and drove aggressively but cleanly. At the end, top Australian drifter Levi Clarke stood on top of the podium to be the first Australian win to any Formula DRIFT competition.
"It's good to be on top at Formula DRIFT," said Levi Clarke, winner of Formula DRIFT Asia Championship, Round 3. "We had some great battles with Fredric Aasbo and the rest of the drivers."
Formula DRIFT Round 4 | Sydney Motorsports Park | Competition Results:
1. Clarke, Levi (AUS) Exedy Drift Team / Nissan S15 Winner
2. Coulson, Nic (AUS) Team Xforce Performance Exhaust / Holden Commodore Ute 2nd Place
3. Aasbo, Fredric (NOR) RS-R / Toyota FT-86 3rd Place