The old adage goes that in Florida, when you just start getting used to the weather, it will change. That was no exception for the first round of the Formula Drift Pro 2 Championship at Orlando Speedworld June 5-6, 2015. While the second tier drivers qualified in the dry, Mother Nature had other plans and would test the skills of newcomers and veterans alike. It would also be the first test of a brand new track for the Formula Drift Championships. While you'd like to think those with years of experience would end up on top, turns out the rookies would have something for them, and a driver that earned his license in a series that never experienced rain would take the win.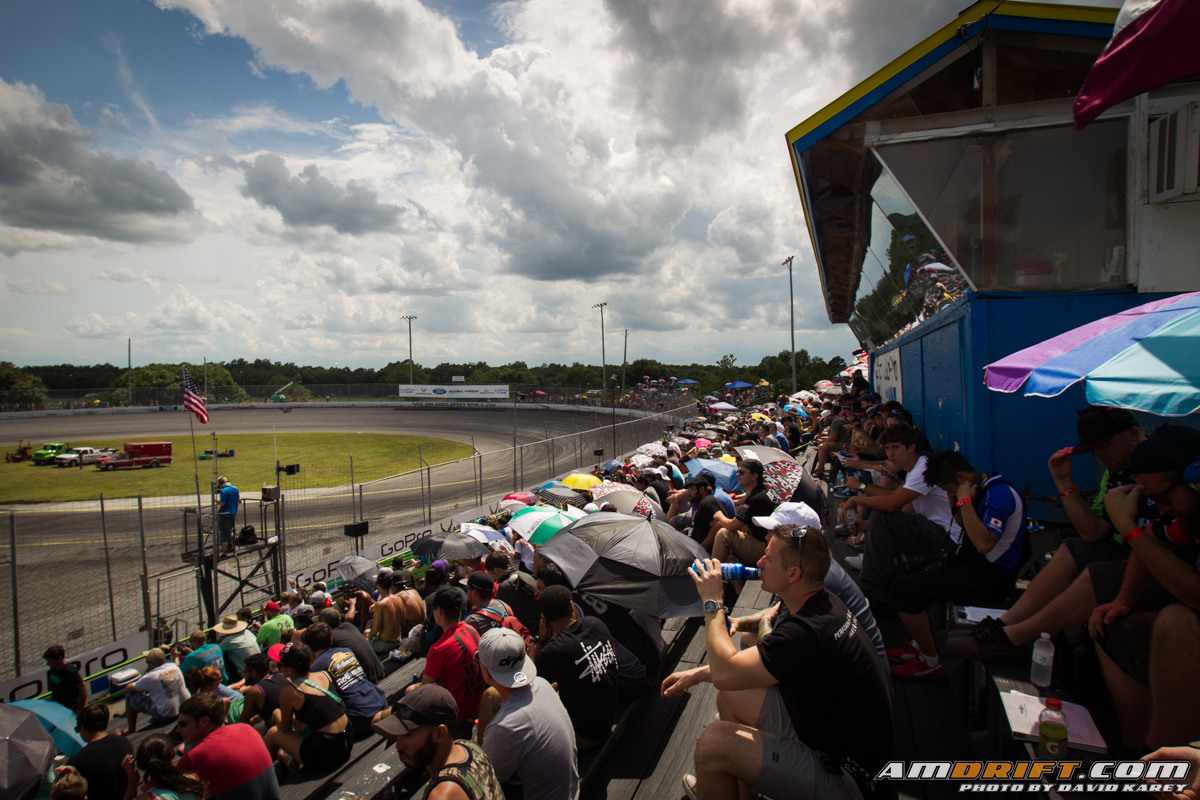 Orlando Speedworld is not a venue new to drifting. It actually holds regular events that guys like Pat Goodin, Chelsea Denofa, Alec Hohnadell, and others in the state of Florida have driven on. So, it's not hard to expect drivers like Kelsey Rowlings to make it into the Top 16. However, drivers like Alex Youe, Pat Cyr, Kasey King, or even Kenji Yamanaka would be names from outside of Florida you'd also expect, but you'd be left scratching your head as they did not make it. Pat crashed while Kasey experienced car troubles, and Kenji just didn't perform as we expected him to. Instead, we found names like Andrew Gray, Faruk Kugay, Brody Goble, and number one qualifier Alex Heilbrunn on the list. However, that number one qualifier shouldn't be much of a surprise, as two of the five rounds of the Just Drift "Top Drift" series are done on ovals similar to Orlando Speedworld, though the "whoops" section in the middle was probably a new experience. Same goes for Brody Goble who drove in the Evergreen Drift Series, which ran exclusively on the Evergreen Speedway oval that Formula Drift will see after New Jersey.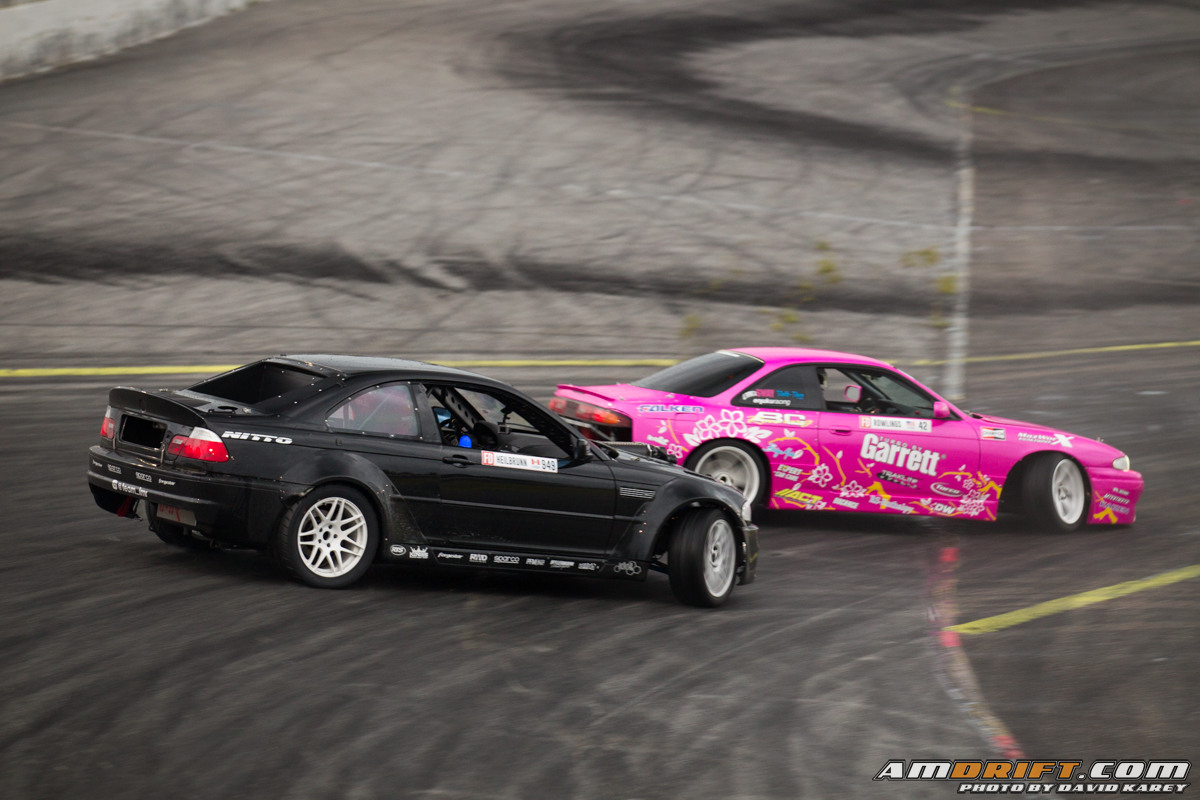 The first pair up for the first round of the Pro 2 Championship, in the very first tandem for Formula Drift at Orlando Speedworld, would be Alex Heilbrunn and Kelsey Rowlings. The drivers may have qualified in the dry, but Friday night the skies grew dark and the rain fell, making this a brand new game for everyone. Since getting that BMW set up late last year, Alex has been on an absolute tear to prove he earned his license, and Kelsey would just be a first obstacle for him to overcome. He did that in dominate fashion by creating a large gap between himself and Kelsey on their first run. While his line wasn't as impressive, the proximity Alex was able to keep against Kelsey, lead him to the win.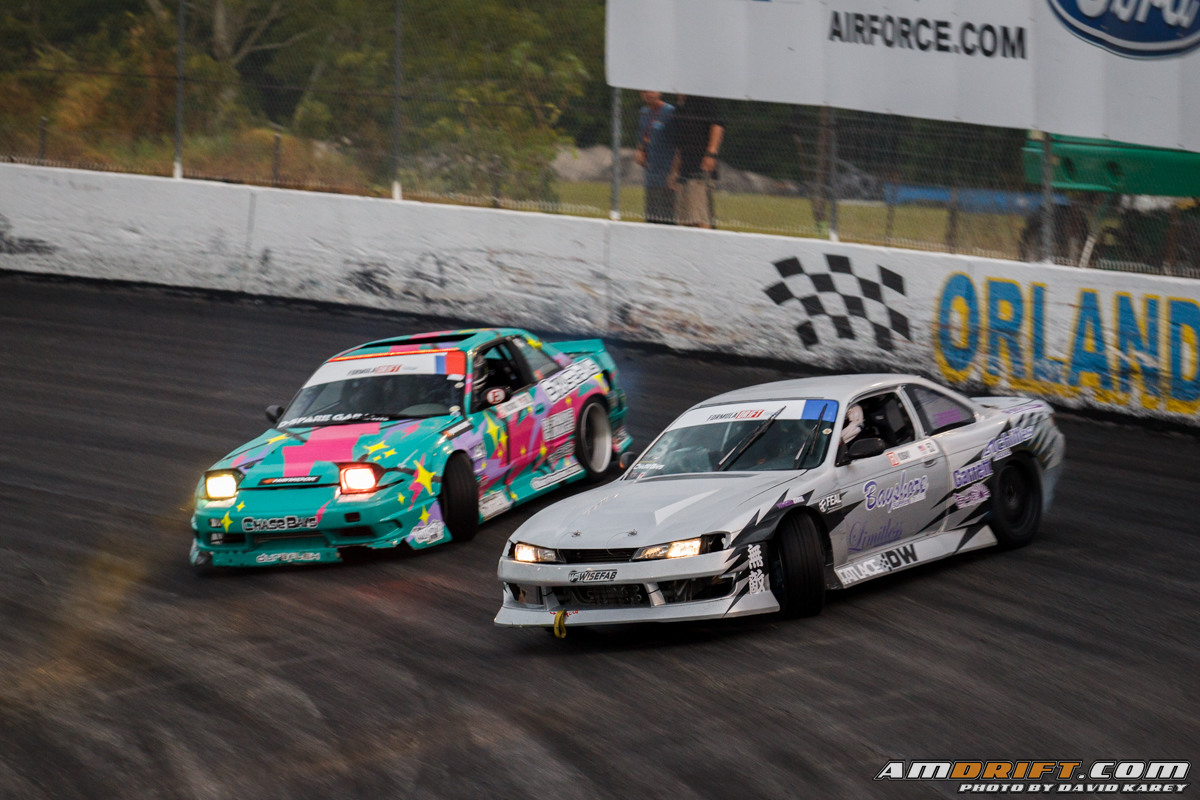 The next pair up would be die-hard 2JZ crowd favorites, Brandon Wicknick and Faruk Kugay. Faruk may have had the newer S14 Chassis, but Brandon has experience on his side. With major mistakes on his follow run and a spin on his lead, Faruk would allow Wicknick to get the win.
Coming all the way from Canada, Dave Briggs is not only competing in Pro1, but also in Pro 2 as a backup. Battling him in the Top 16 would be Kevin Lawrence, a native of Florida who is used to the Orlando Speedworld oval. However, on Kevin's lead run he would spin and Briggs would do a half spin following, which Ryan Sage believed was a result of Kevin's. Kevin would put the nail in his own coffin by not initiating where the judges required, and allowed Briggs to move on.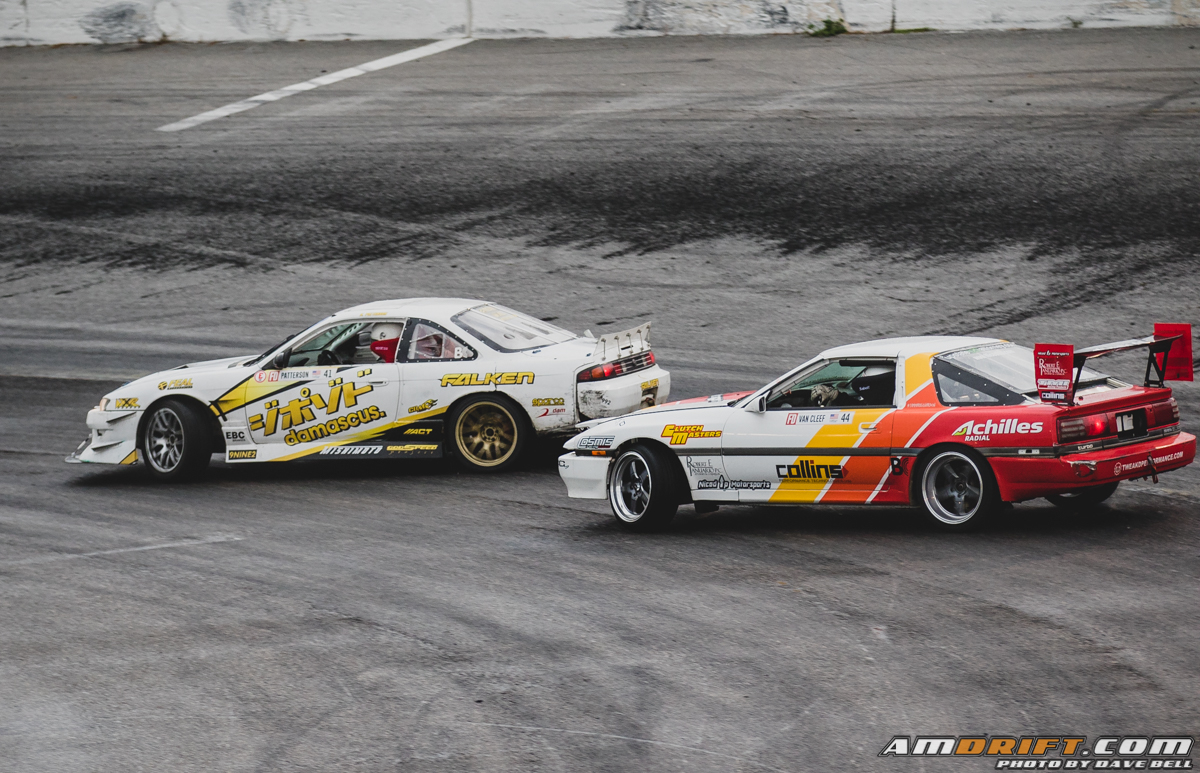 The man who raised quite a few eyebrows on the internet with his classic Mark III Supra and old-school TRD/Ivan Stewart scheme, was Tommy Van Cleef. We got a preview of how good this car could be thanks to Chelsea Denofa using it at Atlanta after his BMW broke. His opponent would be the Las Vegas Kid who doesn't live in Vegas, Brandon Patterson. He earned his license in rather dominating fashion in the Vegas Drift series, now known as the Southwest Drift Series. So, there was quite a bit of expectation on both fronts, but Brandon would be the one to move on thanks to his proximity on his follow and Van Cleef's straightening on his.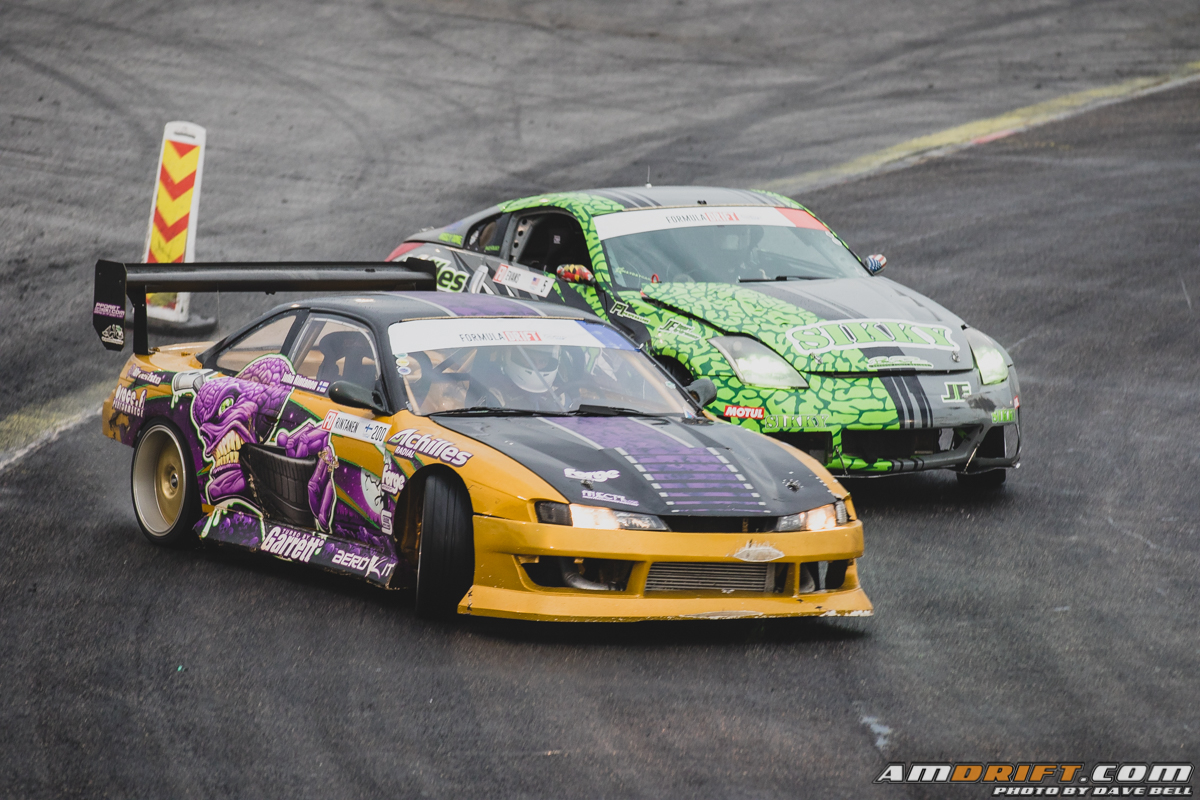 The man in charge over at Sikky, James Evans, would battle the No Brain Drifter, Juha Rintanen. Juha was really expected to perform better than he had in the Pro series, but it never came to fruition and is trying again in Pro 2. James Evans is making a return to Pro 2 to better his results and match that of "Rapper" Dan Savage from last year. James looked like he had a bit of that Rapper going on in his lead run by putting a gap on Juha, but threw it away in his follow with inconsistent angle throughout the run. Juha though, looked amazing in his lead run, and moved on to the Great 8.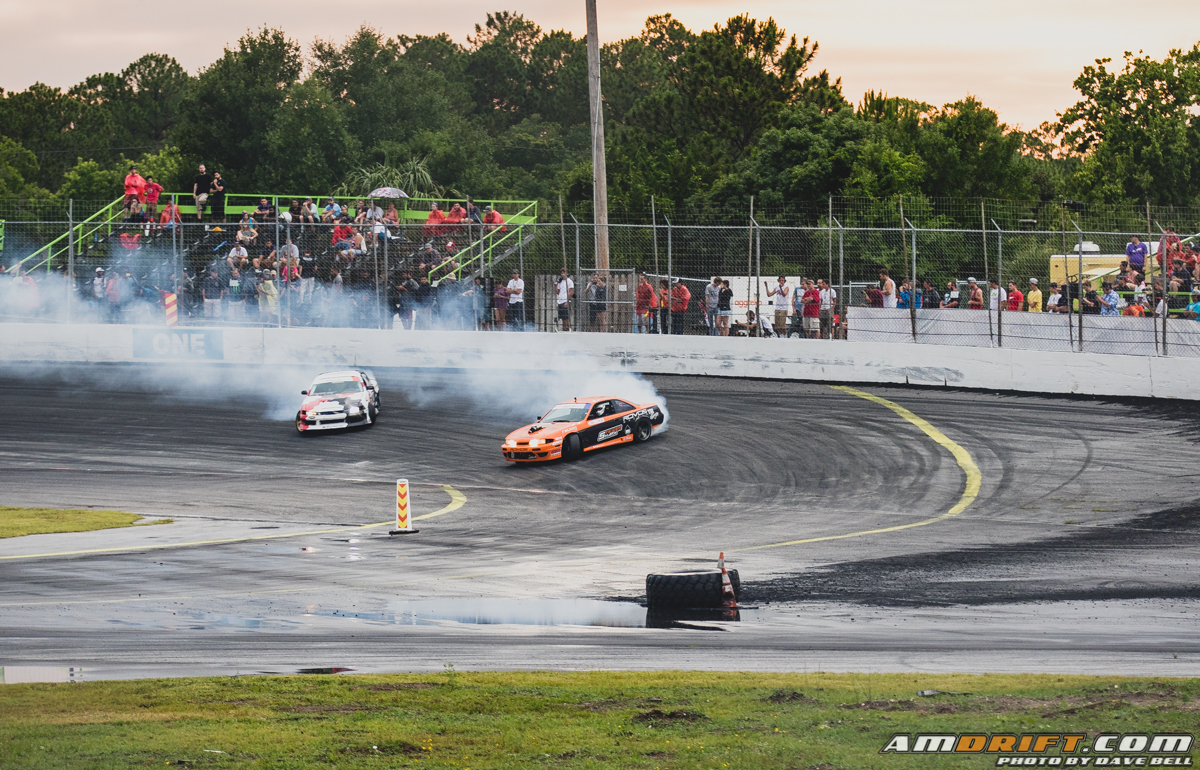 The Workin' Man, Mr. Jeff Jones would face off against rookie Taylor Hull. Taylor looked impressive very early into his lead run, but would lose the car in the crossover after coming off the bank. With this major correction, Jones cruised to a victory and into the Great 8.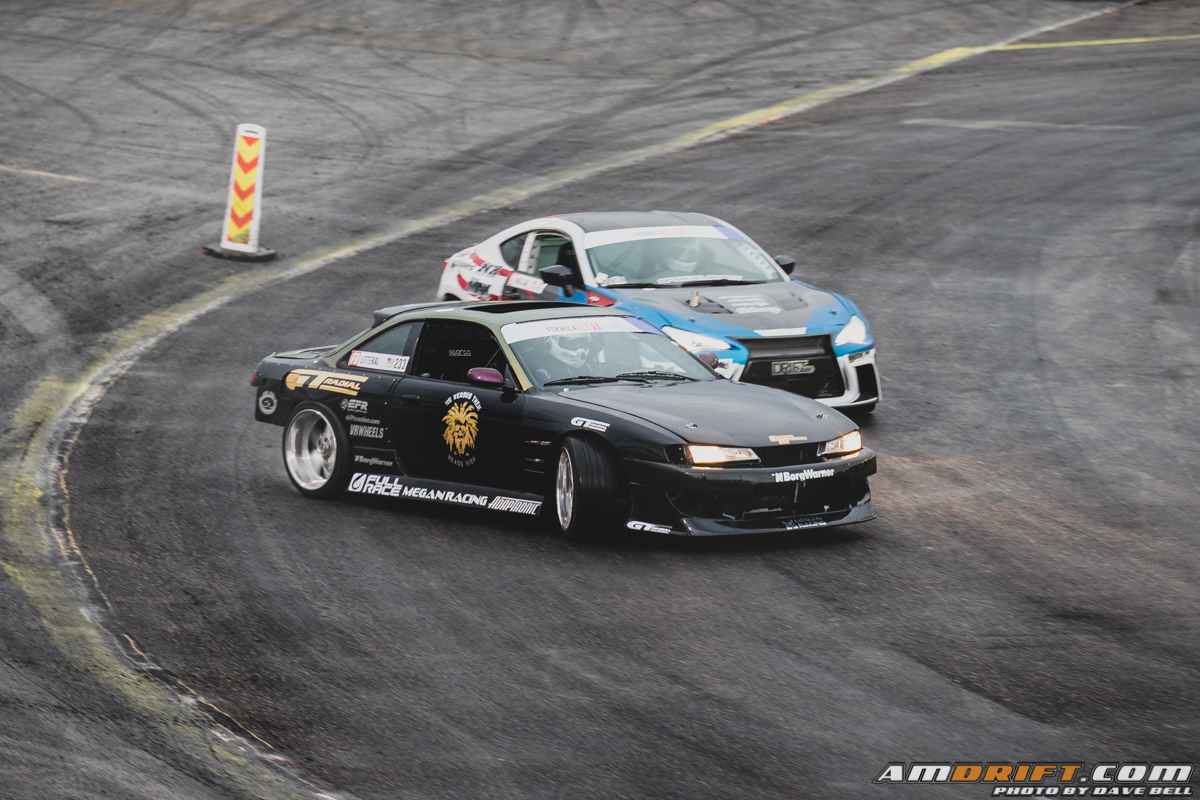 Jeff Wolfson from NorCal was another driver with a disappointing 2014, and ended it rather badly after crashing his car at a Thursday Night Drift before the finals last year. His opponent would be Ryan Litteral, a driver who brings the appeal of stylish function with his S14. Big lipped barrel wheels and JDM power make him a fan favorite of the classic drift scene. Jeff drove the bank with bravery and it nearly cost him after making contact. He was able to maintain drift and it would have been a notch against him, but Litteral would make a bigger mistake in the crossover as he was considered straight for a moment. Then, Wolfson would have major mistakes in his follow run, straightening as well and nearly colliding with Litteral. That made the judges call for a one more time.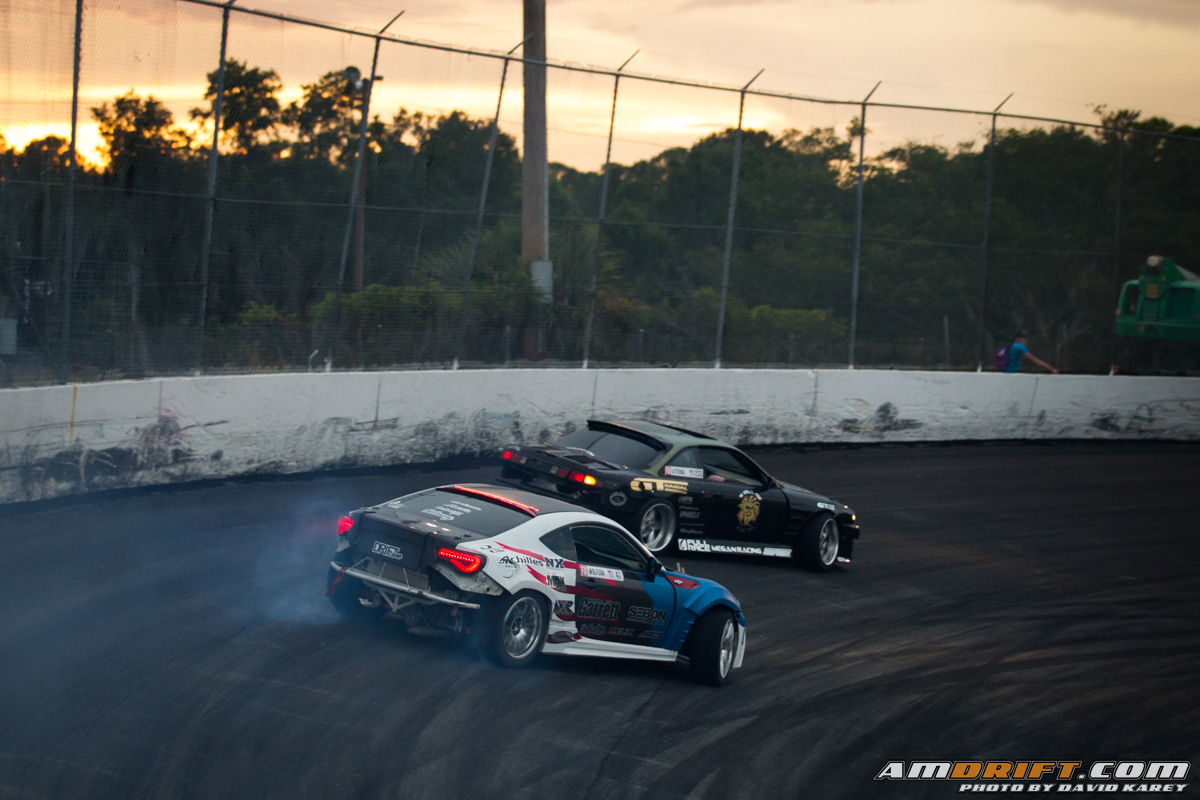 In that one more time, Litteral would have a very late and almost straight initiation, but made up for it with aggressive proximity against Wolfson. Then when they swapped around, Wolfson would only get the most aggressive at the very end, finishing just inches from Litteral's front bumper. However, that initiation would be the thing that bit Litteral, and Wolfson would move on to the Great 8.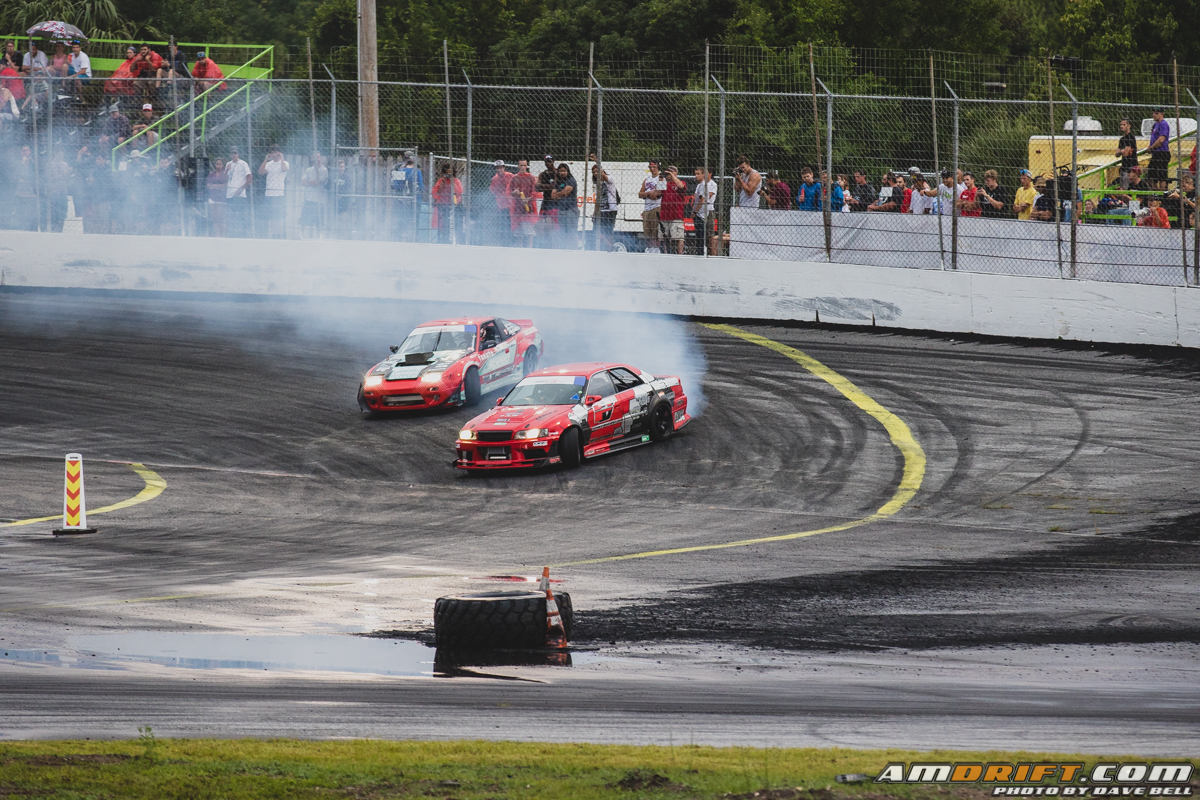 The final runs in the Top 16 would be Andrew Gray, a man used to the wet conditions of Ebisu Circuit, and Brody Goble, a driver to the transitions of bank to flat at Evergreen Speedway. Goble would charge out to an early lead on the bank, but Gray quickly closed it up, using his experience in the D1 Grand Prix to bring that proximity back in. However, Goble would end up going into a half spin, and caused Gray to stall out on the transition off of the bank. When they switched around, Brody would have the same mistake later into the crossover, giving the win to Andrew Gray.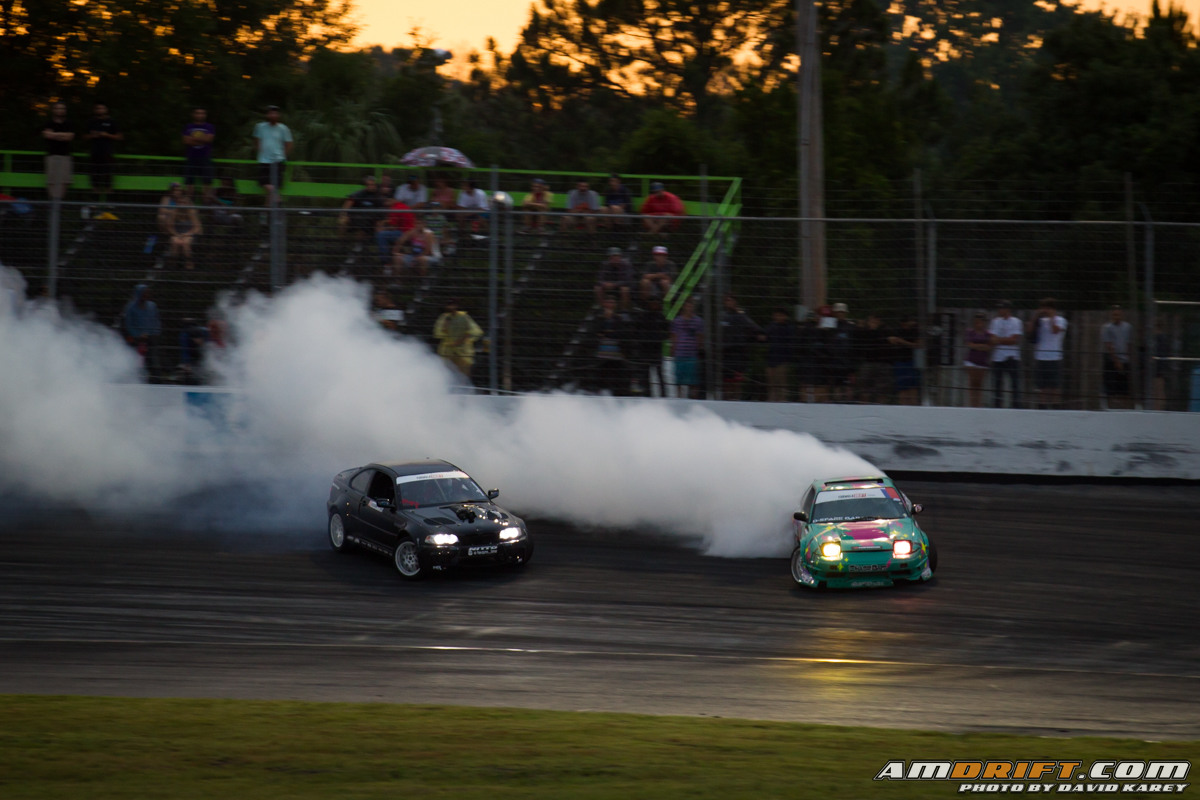 The first two drivers in the Great 8 would be Brandon Wicknick and Alex Heilbrunn. Brandon would kill his chances to take the momentum away from Alex in his first run due to dropping a tire and not being anywhere close to Heilbrunn in the chase position. Alex then held enough proximity to be in the chase position, and takes the win to move on to the Final Four.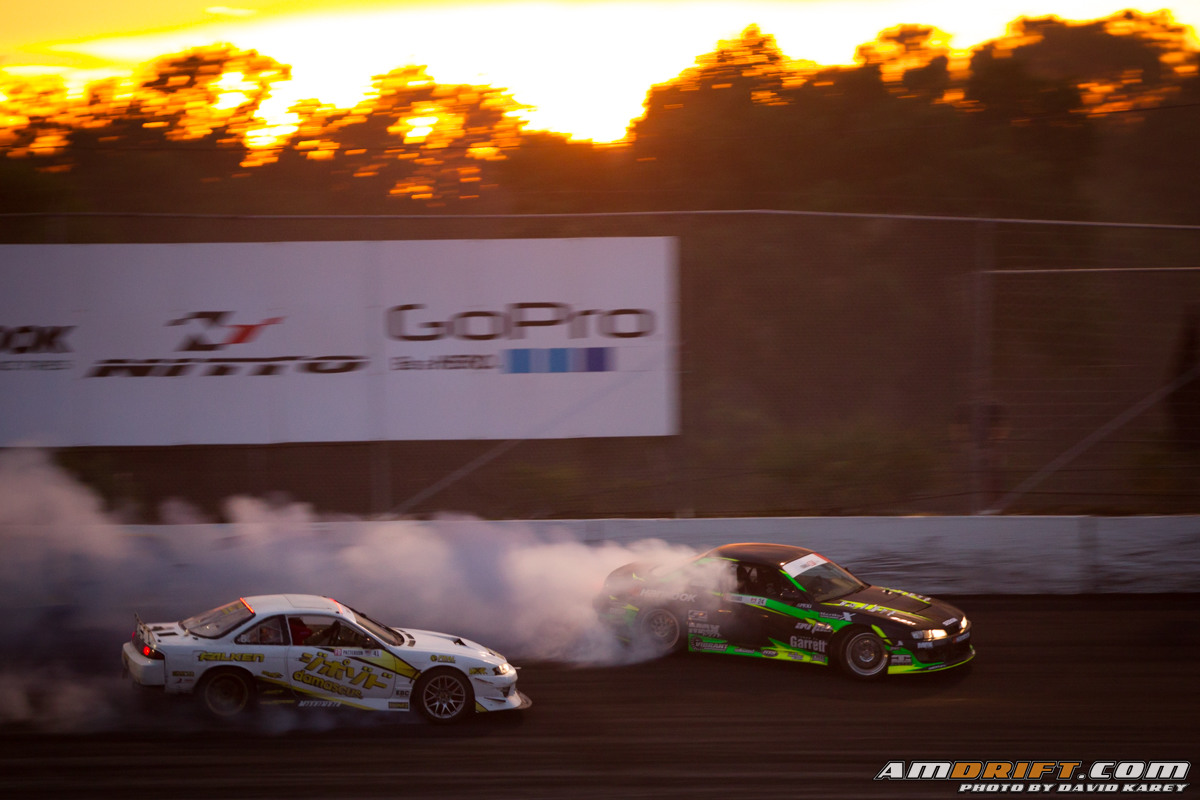 Dave Briggs would face off against Brandon Patterson in an all S14 battle, but Briggs would bring the fury of the SR20 and the experience in getting proximity against the V8s. Brandon had a great run in the lead but straightening and then spinning out in his follow would end his day. Briggs was in the Final Four.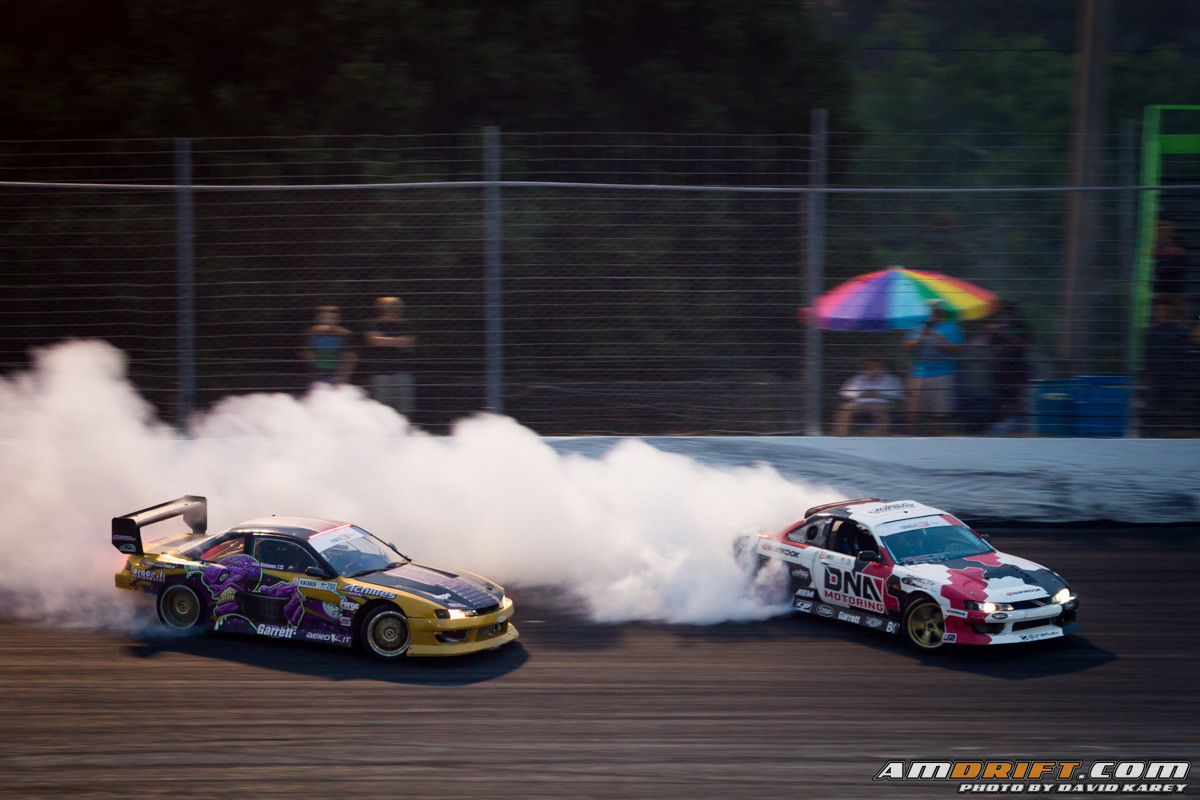 Juha Rintanen and Jeff Jones were next, and Juha made contact with Jones but neither driver spun out. That contact would be the mistake that would cost Juha a chance at the Final Four as Juha had a great lead run.
The final battle of the Great 8 was Jeff Wolfson versus Andrew Gray. Wolfson was making his rebound from 2014, while Gray was starting to establish his threat potential in the US by making it look like he's done ovals before. Wolfson had been very aggressive against Litteral towards the finish and he tried it again with Gray, but it bit him as he made contact with Gray in his follow run after the finish line. However, it wouldn't be counted against him as his lead run was judged with too many mistakes, and the judges allowed Andrew Gray to drive into the Final Four.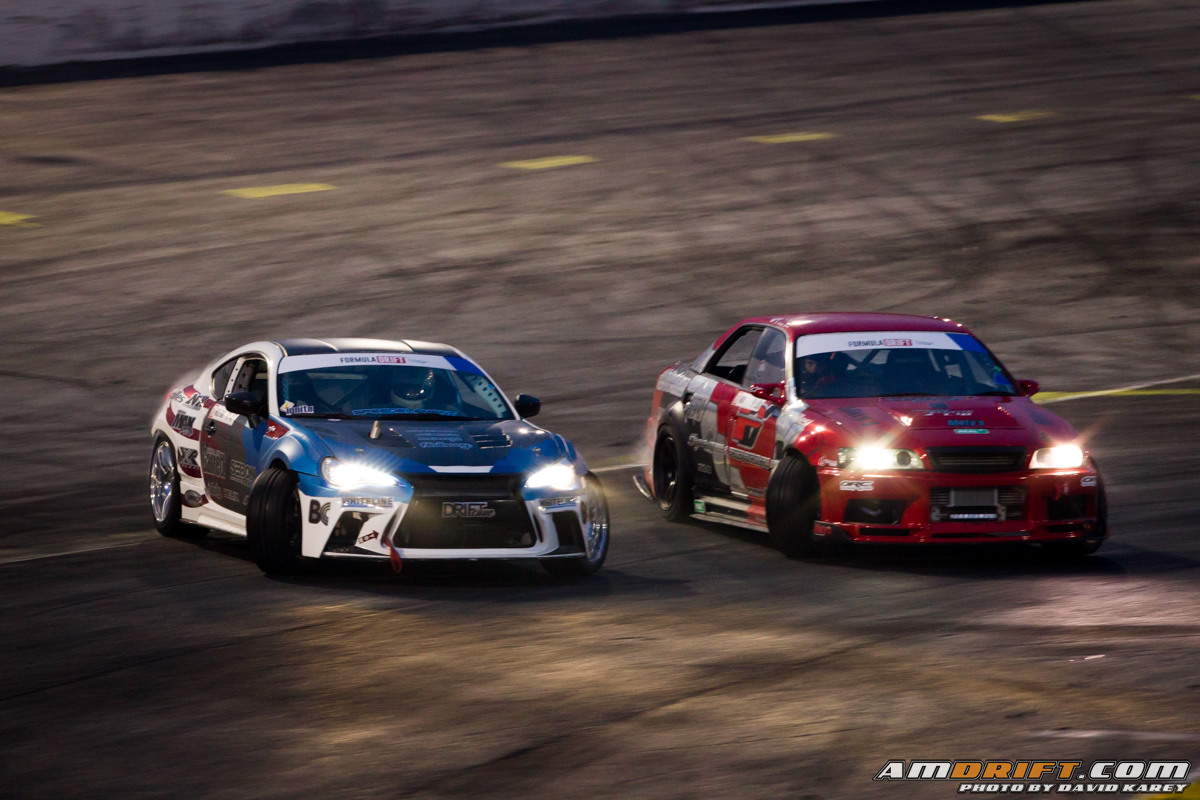 Since Wolfson was out, that would mean that Jones and Heilbrunn were guaranteed a podium finish as both of those drivers qualified higher than Briggs and Gray. Briggs and Gray both knew they had to make it past their battles if they wanted a podium spot, but it would be uphill for both of them facing off against a very fast Alex Heilbrunn and experienced Jeff Jones.
First up were number one qualifier Heilbrunn and Canadian Briggs in another SR20 versus V8 war in this rainy night time battle. This would be a very uphill battle as not only did Alex gap Dave by nearly six cars, Briggs also straightened out in the crossover. The dominating lead run was backed up by an aggressive follow run by Alex. While Alex had some mistakes, the authority he had in both runs more than made up for them, and he moved on to the finals!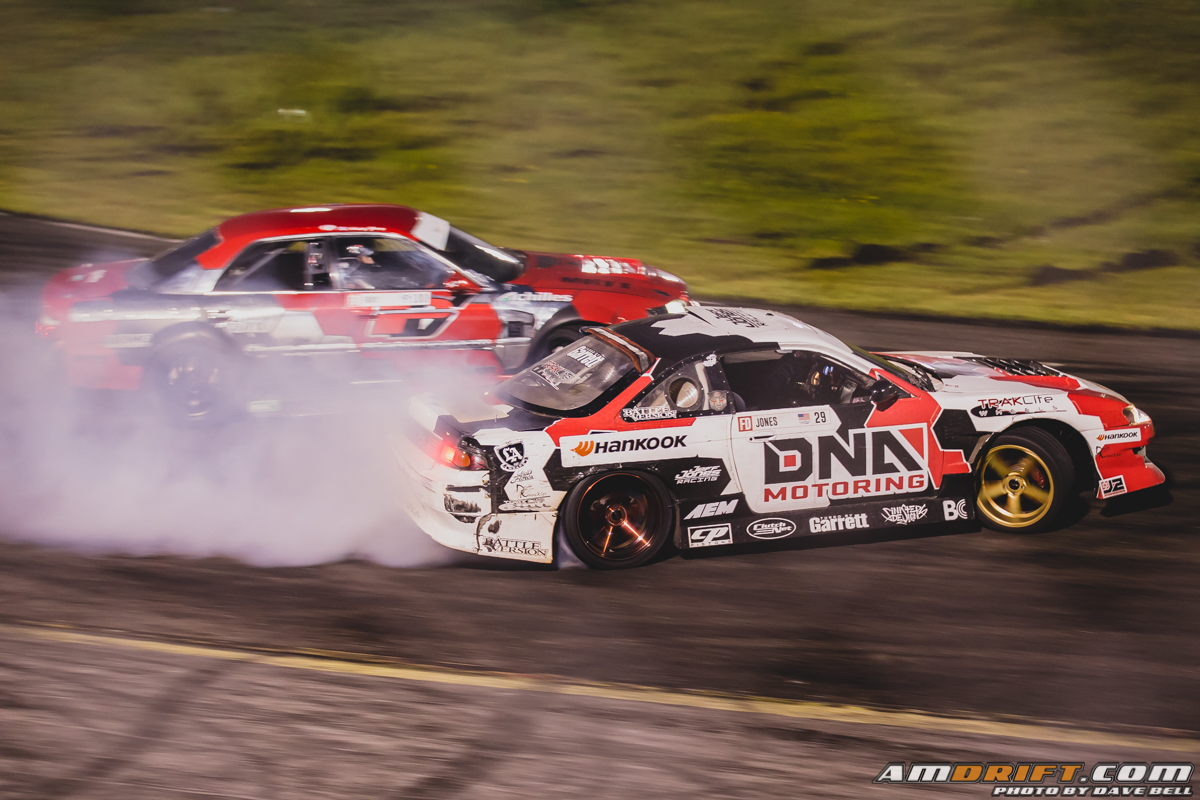 That would also mean that no matter if he won or lost, Jeff Jones would have no worse than a third place finish, and Dave Briggs would have no better than a fourth since Andrew "I thought your middle name was 'the'" Gray qualified higher. However, neither Jones nor Gray would want to settle for third, and would battle to see who would face off against Alex Heilbrunn. Gray would again use his D1 skill set to stay right on door of Jones for nearly the entire course on his follow run. Jones, however, could not match that amazing follow of Gray, and that would set up the finals with two Formula Drift rookies battling it out while Jeff Jones would take third place!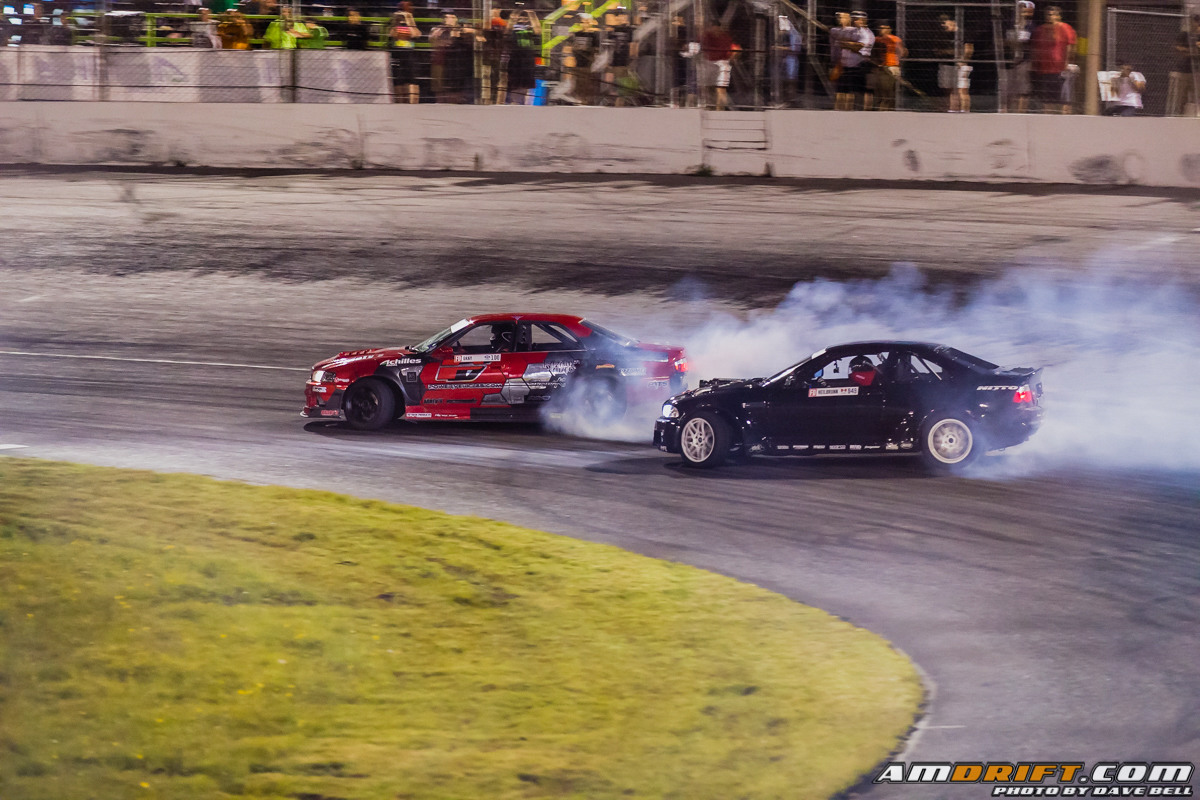 If there were a theme to Alex Heilbrunn's first ever Pro event, it was supremacy, qualifying in first place and never letting up with his aggression on lead and follow runs. In a commanding fashion, Heilbrunn lead Gray into the bank with several cars between them and poured out nothing but Nitto Tire smoke. It was enough for Gray to get lost and go off course in the crossover. There would be only one way that Gray could now take the win, and that would be for Alex to zero to force the one more time. However, Alex kept to his theme of the night.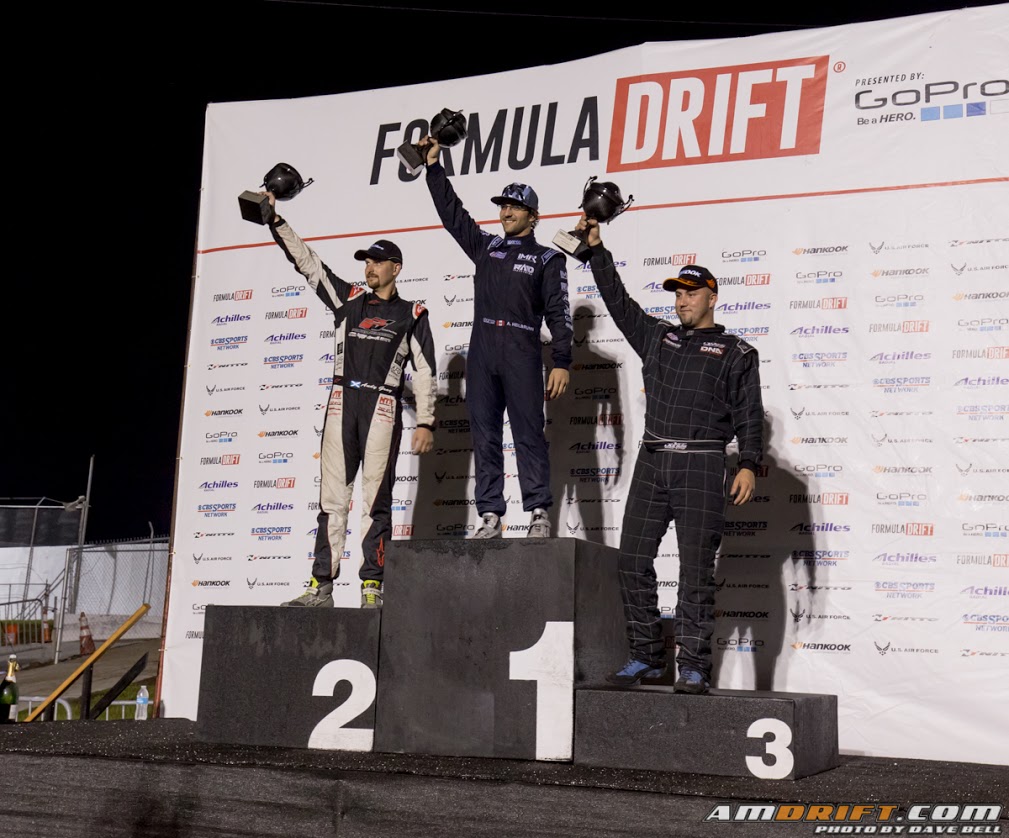 Heilbrunn would drive to a victory against Andrew Gray and take the win in the first round of the Formula Drift Pro 2 Championship from start to finish. Andrew Gray would have to settle for second place, due to his off course.
Both drivers show that we have a new class of rookies in FD that have risen to the challenge of the Pro Championships. We can't wait to see what comes next from these guys.