Formula DRIFT PRO 2 Texas Motor Speedway Results;
Alex Heilbrunn Takes the Victory and Secures PRO 2 Championship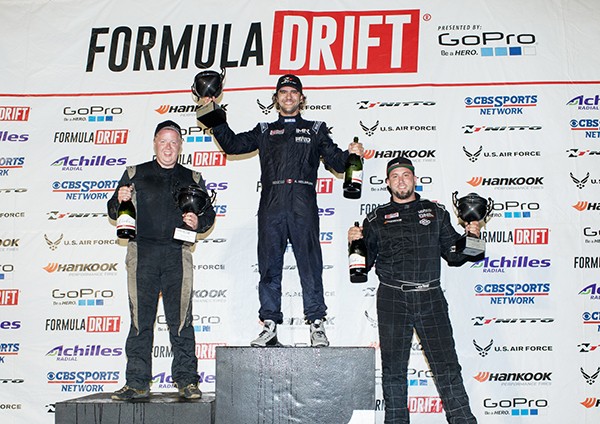 Long Beach, Calif. – August 21, 2015 – Formula DRIFT PRO 2 continued to Texas Motor Speedway for the third of four rounds of competition. Alex Heilbrunn takes the victory and secures the PRO 2 championship heading into the final event of the season.
PRO 2 continued to Fort Worth, TX at Texas Motor Speedway for the third round of the 2015 season. With only one event left in the PRO 2 season, Heilbrunn has taken a dominant point lead to earn the PRO 2 championship by finding the podium in each of three PRO 2 rounds. The competition between second and fourth in the standings is more competitive with only 8 points separating the three drivers. The top eight finishers in PRO 2 will earn their Formula DRIFT Pro license.
"It will be exciting to see the outcome for PRO 2 at Irwindale," says Jim Liaw, President of Formula DRIFT. "Eight drivers will be eligible for a Formula DRIFT pro license at the end of the season. The 2nd PRO 2 season has proven to be intensely competitive. We are looking forward to having these young drivers enter the Pro Championship next season."
The final battle had the number one qualifier and PRO 2 points leader, Alex Heilbrunn in the IMR BMW 3-Series faced Cameron Moore in the VIP Performance / Falken Tire Lexus SC300. Heilbrunn out drove his opponent on his way to his third podium of the season. Jeff Jones in the DNA Motoring Nissan S14 finished the event in third place.
"It was a crazy round, but everything worked out," said Alex Heilbrunn, winner of Round 3 of 4 events of PRO 2 Championship. "The team has been amazing and I can't thank them enough and we are on the podium again!"
The 2015 Formula DRIFT PRO 2 season will continue to Round 7: Final Fight at Irwindale Speedway. For more information visit:www.formuladrift.com and find Formula DRIFT on Instagram, Facebook and Twitter. Tune into Formula DRIFT on CBS Sports and check your local listings for airtimes.
PRO 2 Round 3 of 4 – Texas Motor Speedway Event Results
1. Heilbrunn, Alex
IMR BMW 3-Series
Winner
2. Moore, Cameron
VIP Performance / Falken Tire Lexus SC300
2nd Place
3. Jones, Jeff
DNA Motoring Nissan S14
3rd Place
4. Kugay, Faruk
Bay Shore Supply / Limitless Motorsports Nissan S14
4th Place
5. Goble, Brody
Indy Speed Shop V8 240SX
5th Place
6. Cyr, Pat
Scion Racing / ENEOS Scion FR-S
6th Place
7. McGuire, Josh
Nissan 240SX
7th Place
8. Wicknick, Brandon
Chase Bays / RUN2JZ Nissan S13
8th Place
9. Gray, Andy
DriftEbisu.com / Achilles Tire Toyota Chaser
9th Place
10. Hull, Taylor
Nissan 240SX
10th Place
2015 Formula DRIFT PRO 2 Top 3 Standings After Three Events

1. Heilbrunn, Alex
IMR BMW 3-Series
301.00 Points
2. Evans, James
Sikky Racing Nissan 350Z
178.00 Points
3. Grey, Andy
DriftEbisu.com / Achilles Tire Toyota Chaser
173.00 Points