Formula DRIFT PRO2 Round 4 at Wild Horse Pass Motorsports Park and PRO2 Championship Results;
Marc Landreville Wins Final PRO2 Event of the Season and Captures the PRO2 Championship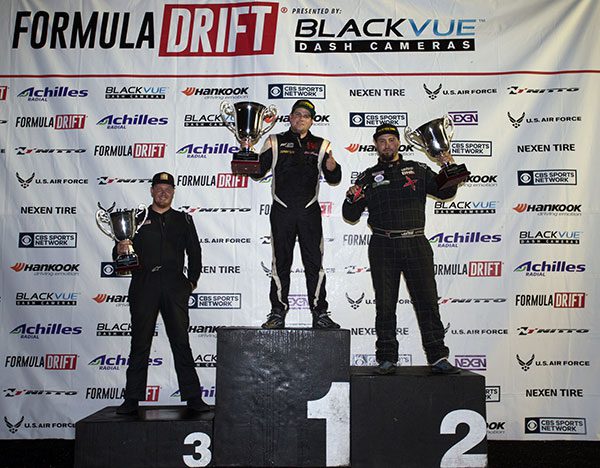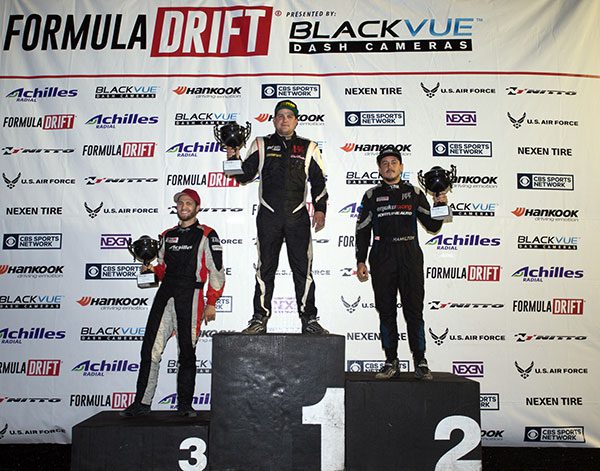 Long Beach, Calif. – October 2, 2016 – Formula DRIFT PRO2 entered Wild Horse Pass Motorsports Park for the first ever stand-alone PRO2 event, which was also the final event of the four event PRO2 Championship. Marc Landreville in the Perry Performance Nissan 240 took his third consecutive PRO2 victory to win the event and earn the PRO2 Championship.
Thousands of fans were in attendance and 120,000 Livestream viewers tuned to watch the exciting Formula DRIFT PRO2 drivers charge the challenging track at Wild Horse Pass Motorsports Park to earn their Formula DRIFT Pro license.
Landreville took the victory after qualifying in first and besting Nate Hamilton, in the Enjuku Racing / Fortune Auto Nissan 240 in a One More Time battle, after Hamilton had to exit the competition due to a broken serpentine belt. Dirk Stratton in the Lingenfelter Performance Corvette C6 finished the event in third place.
"The event was great," said Marc Landreville, 2016 Formula DRIFT PRO2 champion. "The car was great and I had some excellent drivers to go up against, so that made for tremendous competition to end the season on a high note."
The PRO2 Championship concludes the 2016 season with new champion Marc Landreville. Finishing in second place is Jeff Jones in the DOC Racing Nissan 240 and Andrew Lewis in the Andrew Lewis Racing Nissan 240 in third place.
The 2016 Formula DRIFT Pro Championship will continue to Round 8: O'Reilly Auto Parts Title Fight sponsored by Gumout on October 7-8, 2016 at Irwindale Speedway. For more information visit, www.formulad.com and find Formula DRIFT on Instagram @formulad, Facebook www.facebook.com/formuladrift, Twitter @FormulaD, and Snapchat – formula_drift. Tune into Formula DRIFT on CBS Sports and check your local listings for airtimes.

PRO2 Round 4 Event Results
1. Landreville, Marc Perry Performance Nissan 240 Winner
2. Hamilton, Nate Enjuku Racing / Fortune Auto Built Nissan 240 2nd Place
3. Stratton, Dirk Lingenfelter Performance Chevy Corvette C6 3rd Place
4. Burkett, Dan Rad Dan Toyota Supra 4th Place
5. Waters, Randall Nissan 240 5th Place
6. Litteral, Ryan Ryan Litteral Racing Nissan 240 6th Place
7. Jones, Jeff DOC Racing Nissan 240 7th Place
8. King, Kasey Lexus SC300 8th Place
9. Madrigali, Matt Matt Madrigali Racing Nissan 240 9th Place
10. Hull, Taylor Aloha Green Tea Hawaii / Asphalt Anarchy Nissan 240 10th Place
11. Vankirk, Matt Nissan 240 11th Place
12. McGuire, Josh Enjuku Racing / Fortune Auto Built Nissan 240 12th Place
13. Brockaway, Donavan Red Baron Racing BMW E30 13th Place
14. Day, Aaron Achilles Radial Trademark Auto House Nissan 240 14th Place
15. Lawrence, Kevin Enjuku Racing Nissan 240 15th Place
16. Lewis, Andrew Andrew Lewis Racing Nissan 240 16th Place
2016 Formula DRIFT PRO2 Championship Results
1. Landreville, Marc Perry Performance Nissan 240 402.00 Points
2. Jones, Jeff DOC Racing Nissan 240 272.00 Points
3. Lewis, Andrew Andrew Lewis Racing Nissan 240 192.00 Points