Formula DRIFT PRO2 Round 3 at Texas Motor Speedway Results;
Marc Landreville Takes the Win and a Commanding Lead in the Standings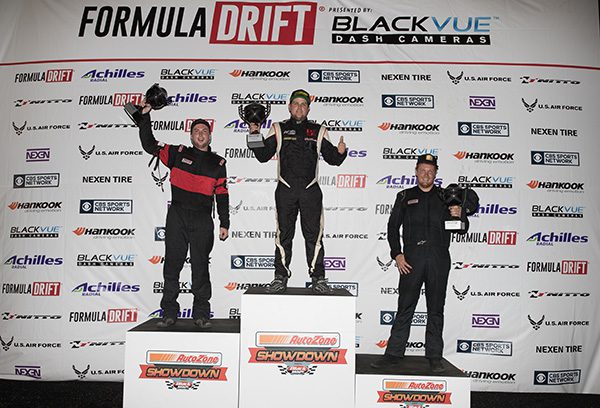 Long Beach, Calif. – September 9, 2016 – Formula DRIFT PRO2 presented by BlackVue entered Dallas, Texas for Round 3 at Texas Motor Speedway. Marc Landreville in the Perry Performance Nissan 240 took his second consecutive PRO2 victory to increase his lead for the PRO2 championship with only one event remaining this season.
Texas Motor Speedway hosted Round 3 of the PRO2 Championship. The action packed evening saw Dirk Stratton in the Lingenfelter Performance Corvette C6 face Trenton Beechum in the Falken Tire / JoyHollywood Ford Mustang in the semi-finals. Stratton spun on the first run and made a few more errors in the second run helping to send Beechum into the Finals. Landreville met Andrew Lewis on the other side of the bracket and outdrove his opponent to move into his second consecutive Finals. In the Finals, Beechum lacked consistency in his driving, which helped Landreville take the victory and ultimately the points lead.
"This was a great battle. Last weekend we had issues with the car and this weekend it ran perfect," said Marc Landreville, winner of PRO2 Round 3. "My team did a great job and we took the win. I was leading only by a couple points and now have a good lead going into the final round so there's less pressure and we can have fun and just do what I need to do on the track."
The 2016 Formula DRIFT PRO2 Championship will continue to Round 4 at Wild Horse Pass Motorsports Park in Phoenix, AZ on September 30 – October 1, 2016. For more information visit, www.formulad.com and find Formula DRIFT on Instagram @formulad, Facebook www.facebook.com/formuladrift, Twitter @FormulaD, and Snapchat – formula_drift. Tune into Formula DRIFT on CBS Sports and check your local listings for airtimes.
PRO 2 Round 3 Event Results
1. Landreville, Marc
Perry Performance Nissan 240
Winner
2. Beechum, Trenton
Falken Tire / JoyHollywood Ford Mustang
2nd Place
3. Lewis, Andrew
Andrew Lewis Racing Nissan 240
3rd Place
4. Stratton, Dirk
Lingenfelter Performance Chevy Corvette C6
4th Place
5. Hull, Taylor
Aloha Green Tea Hawaii Asphalt Anarchy Nissan 240
5th Place
6. Jones, Jeff
DOC Racing Nissan 240
6th Place
7. Meeks, Austin
Committed Service Brands / Meeks Drift Nissan 240
7th Place
8. Waters, Randall
8th Place
9. Hamilton, Nate
Enjuku Racing / Fortune Auto Built Nissan 240
9th Place
10. Litteral, Ryan
Ryan Litteral Racing Nissan 240
10th Place
11. Brockway, Donovan
Red Baron Racing BMW E30
11th Place
12. Lawrence, Kevin
Enjuku Racing Nissan 240
12th Place
13. McGuire, Josh
Enjuku Racing / Fortune Auto Built Nissan 240
13th Place
14. Madrigali, Matt
Matt Madrigali Racing Nissan 240
14th Place
15. Nian, Sheng Ng
Powervehicles Toyota Chaser
15th Place
16. Rowlings, Kelsey
Kaizen Performance / Ford Performance Parts Nissan 240
16th Place
2016 Formula DRIFT PRO 2 Championship Standings After 3 Events
1. Landreville, Marc
Perry Performance Nissan 240
296.00 Points
2. Jones, Jeff
DOC Racing Nissan 240
230.00 Points
3. Lewis, Andrew
Andrew Lewis Racing Nissan 240
170.00 Points