FOR IMMEDIATE RELEASE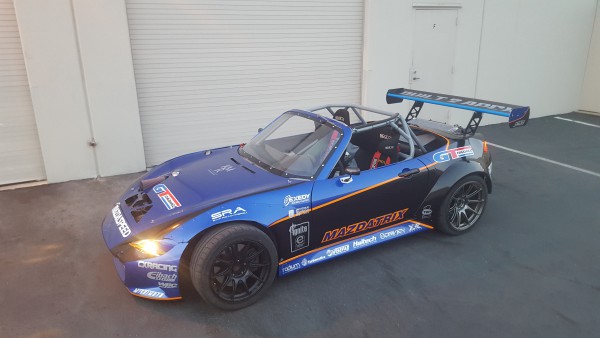 Kyle Mohan Reveals New Formula Drift Fighter for 2016 Season
GT-Radial / Mazdatrix Mazda MX-5 to debut at Formula Drift Long Beach this weekend
April 5, 2016 (Signal Hill, Calif.) – The new Formula Drift season will bring a new vehicle for Formula Drift veteran Kyle Mohan, who will park his familiar Mazda RX-8 for a new car built on the Mazda MX-5 platform.
The KMR-built Mazda MX-5 is new but in some respects will be familiar to Mohan, as it is powered by a turbocharged, nitrous-fed three-rotor engine developed by Mazdatrix. Improvements to virtually every aspect of the drivetrain has resulted in more horsepower than the engine has produced before,
"I think ever since we first built the RX-8, we always considered what kind of car we would eventually replace it with," said Mohan. "However as a small team, we always felt that we would be better off by continuing to improve the RX-8 instead of trying to build an entirely new car. But we made the decision last season to switch to the MX-5, and not only that, to build it to make the best use of our GT-Radial Champiro SX2 tire package. Considering how quick and nimble it felt in our first tests, I think we've accomplished that."
Recent testing with the car left Mohan looking forward to competing with the car in the first Formula Drift event of the season this weekend on the Streets of Long Beach.  Mohan grew up and lives in Long Beach, and enjoys strong support for his team in the city.
"Testing the car at first was very different than the RX-8," said Mohan. "But I felt extremely comfortable right away. After burning down my first set of GT-Radial tires I could really feel the potential that this car has. I have to give a lot of credit to our partners and our crew for giving us the resources to get this new car completed. There were a lot of long days and lost weekends to get ready to be here, and I hope to bring them a good finish this weekend. I'll be honest – slinging our brand new car in between those concrete walls makes me a little nervous, but we did the exact same thing when we first came out with the RX-8 and there's no event I enjoy more than Long Beach."
Qualifying for this weekend's Formula Drift season opener on the Streets of Long Beach will be streamed live on Friday, April 8 at 4:00 PM EST. On Saturday, April 28 the round of top-32 competition will be streamed starting at 2:00 PM EST with the round of top-16 starting at 6:30 PM EST. All the sessions will be streamed at Formulad.com
About Kyle Mohan Racing
Kyle Mohan competes in the Formula Drift Pro Championship in the no. 99 GT Radial / Mazdatrix Mazda MX-5. More information can be found at www.kylemohanracing.com.
Contact: Efrain Olivares | 818.254.7196 | [email protected]