Formula DRIFT Round 2: Unchartered Territory Results;
Fredric Aasbo is Victorious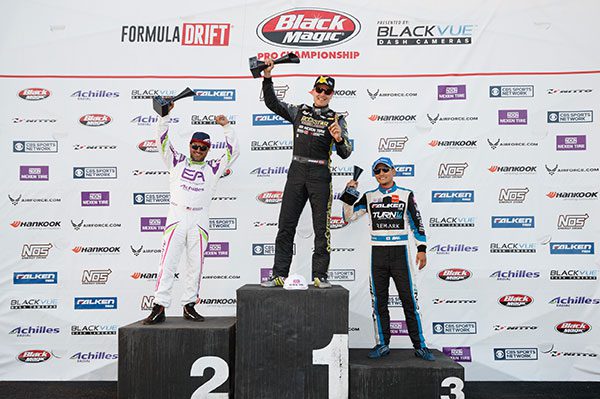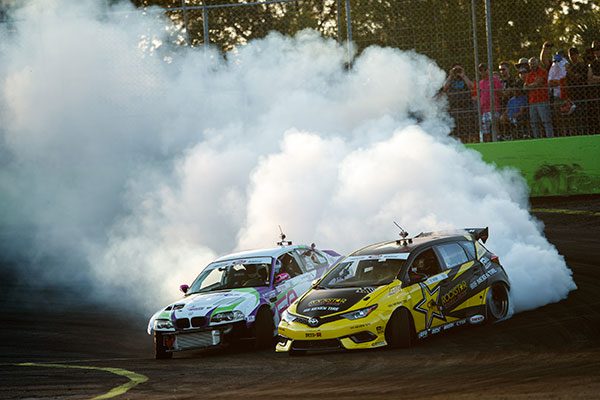 Long Beach, Calif. – April 29, 2017 – Formula DRIFT Black Magic Pro Championship presented by BlackVue Dash Cameras returned to Orlando for Round 2: Unchartered Territory. Fredric Aasbo in the Rockstar Energy Drink / Nexen Tire Toyota Corolla iM takes the victory and moves into the lead in the standings.
"This season is shaping up to be very entertaining and competitive one," said Jim Liaw, president and co-founder of Formula DRIFT. "The standings were shaken up after the last round with only 55 points separating the Top 7 drivers."
Round 2: Unchartered Territory at the Orlando Speed World was an action packed event from start to finish. An estimated 1 million viewers tuned into the Livestream and were treated to a highly competitive event.
The semi-finals became a battle of champions with four past champions competing for the top spot. 2011 Formula DRIFT champion and number one qualifier, Dai Yoshihara in the Falken Tire / Turn 14 Distribution Subaru BRZ faced off against 2013 champion, Michael Essa, in the Achilles Tire / Essa Autosport BMW M3. In a very tight battle, Essa edged Yoshihara to advance to the finals. 2010 champion, Vaughn Gittin, in the Monster Energy / Nitto Tire Ford Mustang RTR went up against 2015 champion, Fredric Aasbo. A very close and technical chase run by Aasbo sealed the win to advance into the finals. In the finals, Aasbo found his groove and managed to take advantage of a small mistake by Essa to secure the victory and move into the top of the 2017 Pro Championship standings.
"What an incredible win! We only built this car over the off season and to get this first win after only the second time out is amazing." said Fredric Aasbo, winner of Round 2: Unchartered Territory. "Today it all came together especially in that Top 4 battle with Vaughn Gittin Jr. and that was my highlight of the day showing that I can chase really close and getting this first win in the Rockstar Energy Drink / Nexen Tire Toyota Corolla iM is huge."
The action continues to Round 3: Road to the Championship at Road Atlanta on May 12-13. For more information visit, www.formulad.com and find Formula DRIFT on Instagram @formulad, Facebook www.facebook.com/formuladrift, Twitter @FormulaDrift, and Snapchat – formula_drift. Tune into Formula DRIFT on CBS Sports and check your local listings for airtimes.
Round 2: Unchartered Territory Event Results
1. Aasbo, Fredric
Rockstar Energy / Nexen Tire Toyota Corolla iM
Winner
2. Essa, Michael
Achilles Tire / Essa Autosport BMW M3
2nd Place
3. Yoshihara, Dai
Falken Tire / Turn 14 Distribution Subaru BRZ
3rd Place
4. Gittin, Vaughn
Monster Energy / Nitto Tire Ford Mustang RTR
4th Place
5. Tuerck, Ryan
Gumout / Nameless Performance / Hankook Toyota 86
5th Place
6. Kearney, Dean
Oracle Lighting Dodge Viper
6th Place
7. Castro, Jhonnattan
Gerdau Metaldom / Nexen Tire Toyota 86
7th Place
8. Hohnadell, Alec
Urban Air / Hoonigan / Nexen Tire Nissan 240
8th Place
9. Deane, James
Worthouse Drift Team / Falken Tire Nissan Silvia
9th Place
10. Bluss, Kristaps
HGK / Mast / Motul / Wisefab BMW E46
10th Place
11. Forsberg, Chris
NOS Energy Drink / Hankook Tire Nissan 370Z
11th Place
12. Hamilton, Nate
Team Enjuku / BC Racing / Hankook Tire Nissan 240
12th Place
13. Field, Matt
Falken Tire / Vapetasia / ARK Performance Nissan 240
13th Place
14. Moore, Cameron
Nameless Performance / BN Sports / Nexen Tire Toyota 86
14th Place
15. Wiecek, Piotr
Worthouse Drift Team / Falken Tire Nissan Silvia
15th Place
16. Mohan, Kyle
Built 2 Apex / Mazdatrix / KMR 2016 Mazda MX-5
16th Place
2017 Formula DRIFT Black Magic Championship Presented by BlackVue Standings After 2 Events
1. Aasbo, Fredric
Rockstar Energy / Nexen Tire Toyota Corolla iM
158.00 Points
2. Deane, James
Worthouse Drift Team / Falken Tire Nissan 240
142.00 Points
3. Tuerck, Ryan
Gumout / Nameless Performance / Hankook Toyota 86
122.00 Points
2017 Manufacturer Championship Standings After 2 Events
1. Toyota
280.00 Points
2. Ford
159.00 Points
3. BMW
119.00 Points
4. Dodge
103.00 Points
5. Nissan
87.00 Points
6. Mazda
34.00 Points
2017 Tire Championship Standings After 2 Events
1. Falken
281.00 Points
2. Nexen
260.00 Points
3. Achilles
222.00 Points
4. Hankook
209.00 Points
5. Nitto
208.00 Points