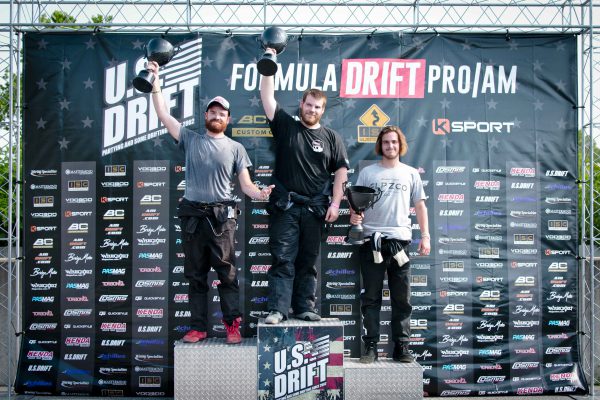 Glen Allen, VA – USDrift returned to Summit Point Motorsports Park, the site of the very first USDrift competition in 2002, to kick off the 2017 season on one of the hardest courses USDrift has ever held events on. Rookie USDrift competitor Ricky Hofmann, in his Onward Flipzco Nissan 240SX took the win and made the victory even more impressive considering it was his first time driving the course. 
Summit Point is situated just inside West Virginia a few miles past the state line from Virginia, about an hour from Washington, DC. The Shenandoah Circuit is a 2.2-Mile road course that opened in 2005 and was host to Round 3 of the 2007 Formula DRIFT Professional Series. Almost exactly 10 years to the date, USDrift chose to use the exact same course as Formula DRIFT, and as usual, it proved to be a hard course for many of the drivers to learn, even by the end of the day.
"The reverse Bridge Course at Shenandoah Circuit is always a tough track for drivers and crew to compete on," said Brian Eggert, event director at USDrift. "The entry is high speed, with minimal runoff, leaving little room for error; making it a rough track to start the season off with. It's almost like our version of the Formula DRIFT Long Beach course."
Twenty-seven competitors would start the event all gunning for a spot on the podium to take home one of the three custom carbon fiber trophies. However after qualifying, only 14 would make the cut to compete in tandem eliminations. Number 1 and 2 qualifiers, Kenric Meyer, from Jamison, PA in his BMW M3 and Ben Williams, from Charlottesville, VA in his 2JZ-powered Mazda RX7, respectively would get bye runs in the first round of Top 16. Ricky Hofmann, from Jackson, NJ who qualified 8th, would upset Meyer in the Top 8 and continue to battle his way through the bracket to the top spot in his 1JZ-powered Onward Flipzco Nissan 240SX. On the other side of the bracket, number 2 qualifier Ben Williams would make it all the way to the finals, losing to Hofmann, but earning his first carbon trophy cup. The battle for third was an impressive one between Brian Riccio, from Wall, NJ in his 2JZ-powered Flipzco Nissan 240SX and Mike Perez, from Leesport, PA in his 2JZ-powered Onward FlagNorFail Toyota Supra. In the end, Riccio would defeat Perez and take the last spot on the podium.
The next stop on the 2017 USDrift PRO/AM Series will take place at Shenandoah Speedway, in Shenandoah, VA on Friday, July 7th and Saturday, July 8th in conjunction with the Matsuri Matinee event hosted by Swing Set, LLC. For more information please visit: www.usdrift.com. You can also find USDrift on popular social media outlets such as: Facebook: www.facebook.com/usdrift, Instagram: @usdrift, and Twitter: @usdrift.