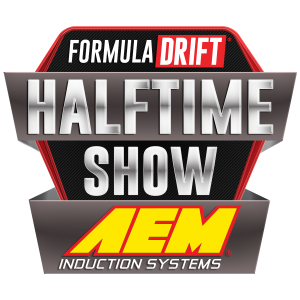 Formula DRIFT – the world's premier competitive drifting series – is pleased to announce a new halftime show for the 2018 season. Sponsored by AEM Induction Systems, the show will be available to event spectators as well as viewers of the Formula DRIFT livestream broadcast.
AEM Induction Systems has a long history with Formula DRIFT. In the last 10 years, its sponsored drivers have won six FD championships. The company also uses the extreme environment created by the series to collect valuable product validation for its air filters.
Beginning with the Formula DRIFT final round at Irwindale Speedway in 2016, and at several FD rounds during 2017, AEM Induction Systems hosted the Maximum Driftcast halftime podcast from its booth in the paddock area. These shows were extremely popular with both FD fans and the Team AEM sponsored drivers thanks to some great story lines and interaction with the fans.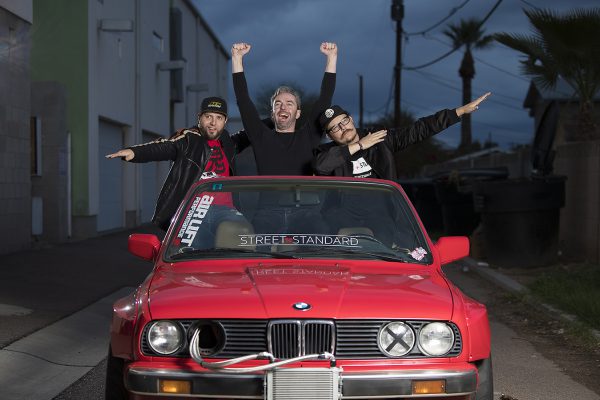 At the same time, Formula DRIFT was investigating different ways to expand its live broadcast. It has one of the most viewed livestreams in the world, reaching more than 2.5M fans annually. The series wanted to provide more stories to its fans and bring greater insight at each event, so it made perfect sense for Formula DRIFT and AEM Induction Systems to team up for 2018 to present the Formula DRIFT / AEM Halftime Show with Maximum Driftcast throughout the 2018 season.
Two more key Formula DRIFT partners, Nexen Tire and Motegi Racing, will also be on board as supporting brands, adding more content and features to the halftime show.
Maximum Driftcast has become a leading outlet for drivers to announce breaking news, tell their stories, and connect with fans like never before. Frequently, it is the fans who catch drivers off guard with the tough questions, and those moments are what make the show so great, along with the humor, knowledge and passion from the hosts Corey Hosford, Paco Ibarra and Sam Nalven. These elements will now be brought to the big screen, with FD fans able to enjoy the Formula DRIFT / AEM Halftime Show from the event venue or on their mobile devices via the livestream.
It can be viewed by accessing formulad.com/live during any live event as well as major platforms such as Facebook and YouTube. The schedule for each event is available at formuladrift.com