ORLANDO, Florida (April 26, 2018) – Fredric Aasbo is ready for the tricky Orlando Speed World track as Formula Drift makes its way east to the Sunshine State this Friday and Saturday for Round 2 of the 2018 championship.
The driver returns to series competition after a strong start to the season. He drove his brand new Rockstar Energy Drink / Nexen Tire Toyota Corolla Hatchback to victory three weeks ago at the opener in Long Beach, California. The result raised his total career wins tally to 11 — more than any other driver in Formula Drift history.
With back-to-back Orlando wins in 2016 and 2017, Aasbo is a heavy favorite this weekend. Even so, he remains focused heading into the event. A heartbreaker of a 2015 run there saw the usually consistent driver eliminated from competition in the Top 32. "I've seen my share of ups and downs in Orlando," he said. "That 2015 defeat was a big turning point I'll never forget: It taught me how to drive the track."
The driver ultimately fought back to win the championship title that year.
The Formula Drift track configuration at Orlando Speed World features a steep banked first corner with a bumpy and challenging transition to a figure-eight on the flat. Managing the rough transition at speed, door-to-door with a rival, separates the field as the best advance through the knockout competition.
Weather is typically a factor at this event and near-record heat is expected this weekend. High temperatures and humidity can sap engine power and put drivers under tremendous strain.
Despite forecasts, however, locals know that rain is always a possibility.
Grandstand tickets are still available, while the event will be available to watch on the popular series livestream.
The team is feeling optimistic after the Papadakis Racing built Rockstar Energy Drink / Nexen Tire Toyota Corolla Hatchback won its maiden event.
"Toyota trusted our team to be the first to work with their new Corolla Hatchback and we're thrilled with how the car performed," said team owner Stephan Papadakis. "We'll continue to make small changes based on what we learn every time we take it into competition but to debut with a win shows incredible potential in the new car."
Since Long Beach, the team has been busy refining the new build, as well as travelling to Dallas and Arizona for Toyota appearances that have given Aasbo the chance to put in some extra time behind the wheel.
Drifting is a high-skill, high-powered motorsport with an emphasis on car control. In the Formula Drift series, drivers compete in knockout heats on a closed course, sliding sideways in trials judged on speed and style. With origins in Japan, it is one of the fastest growing forms of motorsport in the world.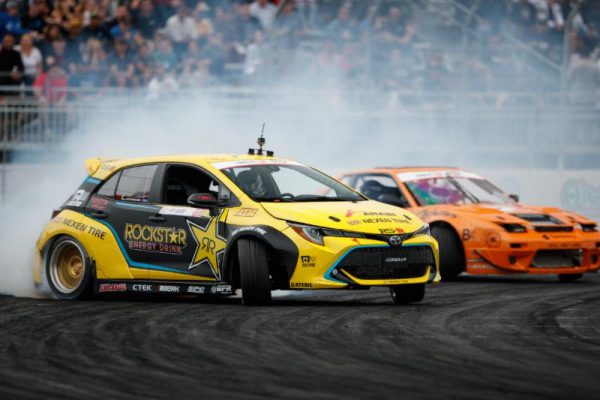 Fredric Aasbo heads into Formula Drift Orlando following a win at the season opener earlier this month. (Photo: Larry Chen / Toyota Racing