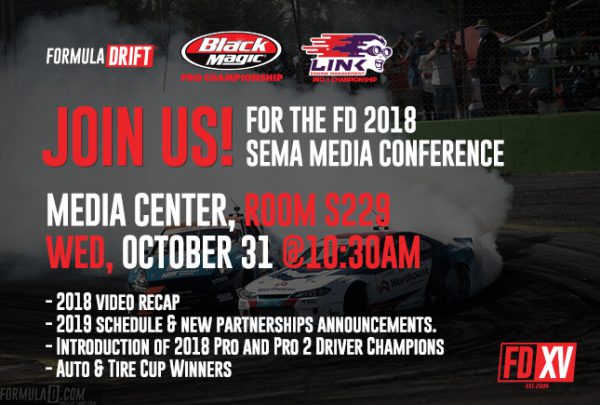 All media registered for SEMA 2018 are invited to attend the annual Formula DRIFT press conference. It takes place in the SEMA Media Center at 10:30AM on Wednesday, October 31. The Media Center is Room S229, which is located on the upper level between the SEMA Central and South Halls.
During the conference, Formula DRIFT president Jim Liaw will recap the 2018 season, which was one of the most exciting in the series' 15-year history. He will also introduce the Pro and Pro 2 Champion drivers plus representatives from the Auto and Tire Manufacturers' Cup winners.
The big news during the conference will be the 2019 schedule announcement and new series partnerships.
The Formula DRIFT press conference will commence at 10:30AM so please try to arrive promptly.