From Papadakis Racing
Driver leads points after Road Atlanta as series approaches mid-season
BRASELTON, Georgia (May 13, 2018) – Fredric Aasbo earned another podium at Road Atlanta this weekend, facing down fierce rivals to reach the final round. Aasbo has now stood on every step of the podium this year and leads the championship points as the 2018 season approaches its mid-point.
"I am ecstatic to break the curse here at Road Atlanta and beat some heavy hitters," said Aasbo, who has earned mixed results on the challenging road course over the past several years. "I feel great and I am absolutely worn out."
Aasbo landed in second after the final head-to-head battle of the night against rival Kristaps Bluss went to a One More Time round.
"Kristaps and I have a history of going all out against each other. We end up with pushed in doors and scarred race cars," said Aasbo. "When you get a One More Time against the fastest car and most hungry driver in the sport, you know it's going to be an amazing battle."
The fans who packed into Road Atlanta were thrilled to see the competition come down to a no-holds-barred rematch between the two drivers. In the end, Aasbo would record a second-place result and extend his lead in the championship points.
Aasbo is the most-winning driver in Formula Drift history, but he has never earned victory at Road Atlanta. Balancing blistering performance against the risk of error paved his way to the podium this year.
Earlier, Aasbo locked in the No. 3 qualifying position to earn a bye past the opening bracket. In the Top 16, he received a unanimous decision to advance past Dan Burkett and then faced down Chelsea Denofa in the Great 8. He battled past champion Chris Forsberg to reach the final.
"It was great to see Fredric have a redemption at this track to extend our points lead," said team owner Stephan Papadakis. "The top-three drivers in the standings are all champions and we have to bring our A-game to every round."
The Atlanta event saw a typically packed house, and a lively online audience tuned in worldwide to enjoy the action. Recently released attendance numbers from last month's opener showed 20,000 fans filled the seats of Long Beach, with 1.7 million tune-ins to the series' popular livestream. Packaged content picked up another three million views across social channels including Instagram, Facebook, YouTube and Twitch.
Next, the series celebrates its 100th event in Wall, New Jersey (June 1-2). Aasbo has won twice in New Jersey, scoring his first career victory there in 2014 and following it up with another win in 2015, en route to the championship title that year.
Drifting is a high-skill, high-powered motorsport with an emphasis on car control. In the Formula Drift series, drivers compete in knockout heats on a closed course, sliding sideways in trials judged on speed and style. With origins in Japan, it is one of the fastest growing forms of motorsport in the world. Fans of Formula Drift can watch live stream coverage of the series online, or catch the broadcast coverage on the CBS Sports Network.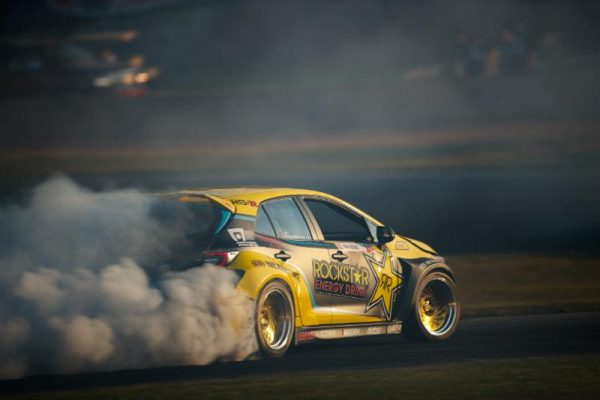 Third podium in three rounds for Fredric Aasbo at Road Atlanta this weekend.
(Photo: Larry Chen / Toyota Racing)