Formula DRIFT arrived at Road Atlanta this weekend for the NAPA Auto Parts: Road to the Championship presented by Rain X. Round Three would be the first time in 2018 that the Formula DRIFT Black Magic Pro Championship would run alongside the Formula DRIFT Linked ECU Pro2 Championship. The series was also joined by Global Time Attack and the US F4 championship to give fans an action-packed weekend.
That action leapt into overdrive during Friday qualifying for the Pro category when two familiar faces rose to the top. This included Justin "JTP" Pawlak (USA) qualifying first in his Roush Performance / Falken Tires 2018 Ford Mustang. With 13 years drifting experience, he scored 97 points in qualifying, narrowly beating Daijiro Yoshihara (Japan) in second place. Dai scored 96 points in his Turn 14 Distribution / Falken Tire Subaru BRZ and is one of a handful of drivers who have been with Formula DRIFT since the series was founded in 2004. The 2011 FD champion held off Fredric Aasbo (Norway), himself the 2015 FD champion, in his Rockstar Energy Drink / Nexen Tire Toyota Corolla. Aasbo recorded a best score of 95 points to put him third. He was placed ahead of James Deane (Ireland), the 2017 FD champion, who also scored 95 points in his Worthouse / Falken Tire Nissan Silvia S15. However, James was awarded fourth by virtue of a lower score on his second run.
To give an indication of the competitive nature of the 2018 Formula DRIFT season, positions five through eight all scored and identical 94 points. In fact, the top 12 drivers were only separated by seven points on their best scoring runs. They were placed according to the combined score from the two permissible qualifying runs, with very little to choose between these top drivers.
Qualifying fifth with two very consistent runs – scoring an identical 94 points each time – was Kristaps Blušs (Latvia) in his HGK Racing Team / Achilles Radial / MAST Motorsports BMW E92 "Eurofighter". He's been a professional drifter since 2010 and completed his first full Formula DRIFT season in 2015 when he finished 28th overall. The following year Blušs finished 12th and stepped up to fifth overall in 2017. And with such steady progression through the ranks, it should come as no surprise to students of Formula DRIFT that he won his first event at Road Atlanta in 2018.
The maiden victory for Blušs didn't come easy. With the field separated by the smallest margin, the competition was among the toughest of any Formula DRIFT event. In fact, there was a record number of "One More Time" runs with 11 called throughout the competition. For those who don't know, "One More Time" is requested when the judges call for the drivers to repeat their runs because it was impossible to pick a winner from the first runs.
The climb to the top for Blušs began in the Top 32 against Kevin Lawrence (USA) driving his Enjuku Racing / BC Racing Nissan S14.3. Following that victory, his path was blocked by Forrest Wang in his Vapetasia / Achilles Radial / NRG Innovations Nissan S15. Wang is back from a one-year sabbatical and finished second at the opening round before standing on the podium twice at the 2018 Motegi Super DRIFT Challenge. The on-form Wang didn't make things easy for Blušs. In fact, the judges called for "One More Time" an unprecedented two times.
The Latvian would move on to the Top 8, where he met 2017 Formula DRIFT champ James Deane in yet another Nissan. It was a similarly titanic struggle against Deane that must have had Blušs seeing double because once he'd vanquished the Irishman, Kristaps lined up against Deane's teammate, Piotr Wiecek (Poland) in an identical Worthouse / Falken Tire Nissan Silvia S15. The intensity continued to mount as Wiecek – currently sitting fourth in the championship – piled on the pressure, determined to reach the final himself. However, the Pole was on the Blušs hitlist and would fall like the drivers before him.
In the Final, Blušs met 2015 FD champion, Fredric Aasbo. The Norwegian drifter is top of the 2018 championship standings thanks to a win and third place in the previous rounds. Driving his brand new Rockstar Energy Drink / Nexen Tire Toyota Corolla, Aasbo had a slightly easier path to the Final thanks to a bye round in the Top 32. He then brushed aside Dan Burkett (USA) in his RAD Industries / Nexen Tire / Toyota Supra in the Top 16, and Chelsea Denofa (USA) in his BC Racing / Nitto Tire / Ford Performance Mustang RTR in the Top 8. The semi-final was against multiple Formula DRIFT champion Chris Forsberg driving his NOS Energy Drink Nissan 370Z on Nexen Tires. Forsberg put up a valiant fight but couldn't resist Aasbo, who proved to be unstoppable until the final.
When Blušs met Aasbo it was a meteoric contest. Both drivers committed everything to the struggle and the judges once again requested "One More Time." It would take one tiny mistake to separate them and eventually the decision went to Blušs.
"I'm exhausted but happy to be covered in champagne," said Aasbo immediately after stepping from the podium. "This is exactly how I want to be after a night like this. I'm ecstatic that we broke our Atlanta curse – we haven't done well here since 2012 but today we got on the podium and lost against the guy to beat. Kristaps (Blušs) totally deserved the win. He's been at it for many years and his car was a rocketship. I'm super-relieved to be on the podium and stoked to extend my lead in the championship."
For Kristaps Blušs it was an emotional moment to finally claim a Formula DRIFT Pro category win. "It feels really great to have achieved this. I had two One More Times against Wang before battling both Worthouse guys, who are crazy good. Fortunately, my Achilles tires performed well and I got to the Final with Fredric Aasbo. I'd battled with him five times before and always lost but finally I beat him. It feels crazy to be standing here and I'm going to try to maintain the momentum for the rest of the season."
The excitement of Formula DRIFT Atlanta was summed up by FD president, Jim Liaw. "Road Atlanta never fails to excite. The fans are amazing and contribute so much to the energy of the event. What they bring is contagious and the drivers feel it – you see it on-track with amazing competition, which gave the judges a really hard time to pick a winner from some of the battles. This is why Road Atlanta has been on our calendar for the last 15 years. It's a great place and the fans are awesome."
Round Four: The Gauntlet takes place in Wall, NJ on June 1-2. Visit formulad.com for event details, ticket purchases, driver profiles and Livestream information.
PRO2 CHAMPIONSHIP
Road Atlanta hosted the opening round of the 2018 Link ECU Formula DRIFT Pro2 Championship. A full field battled for the top step of the podium and Travis Reeder (USA) put everybody on notice by qualifying first in his Achilles Radial Nissan 240SX. He would defeat Crick Filippi (USA) in his Fitzgerald Glider Kits / Nexen Tire USA Nissan S13 in the Top 16 run-off, and then Kelsey Rowlings in his Top 1 Oil / Achilles Radial Nissan S14 in the Top 8. Travis' run would eventually be halted by second place qualifier, Dylan Hughes (USA) in his Advanced Auto Parts / Nexen Tire Nissan S13.
For his part, Hughes had to overcome Adam Knapik (Poland) in the Knapik Racing / Achilles Radial Nissan S14 in the Top 16 before meeting Kenric Meyer (USA) in his BC Racing / Achilles Radial BMW M3 in the Top 8.
Hughes would eventually lose the final to Ola Jaeger (Norway) who was driving his Team Japan Auto / Nexen Tire Toyota Supra. Having qualified fourth, Ola first met Trenton Beechum (USA) in the Roush Performance / Nexen Tire Ford Mustang. Trenton had finished third in the 2018 Motegi Super DRIFT Challenge in Long Beach last month but couldn't hold off Jaeger, who would subsequently beat Andy Hately (USA) in the Hateley Motorsports / Achilles Radial / BMW E30 before reaching and defeating Dylan Hughes in the Final.
"It's been a long day," said a relieved Ola Jaeger after the Link ECU Pro2 podium celebrations. "I had been a little concerned coming into the weekend but my confidence increased battle by battle. I'm delighted to have beaten Dylan (Hughes), who is among the best in the Pro2. To win each of those battles felt unreal, and I'm delighted to be standing here after the team worked so hard all winter. We're really looking forward to the remainder of the season and hope for continued success."
Jim Liaw, Formula DRIFT president, was also extremely happy with the outcome: "After developing the Pro2 category for so many seasons, it's really hitting its stride now. Last season ended well with tough, close competition, and today's Top 16 was super-exciting and competitive, which is a great sign for the future of the Link ECU Pro2 Championship. We're definitely looking forward to the rest of the season."
Round Two of the Link ECU Pro2 Championship takes place at Round Six of the Formula DRIFT series in St Louis, MO on August 10-11. Pro2 then moves on to Dallas, TX on September 14-15 and culminates at the series Finals in Irwindale, CA on October 12-13.
Visit formulad.com for event details, ticket purchases, driver profiles and Livestream information.
2018 FORMULA DRIFT CHAMPIONSHIP
Top 16 finishing places from FD Atlanta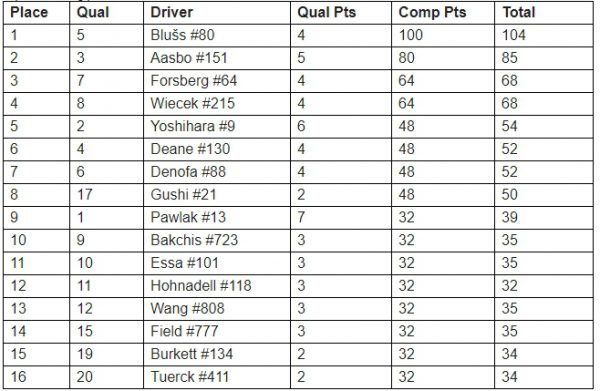 To view the Top 32 finishers, click here:
formulad.com/results/2018/road-atlanta/pro
Top FivePro Championship standings after three rounds

To view the 2018 Pro Championship standings, click here:
formulad.com/standings/2018/pro
Top Five Pro2Championship standings after one round

To view the 2018 Pro2 Championship standings, click here:
formulad.com/results/2018/road-atlanta/pro2
Top FiveAuto Cup standings after three rounds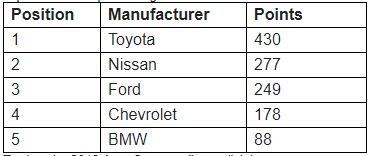 To view the 2018 Auto Cup standings, click here:
formulad.com/standings/2018/pro
Tire Cup standings after three rounds

To view the 2018 Tire Cup standings, click here:
formulad.com/standings/2018/pro