Fredric Aasbo ready for Road Atlanta in two weeks
Papadakis Racing dialing in the setup for Formula Drift in Georgia
ORLANDO, Florida (April 29, 2019) — After scoring a near-perfect 99-point qualifying run, Fredric Aasbo advanced to the Top 16 and took home ninth-place points at Round 2 of the Formula Drift championship this weekend.

The driver said he's looking ahead to Round 3, where he is ready to do battle on one of his favorite tracks on the circuit.
"We had a great lead run down here in Orlando, but I never got comfortable in the chase," said Aasbo. "Every track at Formula Drift calls for something different."
Aasbo achieved 99 points out of a possible 100 during Friday qualifying to secure the Number 1 slot, then battled past hometown favorite Kevin Lawrence in Saturday's opening tandem round. He faced tough competition in the round of 16, meeting 2010 series champion Vaughn Gittin Jr.
Although Aasbo delivered a winning lead run, he lost ground to his rival on the chase and left the match too close for the judges to call. In a One-More-Time re-run, judges awarded the round to Gittin.
Team owner Stephan Papadakis says the team is prepared to dial up the grip in the Rockstar Energy Drink / Nexen Tire Toyota Corolla Hatchback when they return to competition in just two weeks at the popular Road Atlanta stop in Braselton, Georgia.
"We know we have a competitive package and you're going to see us getting a lot more aggressive on our setups at the faster tracks," said Papadakis. "It's a balance and we're confident in the direction we're headed."
Papadakis Racing is a leading contender in the championship, having won three Formula Drift titles (2015, 2008, 2007). In the past five years, driver Aasbo has finished no lower than second in the points standings and, with 12 event victories to his credit, he currently holds the series' all-time wins record.
Drifting is a high-skill, high-powered motorsport with an emphasis on car control. In the Formula Drift series, drivers compete in knockout heats on a closed course, sliding sideways in trials judged on speed and style. With origins in Japan, it is one of the fastest growing forms of motorsport in the world.
ABOUT FREDRIC AASBO: Known for his flat-out style, champion driver Fredric Aasbo has achieved 100-plus podium finishes on three continents over the past decade of competition. He is the most winning driver in Formula Drift history.
Aasbo returns to the Formula Drift series in 2019 for a full season in the Rockstar Energy Drink / Nexen Tire Toyota Corolla Hatchback, while also running a select season of events in Europe in the Rockstar Energy Drink / Icom Toyota 86-X, and drifting championship events in Asia.
Aasbo made his U.S. debut at a global drifting invitational in 2008 and turned heads as the winner of the 2010 Formula Drift Rookie of the Year title. Since then, he has charged through the drifting ranks around the world and is both a fan favorite and championship winner.
Originally from Ski, Norway, Aasbo now splits his time between his native country and Southern California. He campaigns a full international season, with competition stops in the USA, Canada, Europe, and Asia.
ABOUT PAPADAKIS RACING: The Papadakis Racing team began drifting in 2004 and is the most winning team in Formula Drift history, earning the 2015 title with driver Fredric Aasbo, as well as back-­to-back championship titles with driver Tanner Foust in 2007 and 2008. The Rockstar Energy Drink / Nexen Tire Toyota Corolla Hatchback is the latest competition build from the Carson, California, based team.
Team owner Stephan Papadakis is a legend of sport-­compact racing who began building his reputation in the 1990s with the first front-­wheel­-drive, tube­chassis drag car in the U.S. The team earned multiple records and championships in the discipline, turning in elapsed times and trap speeds previously thought unattainable in front-­drive drag cars. Papadakis' successes in front­-wheel drive were matched by his efforts in rear­-wheel drive when he campaigned just the fifth car to join the NHRA's Sport Compact 200 MPH club.
Papadakis shares his experience on his popular PapadakisRacing YouTube channel, which recently passed the 100,000 subscriber milestone. Through regular uploads from the shop and track, he has discovered a strong audience eager for his uniquely open and accessible approach to the technical side of vehicle performance.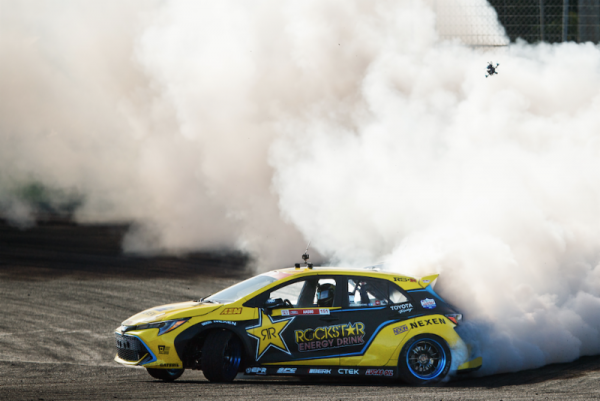 The Johnny FPV drone chases the Rockstar Energy Drink / Nexen Tire Toyota Corolla Hatchback in Orlando. (Photo: Larry Chen / Toyota Racing)