Written by Joey Redmond
10. Weather Conditions Kept Evergreen Speedway Interesting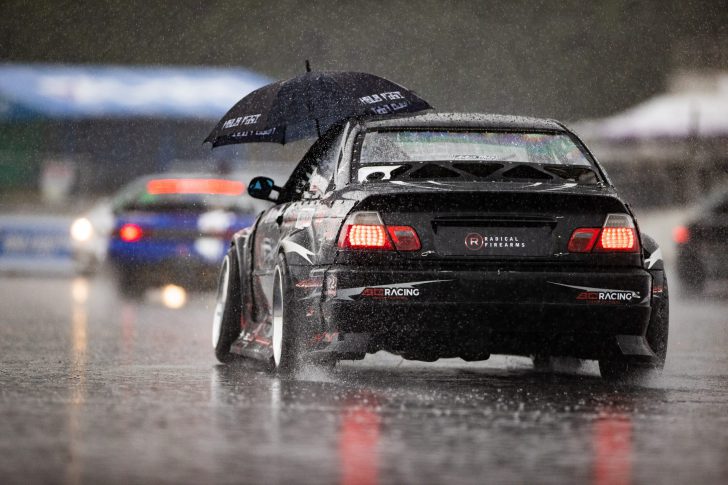 The weather made this dual event weekend even more challenging for all the drivers and crews. It went from wet/drying/dry/wet, etc.. putting a big challenge on teams to chase setups and always put a vehicle out prepared to deal with varying conditions. I think this really put a strain on some of the smaller teams who operate with smaller crews but it did really keep the weekend interesting.
9. Dai Yoshihara Takes Another Big Hit on the Bank!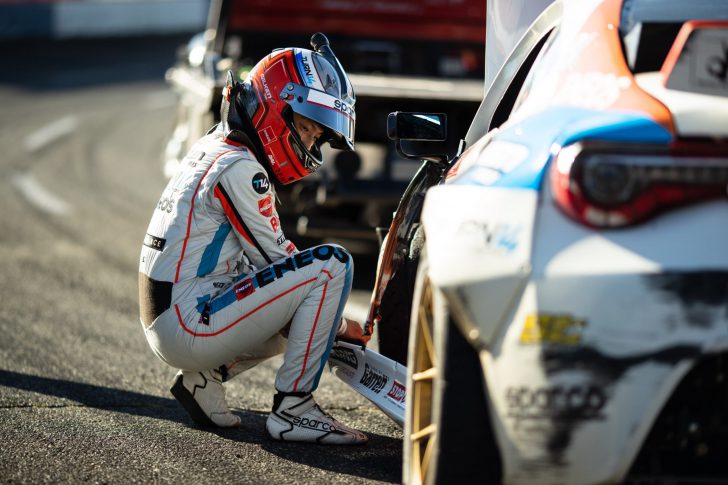 Back in 2009, Dai Yoshihara had a similar accident on the big bank at Evergreen Speedway in his Discount Tire Lexus IS250. That accident was so bad the car was scraped and Dai showed up in a V8 powered S13 a few weeks later at Sonoma Raceway to compete again. In this battle against Forsberg, the accident didn't seem to be as bad thankfully even though Dai said "he might be sore for a few months." Dai took ownership of the accident as his fault saying it was a result of his bad timing trying to push hard against Forsberg.
8. Dmitriy Brutskiy Dominates Pro 2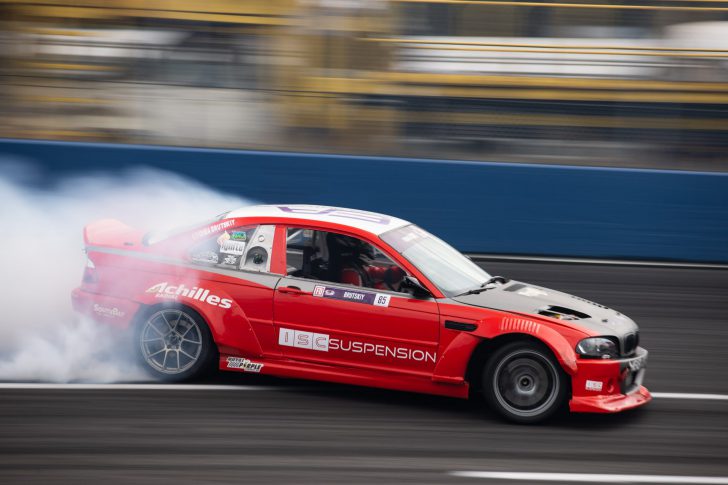 Dmitriy Brutskiy dominated the competition in his BMW all day in Seattle and produced his first career Pro 2 victory! Dmitriy and Joshua Love are actually tied in first place after having identical results across the first two rounds. Dmitriy looks like a force that will be tough to stop with just two rounds left in the Pro 2 championship. Dmitriy and a few other top Pro 2 guys also look like they could easily in the Top 15 of the Pro ranks if they make the jump currently.
7. Fredric Aasbo Wins with Loose Rear Suspension!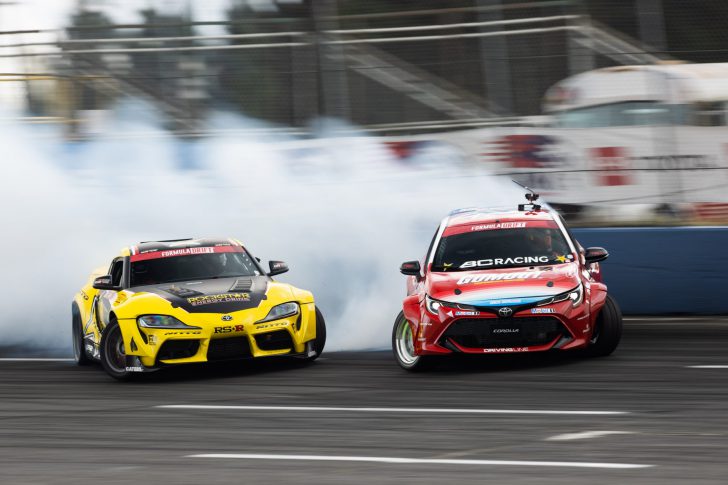 Fredric Aasbo once again brought out the reason he is a champion by defeating teammate Ryan Tuerck with a loose suspension at Round 3. The whole rear suspension on one side of his car basically came loose and was moving all over the place while he was in the chase position. It was pretty amazing how he kept it together through the battle and got a win against Tuerck. Sadly, his luck streak ran out when he broke a manifold that was one of one to his car and the Papadakis team was unable to fix it in time for him to get back out and compete the next day.
6. Does No Qualifying Help Lower Budget Teams?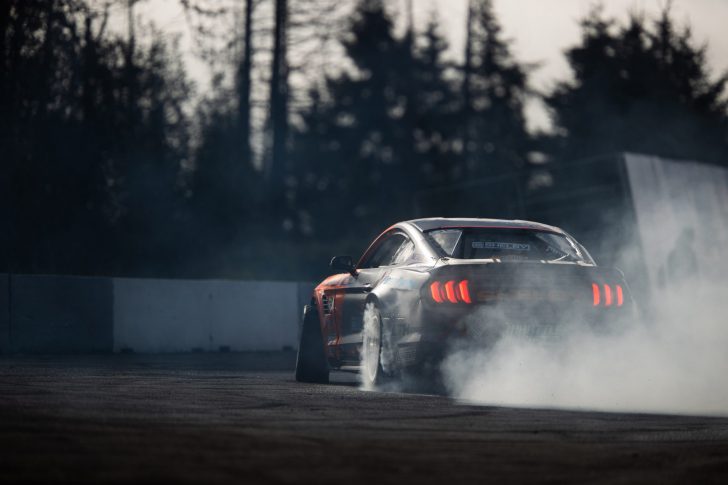 As former editor of Wrecked Magazine, I would bang the drum to eliminate qualifying and do a "draw straws" method or some other way to produce qualifying and the bracket for each race weekend. This has come to reality due to unfortunate 2020 season circumstances but the reality isn't quite what I had pictured back in the day.
Shockingly, eight drivers after four rounds of the 2020 Formula Drift season have not made it outside the Top 32. During the same timeframe in 2019, only five drivers who attended all the Round 1-4 events hadn't made it out of the Top 32. It's an interesting data set to review and it makes me wonder if Formula Drift can find a new pathway for qualifying or brackets out of this COVID modified season.
5. Adam LZ Tied for Rookie Race And Looking Dialed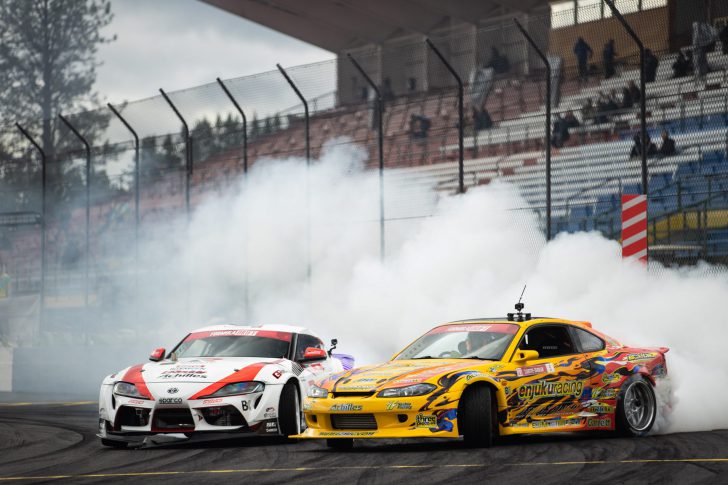 The rookie class hasn't really performed as great in seasons past with this compressed format but Adam LZ has clearly shown to be one of the brightest beacons in the Rookie Class. After being challenged by some drift fans at large as "just a YouTuber" he has put on quite the performance in the Pro series this year. He put down a good performance against Ken Gushi Saturday and ran Jeff Jones really well in Top 16 on Sunday but ultimately lost to the veteran driver. Adam is currently tied with 96 points with Wataru Masuyama and Alec Robbins for Rookie of the Year honors heading into Texas.
4. Taylor Hull Shows Real Improvement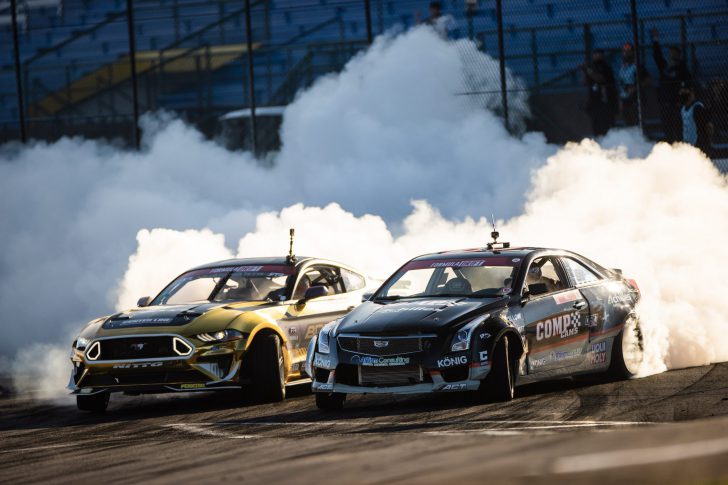 Taylor Hull drifted his way into back-to-back Great 8 performances at Evergreen Speedway in his Dale Earnhardt tribute Cadillac! While lots of the young guns in the sport have failed to improve under this intense 2020 formatting, I think Taylor Hull has shown he is on a path to serious improvement as a driver and team. Let's keep an eye on him at Texas Motor Speedway as its possible he could finish the season in the Top 10 if he can keep this level of driving up!
3. Justin Pawlak vs. Vaughn Gittin Jr. Steals the Show!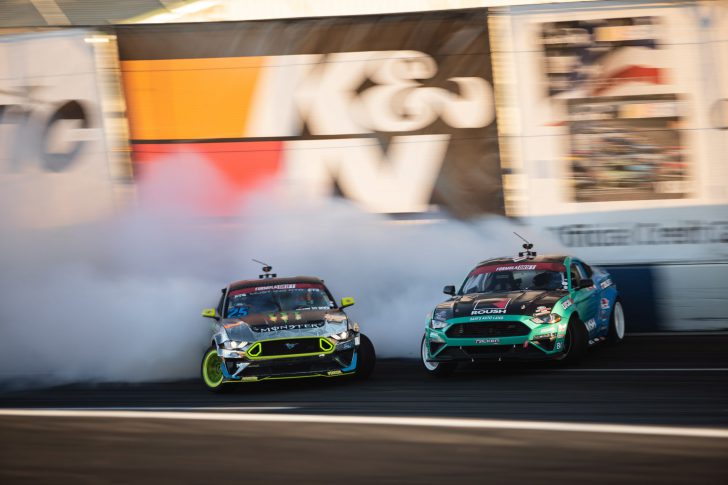 The final battle of the double race weekend was one for the ages of Formula Drift! The history of these guys and the battle for Mustang supremacy came down to one final battle between two amazing drivers. Justin Pawlak was clearly hungry to win his first event since Road Atlanta 2012 in his Falken Tire Mustang. The first run shows JTP going way off line trying to dump serious angle into his Mustang while Vaughn stayed on line and attempted a pass which resulted in them smashing into each other past outer zone four and across the finish line.
This brought us to some pit interviews when verbal contact was also made. Justin Pawlak put the great line out there "not today" when asked about if he was going to let Vaughn pass him. Vaughn rebutted how he "ran the proper line and as soon as I rotated at outer zone 4 he smashed me. I feel like it was a bit un-sportsman like."
They returned to the track and Vaughn Gittin Jr. blows the doors off Justin Pawlak with an insane lead run. JTP struggling to keep up overcooks it off the bank and goes two wheels off course. All three judges made an OMT call to see this go again.
The OMT battle was a little less explosive but both guys pushed and pushed to try and win the event. Justin made the judging call easy in the end by initiating late and then parking it at outer zone four. This secured the weekend sweep for Vaughn Gittin Jr. and king of the Ford Mustang drifters until they meet again! This was the best battle of the year and I hope they meet again in Texas!!
2. Ryan Tuerck Holds Championship Lead After Long Weekend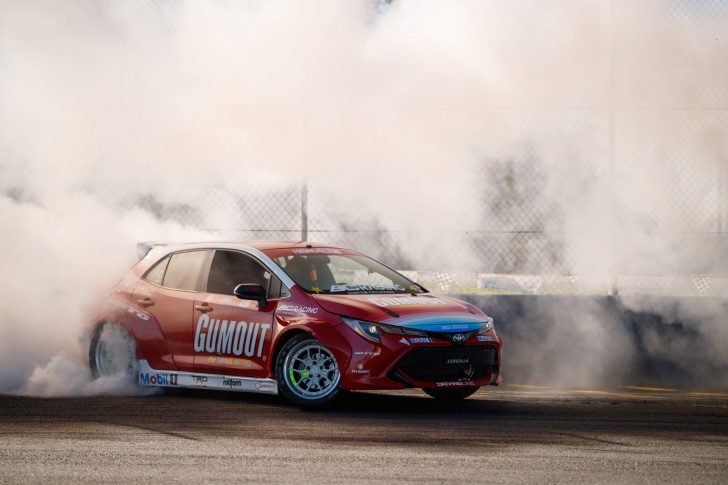 Once the smoke cleared on the entire weekend, the newly married, Ryan Tuerck stands top of the championship in his Toyota Corolla. He is just eight points ahead of his former Drift Alliance teammate Vaughn Gittin Jr. in his Ford Mustang. Ryan Tuerck recovered quickly from an awful crash in practice showing that his Papadakis crew is going to really add value and an edge for him in the rest of the 2020 season.
1. Vaughn Gittin Jr. Unstoppable All Weekend / Goes Back to Back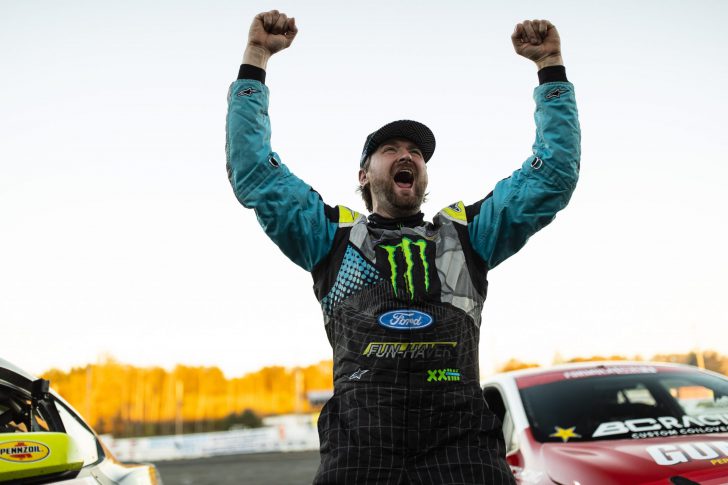 We already covered the amazing battle Vaughn Gittin Jr. had at point #3 but what a perfect weekend for the Mustang RTR and Vaughn Gittin Jr. to have a clean sweep at Evergreen Speedway. Vaughn looked like he was back in his old championship form winning 10 straight tandem drift battles in a row in Seattle. He looked to be so a focused and in an elevated mental state as he was putting his car everywhere it needed to be without skipping a single beat. A new track layout looms at Texas Motor Speedway that may or may not help Vaughn and the Mustang's keep up this big performance so stay tuned coming up over Halloween weekend!