By Joey Redmond
10. Rookie of the Year Race Still Tied!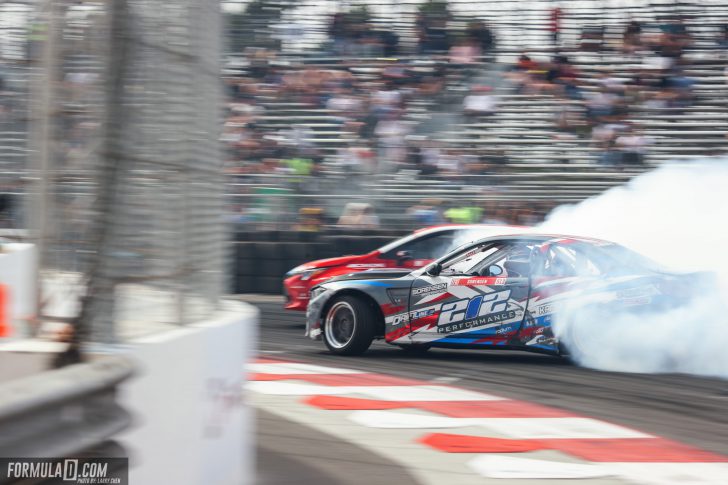 Branden Sorensen and Simen Olsen are tied at 296 points after seven rounds of the Formula Drift season. Whoever lands a better finish at Irwindale Speedway next month will become the 2021 Formula Drift Rookie of the Year. Both drivers have pushed each other this season and it should be noted, before they enter Round 8, both of these drivers have scored more points than the last two seasons Formula Drift Rookie of the Year already. The Rookie of the Year title is an important beacon to show you are ready for the Formula Drift pro ranks in my opinion. The last two Rookie of the Year winners have been Adam LZ and Travis Reeder who have become competitive drivers in the sport.

9. Matt Field Stumbles Early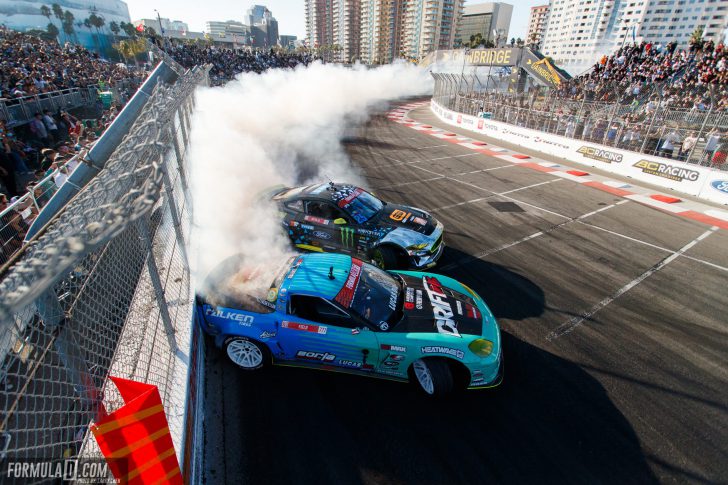 Matt Field ran into Vaughn Gittin Jr. in the Top 16 for a wild American Muscle shootout. Matt Field on his lead run, buried his Corvette 5-6 inches deep into the outer zone two wall as he really just tried to put a gap between him and Vaughn Gittin Jr. The judges took a long time to make a call on the first battle and the judges were completely split forcing an OMT. The OMT battle had a suspension failure happen for Matt Field giving Vaughn Gittin Jr. an easy victory. This also opened the door for Matt Field to lose the Formula Drift Championship Points lead if some other drivers performed on the day.
8. Almost for Adam LZ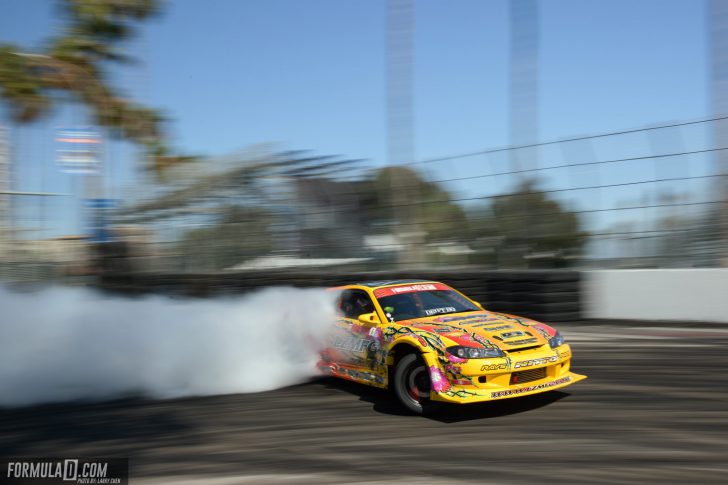 Adam LZ had a tough weekend as he drew Odi Bakchis in the Top 32. Odi Backhis hit him in the chase run and that gave Odi an incomplete from the judges which should have opened the door for Adam LZ to take an easy win. However, on his chase run, the judges deemed he went three tires off course and also gave Adam LZ an incomplete run which made the call a lead vs. lead situation for the judges. After further review, the judges gave Odi Bakchis the victory comparing lead to lead ending Adam LZ's weekend early. Adam LZ has a really interesting outlook and perspective on this as it took place over on his YouTube from the weekend.
7. Kyle Mohan Finds his Way at Home!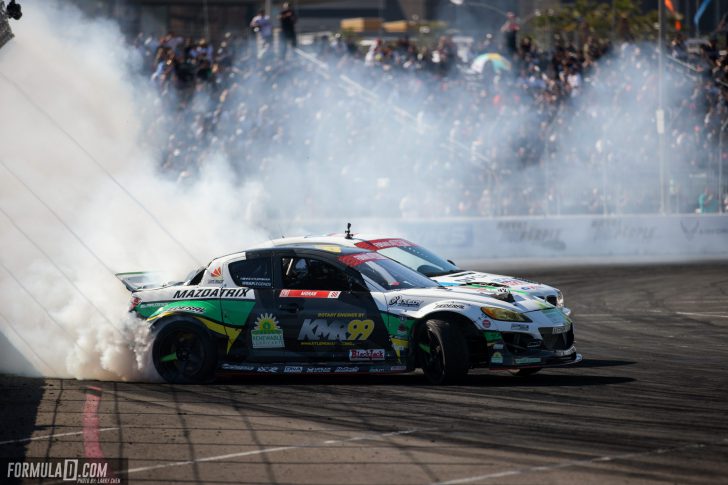 Kyle Mohan hadn't made it into the Top 16 in almost three seasons of Formula Drift and he has a single final four finish at Streets of Long Beach in his career as his best finish. A Long Beach resident he really turned it on this weekend and knocked out the up and coming Formula Drift star Travis Reeder in the Top 32. He then faced Michael Essa in Top 16 where he pushed too hard on his chase run and gave himself an incomplete in the chase battle. His lead run was fantastic but couldn't make up for his big mistake in the chase battle.
6. Chris Forsberg – The Farewell Z Tour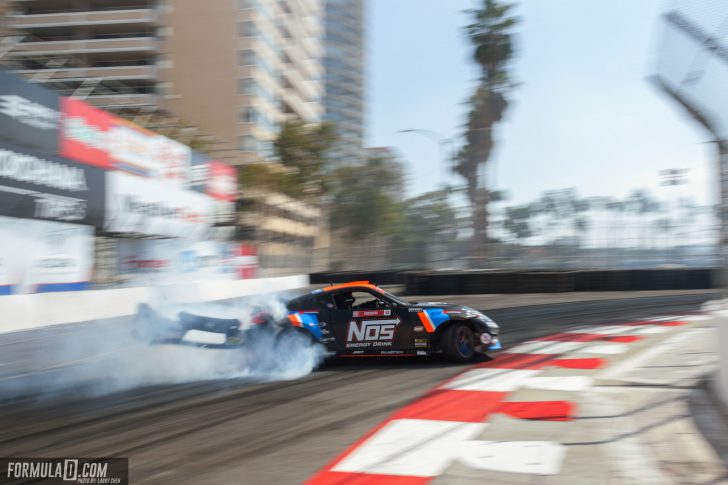 Chris Forsberg has announced that his famous Nissan 370z from Formula Drift this season. According to Chris, it is the longest running and most winning chassis in Formula Drift history which is quite memorable. Chris Forsberg has had a tough 2021 Formula Drift season, but he turned it on for the Streets of Long Beach. 20% of Chris Forsberg's career victories have come from this track. He had an incredible two OMT battle with Justin Pawlak to move into the Great 8 but fell just short of a podium after losing to Odi Bakchis in the Final Four.
5. Ryan Tuerck Takes a Big Early Loss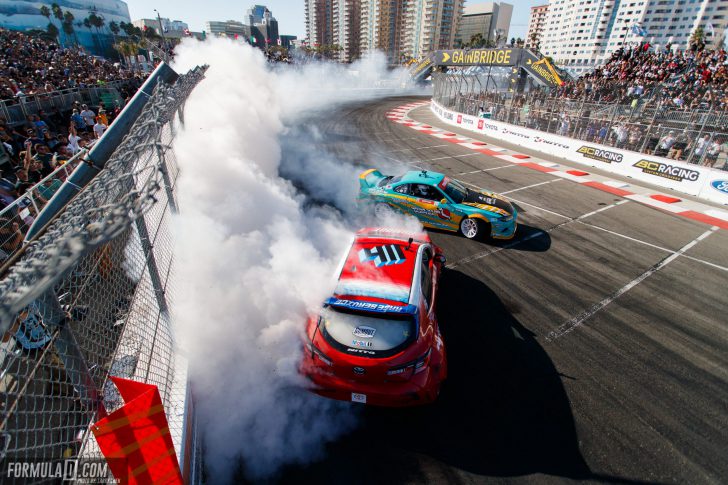 Ryan Tuerck had a real chance to get deep into the Formula Drift Championship chase before Irwindale Speedway, but he really lost his big shot by losing early to Wataru Masuyama in the Top 16. Ryan Tuerck finds himself 87 points behind Fredric Aasbo now which means he really lacks a chance to win the Formula Drift Championship although he is technically able based on the points spread. Sadly, once one of the four drivers in front of him qualify for Irwindale Speedway, he will no longer be in the running to win the 2021 Formula Drift Championship.
4. The Mustang RTR Collision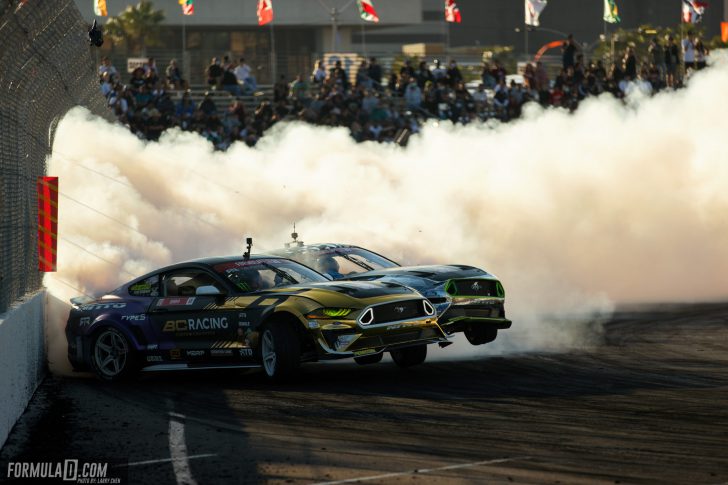 The Mustang RTR teammates went to battle and Vaughn Gittin Jr. ran straight over Chelsea DeNofa in the Great 8 battle that Chelsea DeNofa really needed to win. Chelsea DeNofa was at fault since he pulled the e-brake in a non decel zone and he was really straightforward in his post-race interview taking the blame for the contact. The drivers have released a wild dual POV of the accident on their Instagram account. This makes Chelsea DeNofa finish the event 19 points behind Fredric Aasbo in the Formula Drift Championship standings which puts all eyes on Irwindale Speedway next month for him.
3. A Realistic Four Man Championship Chase at Irwindale!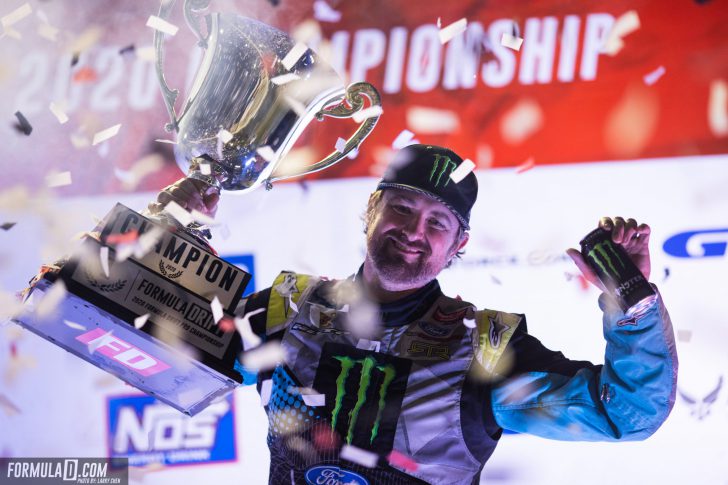 Irwindale Speedway is the best place to settle a Formula Drift Championship. The Championship Title is going to switch round to round between Fredric Aasbo, Chelsea DeNofa, and Matt Field as they advance on next month. Odi Baklchis has an outside chance he can win it all as well sitting 43 points behind the leader if he can win the event and the other drivers fail to push themselves into the Final Four. Fredric Aasbo is the only former Champion in this race which really gives a possibility that a driver will earn their first ever Championship at Irwindale Speedway next month!
2. Fredric Aasbo Pushes His Way to the Championship Lead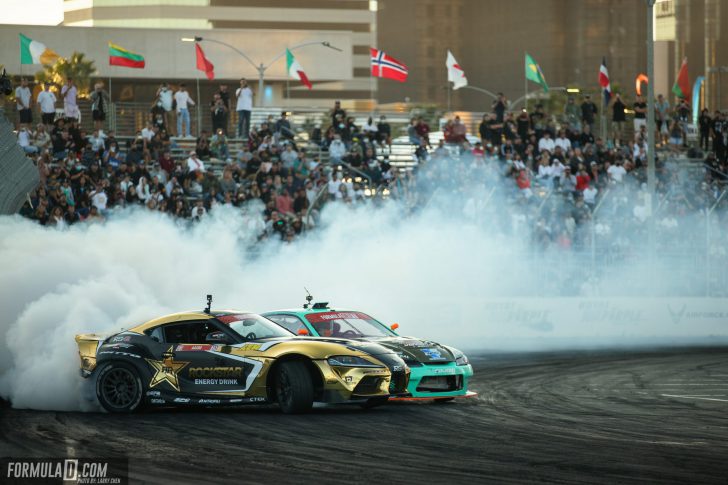 Fredric Aasbo is always one of the most consistent drivers in the Formula Drift series. With his second-place performance, he jumps to the Formula Drift Championship lead with a 19-point gap on Chelsea DeNofa. This was his third second place finish of the 2021 Formula Drift season as he fell just short of another victory by Odi Backhis who was just unstoppable with his amazing chase lap performance.
1.Don't Forget About Odi Bakchis!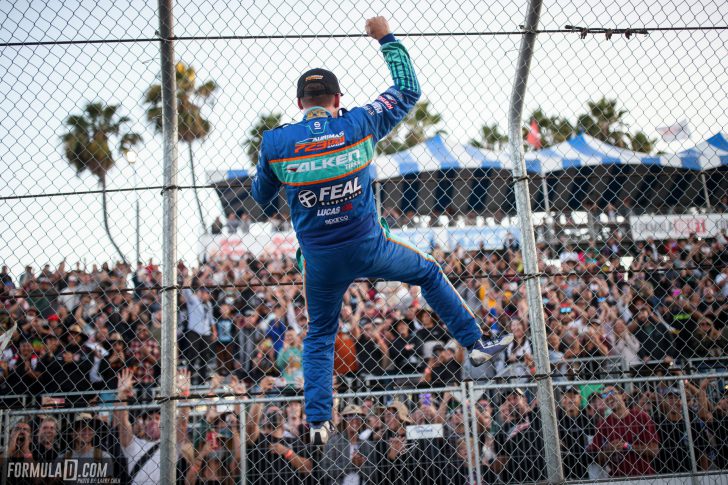 Odi Bakchis came into the Formula Drift Long Beach event pretty slow but he really got better and better with each tandem battle until he ended up winning the event. His 100-point victory puts him just 43 points behind Fredric Aasbo headed into Irwindale Speedway next month. This puts Odi Bakchis as the sixth most winning Formula Drift driver of all time with eight career wins. This is also his second career victory at Street of Long Beach. He did win at Iwrindale Speedway last season so anything could be possible for him next month!