World Wide Technology Raceway, located within sight of the famous St Louis arch, hosted the Formula DRIFT PRO Championship Round 5: Crossroads and Formula DRIFT Link ECU PROSPEC Championship Round 3. For these rounds, the FD staff had revised the course layout, removing the previous Inside Clip and establishing four Outside Zones. The intention was to improve the flow, allowing the drivers to execute a more fluid drift and create a greater spectacle. It certainly seemed to be successful as cheers from the grandstands testified during a thrilling event.
PROSPEC QUALIFYING
Commencing in hot sunshine and culminating in darkness, the track conditions would evolve throughout the FCP Euro Knockout Qualifying session. The cooler evening temperatures seeming to catch out some of the runners lower down the order and contributed to nine drivers seeking salvation through the Knockout Qualifying Format. Granted a second run in KQF, three were unable to score a single point and were eliminated from the event. With 29 drivers reaching the Top 32 competition heats, the top three qualifiers would receive a bye run, aiding their progress.
Heading home early would be Carlos Arrieta (USA) and Jack Davis (USA) as well as Ben Hobson (USA). Sitting second in the PROSPEC Championship coming into FD STL, Hobson failed to complete a second run in KQF driving the Automotive Innovations / Koruworks / Motegi Racing Nissan S14.5. He was eliminated from the event and severely damaged his title hopes
The beneficiary of Hobson's early shower was double and reigning Formula DRIFT Link ECU PROSPEC Champion Dmitriy Brutskiy. Unphased by the new course or conditions, he put his DriftHQ / Link ECU / ISC Suspension / Enkei Wheels BMW M3 with Royal Purple in first position. Having made a slow start to the 2022 season, his Round 2 win in New Jersey proved Brutskiy still meant business and was the biggest threat to the other runners.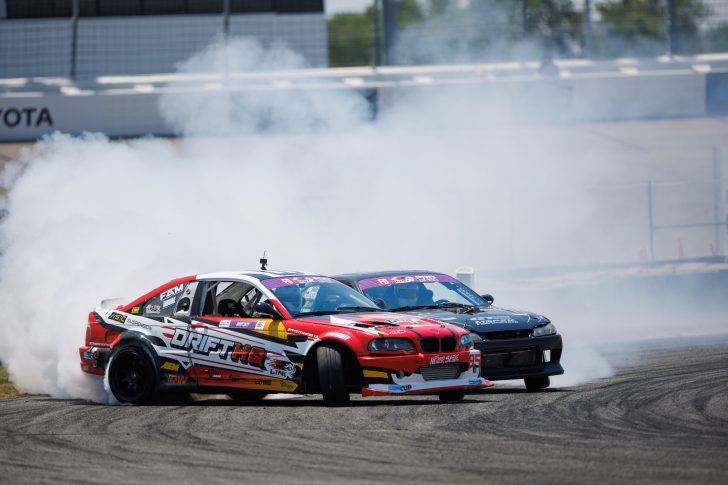 Second place was claimed by Rye O'Connor (USA) in the Ignited Soul Nissan 350Z. This was perhaps the biggest surprise in qualifying and his 77-point run represented O'Connor's best qualifying result in his short Formula DRIFT career. A bye run in the Top 32 would undoubtedly help his Championship standing, which was 27th coming into FD STL.
Third place Alex Jagger (USA) scored 76 points, repeating his Round 2 qualifying position. The driver of the Forsberg Racing Nissan 370Z would undoubtedly hope his bye run would help him improve his fifth-place Championship position to close in on the Link ECU PROSPEC Championship leader and series Rookie Robert Thorne (USA). Driving the ASMotorsport / Kats Coin BMW M3, Thorne qualified fourth and would be looking to maintain his consistent form.
PROSPEC COMPETITION
Continuing its new 2022 schedule, Round 3 of the Link ECU PROSPEC Championship was split across two days, with the Top 32 taking place on Friday evening and the Top 16 heats through to the Final completed on Saturday morning in temperatures up to 95˚F.
Just like qualifying, PROSPEC competition threw up a number of surprises. This included first-time winner, Evan Bogovich (USA) driving the Feal Suspension Nissan S14, and local driver Derek Madison (USA), who achieved his second podium in the Fuelab Fuel Systems / Team Infamous Nissan S14. Spectators also witness the early departure of most of the top contenders, handing Brutskiy a big advantage in his bid for a third Championship title.
Qualifying tenth, Bogovich faced Richard Advani (India) in the Top 32 heats. Unfortunately, the driver of the HP Chasers Racing Drift Corvette missed almost every zone on both his chase and lead runs.
In the Top 16, Bogovich should have battled Adam Knapik (USA). However, the LQ9 engine in his Donut Media / Optima Battery Nissan S14 blew itself apart in the previous round; a departing rod breaking the steering rack to multiply the carnage. That meant Bogovich met and beat Alex Lichliter (USA) in the Top 8. Thanks to a strong lead run and superior chase proximity, Bogovich was able to dismiss Lichliter's NonStop Tuning (NST) Toyota GT86.
In the Top 4, Bogovich needed to disappoint Dustin Miles (USA) who had reached the semi-final despite sitting 31st in the PROSPEC Championship. Driving the Miles Of Style Racing Nissan S13, Miles had a scrappy lead run, transitioning late into Outside Zone 2 (OZ2) caused Bogovich to hit the wall. Miles then lost drift angle as he tackled OZ3 and, with both drivers ruled incomplete and Miles blamed for the Bogovich crash, he was eliminated from competition. However, with 80 points for finishing fourth, Miles leaps to 24th overall with his best result to date.
In the Final, Bogovich lined his Feal Suspension Nissan S14 alongside Madison's Fuelab Fuel Systems / Team Infamous Nissan S14. Having dispatched Brutskiy in the previous round, an exhilarated Madison performed well but missed OZ2 on his chase run. With Bogovich completing both runs without any major mistakes, he was awarded the win and immediately acknowledged his sick wife and the support of the PROSPEC paddock that had helped his team throughout the weekend: "We faced an uphill battle coming to St Louis since my wife was sick and a crew member was absent. But a lot of teams stepped up and played the part of spotter and got us through. I wasn't sure if I'd even make it here but we kept on truckin' and luckily it got us to first place. I'm happy to be here and happy to have laid down some great runs all weekend," Bogovich told us.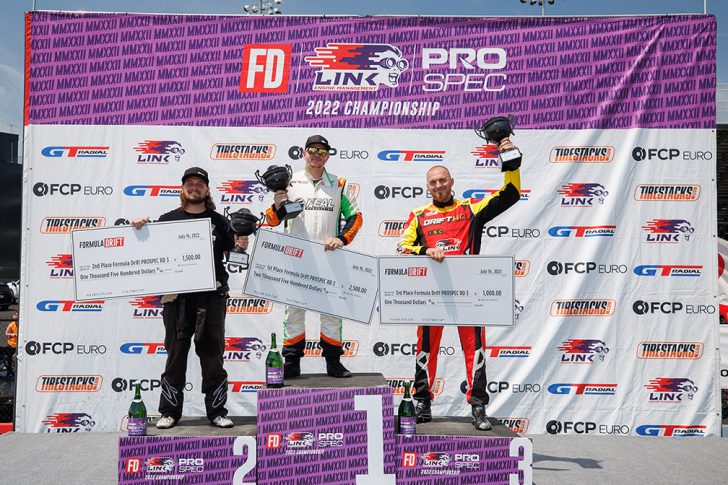 "I'm really looking forward to the final round in Utah since the road course is very similar to Thunderhill, our home track. I have a lot of experience there and I think it'll help us at the Final."
Madison's second place was only his second podium finish since joining the series in 2019. In addition to the trophy, he was awarded a Formula DRIFT Performance Reward for his incredible performance, knocking out many top names including the points leader Thorne and double Champion Brutskiy. Madison's points tally allowed him to climb from eighth to fifth overall, while Bogovich climbed from sixth to third.
Third-place Brutskiy narrowly missed a perfect weekend after qualifying first. However, he scored more points than all the drivers above him in the Championship table, allowing Brutskiy to rise from fourth to second in the standings.
Top Rookie Robert Thorne (USA) finished sixth in his ASMotorsport / Kats Coin BMW M3 and narrowly retains the Championship lead by one point, setting up a thrilling Final round in Utah on September 15-17.
PRO QUALIFYING
Despite high temperatures all weekend, the K&N Qualifying session for the Formula DRIFT PRO Championship started amid light rainfall. And while the conditions weren't immediately apparent, the 2022 FD PRO points leader Matt Field (USA) discovered the slippery conditions in his Drift Cave / Falken Tire C6 Corvette.
Running first, he hit the wall in Outside Zone 2, pushing him off the track and resulting in an incomplete run. However, with the following four drivers allowed a sighting lap to assess the damp conditions, Field was granted a second run and scored 85 points, placing him fourth.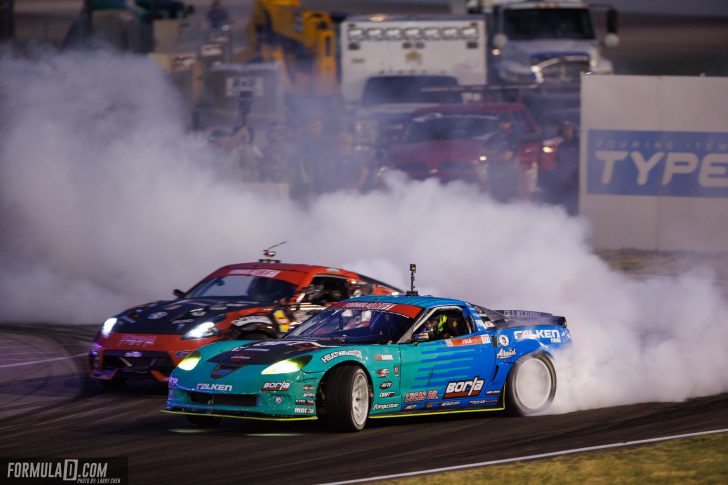 The surprise winner of qualification was Kazuya Taguchi (Japan) who scored 91 points in his ISR UpGarage / GT Radial Scion FRS. He claimed the top position for the first time since joining the series in 2018 with a dazzling run.
Taguchi's closest competitor was Justin "JTP" Pawlak (USA) who scored 90 points in the 2022 Falken Tire Ford Mustang. Never afraid to commit to a run, Pawlak displayed both aggression and precision.
With both Taguchi and Pawlak outside the top ten, third place Dylan Hughes (USA) repeated his Round 4 qualifying position. In doing so, he maintained his title push after the Round 3 win at the wheel of the DHR / Royal Purple / Falken Tire BMW.
Many of the other top ten contenders fared poorly, including Fredric Aasbo (Norway) in 11th, Chelsea DeNofa (USA) in 22nd, Chris Forsberg (USA) in 23rd and Aurimas "Odi" Bakchis (Lithuania) in 29th. The results would lead to some interesting Top 32 matchups, including Aasbo versus DeNofa, which would have significant Championship implications.
Top Rookie at FD STL was Daniel Stuke (USA) who scored 82 points in the Stuke Racing / MspeK Performance Nissan S14.9, placing him ninth overall.
With thirty five drivers attempting to qualify for the Top 32 competition heats, three would be eliminated in the Knockout Qualifying Format (KQF), which sees the bottom eight drivers run a second time. Unfortunately, the axe fell on Alec Robbins (USA), Jhonnattan Castro (Domincan Republic) and Trenton Beechum (USA) who all failed to score sufficient points to continue.
PRO COMPETITION
In a stroke of serendipity, the 2022 Formula DRIFT PRO Championship mirrored PROSPEC by celebrating a first-time winner. This was the second time it had happened this season after Travis Reeder (USA) won Round 4. Furthermore, Japanese driver Kazuya Taguchi was the fifth winner in five rounds and celebrated a perfect weekend after qualifying first. And like PROSPEC, a number of the leading contenders were banished early, leaving the third place finisher, Matt Field, to take advantage by extending his title lead.
It's impossible to say whether it was a combination of the new course layout or changing track conditions but FD STL will be remembered for both Taguchi's breakout win and the number of collisions that played a significant role in the proceedings. Whatever the reason, the drama continued from the first heats to the Final, keeping fans on the edge of their seat.
In the opening Top 32 heats, for example, Forsberg, who sat third in the Championship and only qualified 23rd, wasn't expected to compete. However, the team worked overnight on the NOS Energy Drink Nissan Z on GT Radials to prepare the car for its first match against Jonathan Hurst (USA). In the chase position, Forsberg slid into Hurst in OZ2 and shut down the Nissan because of serious engine problems.
Similarly, DeNofa (fifth in the Championship) qualified 22nd and faced second-placed Aasbo in the Top 32. After a hard-fought first run, DeNofa over-rotated in OZ1 and ran off the track before he could transition into OZ2.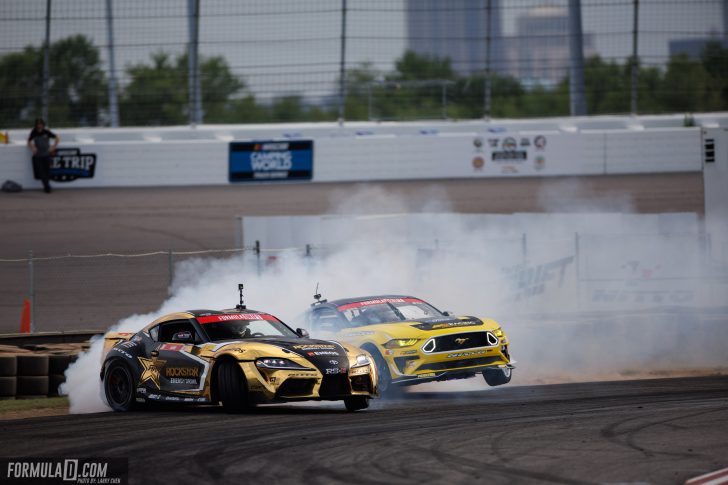 Bakchis, eighth in the table and qualified 29th, was knocked out of the Top 16 by Rookie Nick Noback (USA). In the chase position, Bakchis made a big correction in OZ2 and ran off the track in OZ3, which put him in trouble through OZ4. Noback made less mistakes in his KoruWorks E46 BMW and advanced.
Aasbo was eliminated from the Top 16 by teammate Ryan Tuerck (USA) in the Rain-X / Nitto Tire Toyota GR Corolla. The intense battle was decided by a collision as Aasbo swarmed all over Tuerck. Unfortunately, he didn't give Tuerck enough room to transition into OZ4 and the contact sent Tuerck into the dirt.
Tuerck would dispatch Dylan Hughes (USA) in the Top 8 heats. Sitting sixth in the title race, Hughes drove hard on both runs but span into the dirt in OZ4 in the chase position. It was a similar story in the Top 4 when Toyota teammate Ken Gushi (Japan) also spun his Toyota Gazoo Racing NA Supra in OZ4. With Tuerck in close proximity, he hit the rotating Supra, requiring repairs before the Final against Taguchi.
Taguchi's path to the podium began with a Top 32 battle against Dan Burkett (USA) in the RAD Industries / GearWrench / GT Radial MkIV Toyota Supra. Both would battle the 100˚F air and 145˚F track temperatures but a scrappy chase run by Burkett ended his day.
In the Top 16, Mike Power (USA) would suffer the same fate in his Power Racing Nissan Silvia. Sacrificing his line through each of the outer zones to gain proximity to Taguchi sealed his fate.
In the Top 8, Taguchi faced Federico Sceriffo (Italy) who enjoyed the best result in his "Fiorella" Ferrari 599 GTB since joining the series in 2018. While in the chase position, Sceriffo ran off the course in OZ1 with power steering problems. Unable to repair the problem he attributed to a heavy collision after a previous run against Stuke had ended, the Ferrari was withdrawn but Sceriffo placed eighth overall.
Taguchi then advanced to the Top 4 to meet Championship leader Field for an epic battle that would again be defined by vehicular contact. The controversy began on the first run where Taguchi set a blistering lead but transitioned early for OZ4 and tapped the concrete wall, causing him to correct. With Field in close attendance, his Corvette nudged the ISR UpGarage / GT Radial Scion FRS as they crossed the line. With possible damage inflicted, the judges apportioned shared blame since they reasoned Field was traveling too fast to cross the line without impacting Taguchi. Therefore, both drivers needed to use their 5min Competition Time Out (CTO) to assess and repair the cars.
Returning to the starting line, the second run was almost a carbon copy, with Taguchi tagging the wall in OZ2 and then sliding into Field in OZ4 as he rushed to regain proximity. With mistakes form both drivers on both runs the judges called for One More Time (OMT) and the runs would be repeated.
At the second time of asking, Field piled on the pressure in the chase position but again collided with Taguchi as he transitioned into OZ4. With their only CTO previously utilized, Taguchi was judged the victim and awarded 10min to check his car for damage and effect any repairs. With the roles reversed and Taguchi in the chase position, he finished an imperfect run but had done enough to reach his very first FD PRO Final.
"Last year I was knocked out in St Louis by Matt Field and I didn't want that to happen again," Taguchi explained after the smoke cleared. "My car is a bit weak [referring to alignment issues] but my team has kept it going and I'm looking forward to my first Final."
With the way the event had unfolded, there was a certain inevitability about how it would end. Body shop managers and vinyl wrappers around the country watched intently as the two somewhat battered Toyotas approached the starting line. When the red lights extinguished, Taguchi set a fast pace but lacked the finesse of earlier runs and he appeared to slow as he crossed the finish line. Similarly, Tuerck had to make a big correction in OZ2 and did the same in OZ4. Finding himself off-line, he made a correction and powered across the line, clouting the Scion FRS as he spun to a halt.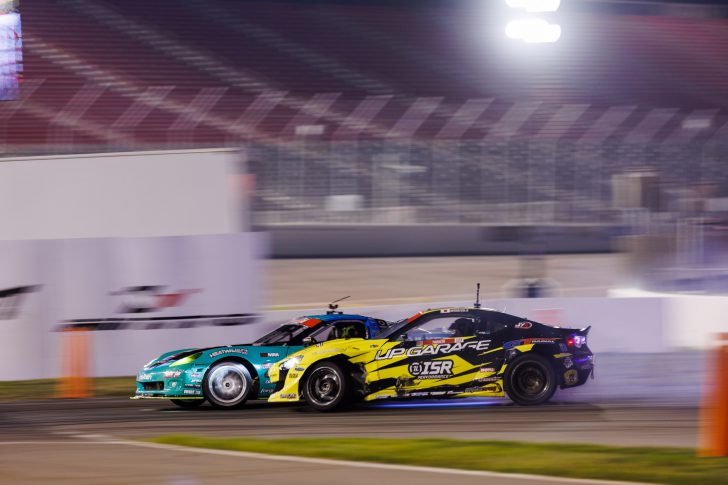 Both cars were disabled: Taguchi had a broken rear subframe while Tuerck had damage to the front end and a de-beaded rear tire. With his CTO intact, Tuerck hit the pits for 5min repairs but his opponent would remain on the flatbed tow truck.
With one vehicle inoperable, the judges were required to apportion blame in order to resolve the Final. If Tuerck was at fault and had caused irreparable damage to his opponent, Taguchi would win by default. If Taguchi was to blame and unable to return to the track, Tuerck was the round winner.
Without disclosing the decision to the Japanese driver, event staff shuttled Taguchi to the winner's circle and revealed the decision. Unaware of the ruling, assuming he'd lost the final and apologizing to the fans for not delivering a thrilling Final, Taguchi was on the verge of tears when his victory was announced. Second place Tuerck and third place Field had to assure him it happened as a tearful Taguchi struggled to comprehend the fruit of his labor.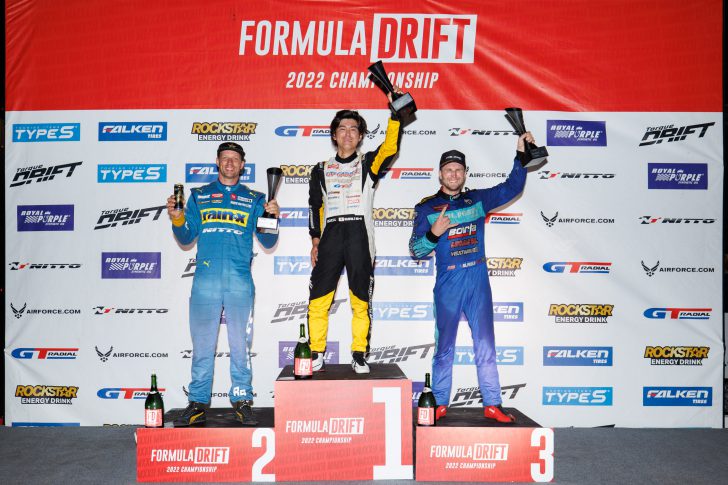 After the podium ceremony he again wrestled to assemble his thoughts: "I still can't believe it," he whispered. "We got first place, which I can't believe because I've waited more than five years for this moment." He told us, then paused to control his emotions before continuing. "I'm so happy and must thank the team and all my sponsors. I'll never forget this moment because it was a perfect weekend and I hope we can look for another trophy at the next round in Seattle."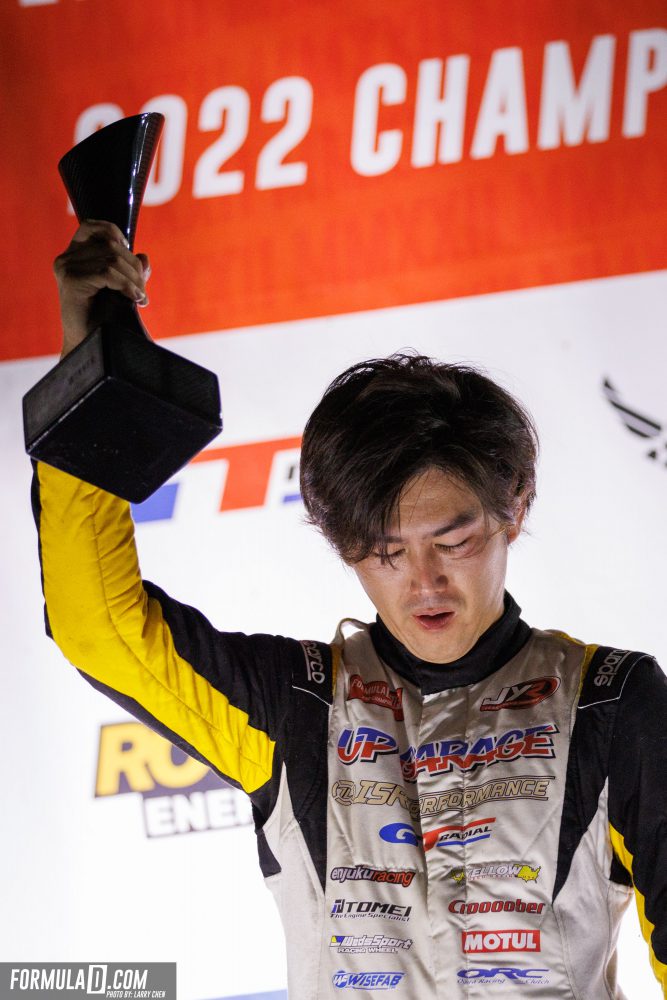 After apologizing to fans for being "off-beat" in the Final and for not providing the spectacle they deserved, Tuerck reflected on his second-place finish, which elevated him one position to third in the Championship standings.
And despite losing to Taguchi, third-place extended Field's lead of the FD PRO points race thanks to the early elimination of his closest rivals. He heads to FD Seattle with a 32-point lead over defending Champion, Aasbo.
Noback was the leading FD PRO Rookie in St Louis. He reached the Top 8 heats for the first time in his KoruWorks E46 BMW but lost to Field. He now sits 22nd in the table while Stuke leads the 2022 Rookie standings in 12th overall.
After Round 5, Toyota leads the 2022 Formula DRIFT PRO Auto Cup and Falken heads the Tire Cup
We couldn't leave St Louis without hearing from Formula DRIFT President, Ryan Sage: "That's two events in a row where we've seen unexpected winners in FD PRO. In New Jersey we saw Travis Reeder take the trophy, and now Kazuya Taguchi didn't just get on the podium but took the number one qualifying position after five years of trying. There's also a shake up in the Championship with Aasbo going out early, DeNofa going down while Field and Tuerck compressed a little to make it a might tighter Championship, which bodes well for the rest of the season. We've now had five winners in five FD PRO rounds, which illustrates the skill of all the drivers in the Championship and we can't wait to see who stands on the podium next. 
"We must also congratulate Evan Bogovich for winning PROSPEC for the first time in just his second year in the Championship. I'm sure we're going to see much more of him. And it was great to see the crowd lift local driver Derek Madison to second place, making it a wonderful weekend for all concerned."
2022 FORMULA DRIFT CHAMPIONSHIP RESULTS
ROUND 5 FD PRO TOP 16 DRIVER POINTS
| | | |
| --- | --- | --- |
| POSITION | DRIVER | POINTS |
| 1 | Kazuya Taguchi | 103 |
| 2 | Ryan Tuerck | 91 |
| 3 | Matt Field | 80 |
| 4 | Ken Gushi | 80 |
| 5 | Dylan Hughes | 68 |
| 6 | Nick Noback | 67 |
| 7 | Wataru Masuyama | 67 |
| 8 | Federico Sceriffo | 67 |
| 9 | Jonathan Hurst | 52 |
| 10 | Fredric Aasbo | 52 |
| 11 | Jeff Jones | 52 |
| 12 | Rome Charpentier | 52 |
| 13 | Mike Power | 52 |
| 14 | Yves Meyer | 52 |
| 15 | Aurimas Bakchis | 52 |
| 16 | Dean Kearney | 52 |
2022 FD PRO TOP 16 CHAMPIONSHIP STANDINGS
| | | |
| --- | --- | --- |
| POSITION | DRIVER | POINTS |
| 1 | Matt Field | 415 |
| 2 | Fredric Aasbo | 383 |
| 3 | Ryan Tuerck | 380 |
| 4 | Chris Forsberg | 336 |
| 5 | Dylan Hughes | 323 |
| 6 | Chelsea DeNofa | 310 |
| 7 | Aurimas Bakchis | 299 |
| 8 | Travis Reeder | 290 |
| 9 | Rome Charpentier | 280 |
| 10 | Kazuya Taguchi | 259 |
| 11 | Ken Gushi | 252 |
| 12 | Wataru Masuyama | 241 |
| 13 | Daniel Stuke | 241 |
| 14 | Branden Sorensen | 241 |
| 15 | Justin Pawlak | 226 |
| 16 | Dan Burkett | 224 |
2022 AUTO CUP TOP FIVE STANDINGS
| | |
| --- | --- |
| Toyota | 791 |
| Chevrolet | 624 |
| Ford | 536 |
| Nissan | 493 |
| BMW | 209 |
2022 TIRE CUP STANDINGS
| | |
| --- | --- |
| Falken Tire | 810 |
| Nitto Tire | 796 |
| GT Radial | 758 |
| Nexen Tire | 561 |
| Federal Tire | 538 |
ROUND 3 FD PROSPEC TOP 16 DRIVER POINTS
| | | |
| --- | --- | --- |
| POSITION | DRIVER | POINTS |
| 1 | Evan Bogovich | 100 |
| 2 | Derek Madison | 91 |
| 3 | Dmitriy Brutskiy | 83 |
| 4 | Dustin Miles | 80 |
| 5 | Alex Jagger | 68 |
| 6 | Robert Thorne | 67 |
| 7 | Nate Chen | 67 |
| 8 | Alex Lichliter | 67 |
| 9 | Rye O'Connor | 54 |
| 10 | Adam Knapik | 52 |
| 11 | Blake Olsen | 52 |
| 12 | Tommy Lemaire | 52 |
| 13 | Steve Misko | 52 |
| 14 | Rich Whiteman | 52 |
| 15 | Andy Hateley | 52 |
| 16 | Ricky Hofmann | 52 |
FD PROSPEC TOP 16 CHAMPIONSHIP STANDINGS
| | | |
| --- | --- | --- |
| POSITION | DRIVER | POINTS |
| 1 | Robert Thorne | 238 |
| 2 | Dmitriy Brutskiy | 237 |
| 3 | Evan Bogovich | 232 |
| 4 | Alex Jagger | 216 |
| 5 | Derek Madison | 210 |
| 6 | Andy Hateley | 207 |
| 7 | Tommy Lemaire | 171 |
| 8 | Nate Chen | 169 |
| 9 | Ben Hobson | 158 |
| 10 | Steve Misko | 156 |
| 11 | Kasey Kohl | 154 |
| 12 | Rich Whiteman | 141 |
| 13 | Brian Wadman | 139 |
| 14 | Blake Olsen | 139 |
| 15 | Cory Talaska | 137 |
| 16 | Matthew Bystrak | 137 |
NEXT ROUND
Evergreen Speedway in Monroe, WA will host the Formula DRIFT PRO Championship Round 6: Throwdown on August 5-6. Please visit formulad.com for the competition schedule, ticket information, driver profiles, special content, and the event livestream